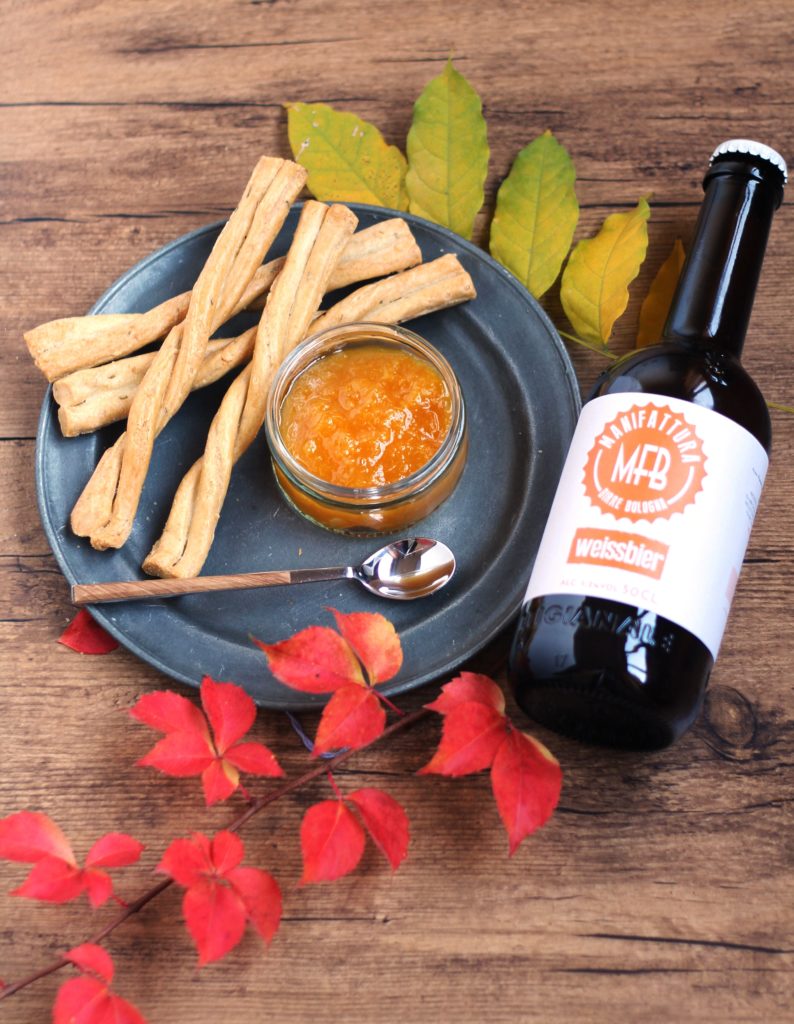 Me and hubby are two real beer lovers.
We love artisan beers, made with love and we use to spend some nights out in places where we can drink a good pint with something good to eat.
Soon I'll let you know about a place in Santarcangelo called Re- Pub where you can drink Irish classics plus six craft beers from everywhere (in rotation) and eat satisfying hamburgers and pub dishes where even the fries sauce is craft made but now I want to focus on Manifattura Birre Bologna, a place not far from home where you can eat some cold cuts and cheeseboards with their own beers in a lovely and colorful place.
I want to focus on them because the beer I used for this recipe is their own weissbier which is perfect for this marmelade with its hints of banana and cloves.
I found the recipe on a booklet dedicated to cooking with beer I posted on my Instagram some weeks ago; the recipe wasn't perfect according to me, I did some changes and now you can enjoy the results with no efforts about trying the right combination of ingredients. 🙂
I must confess I don't like nor marmalades neither oranges very much so, for this recipe, the beta tester has been hubby: I am posting after his blessing and meanwhile I'll take the chance to remember you Christmas is near and this marmalade is a great idea for budget homemade presents.
If you don't remember all other recipes I posted that worth a look because of the incoming Christmas presnt rush I'll write you a list at the end of this post. 😉
Here we come with the recipe:
Put sugar and water in a pan, let it simmer untill sugar is dissolved. Let it cold.

Peel the orange, discard the zest, put them in a bowl with sugar syrup and weissbier. Let them rest overnight.

Drain orange from the liquid, put the liquid in a pan and let it simmer for about 5 minutes. Add the oragens and the peeled and diced quince, plus the ginger teaspoon.

Let it simmer for about 30 minutes, after it make the " plate trial" * every ten minutes.

Pour the hot marmalade in sterilized jars, put the lid on and put them upside down untill they are cold.

Check every jar to see if the lid is vacuumproof, if not you can put them in a cold water pan, they have to be totally submerged, then bring water to a boil and boil untill the vacuum is made.
Put a drop of marmalade on a cold plate, tilt it a little: if the drop drip cook for some more, if it stays still for some secondos the marmalade is ready.
Here some more ideas for your Christmas presents: