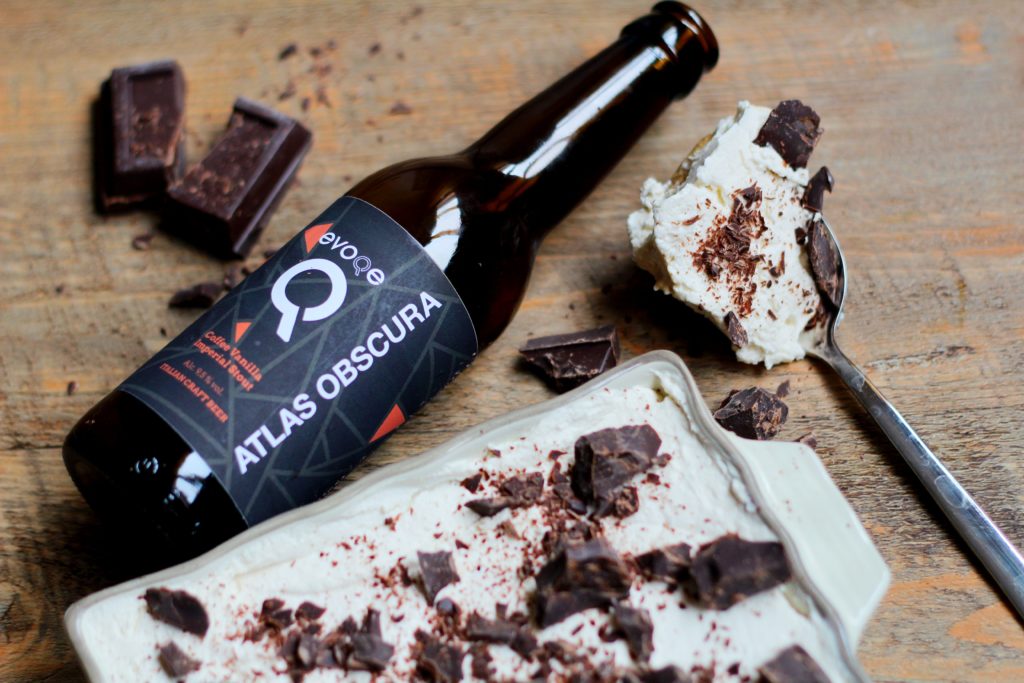 Still posting recipes from archive, not yet back to my normal cooking & shooting routine but I'm trying hard: I don't want to let it go, this blog is far way too important to me!
I am planning a weiss beer orange marmelade, I'm not sure how it is turning out as I don't like marmelade a lot: I'm waiting for hubby to have an expert review, if it will be good you'll see that on my pages soon! 🙂
Now it's time for a beeramisù, a tiramisù ( Italian dessert worldwide famous) made with beer.
You can see I have choosen a very special beer for this recipe: an Imperial Stout with coffee and vanilla notes.
This is called Atlas Obscura, it comes from a very small brewery ( or beer firm? To be honest I don't remember)  near Padua.
Of course you can choose any stout ( or porter) you like, of course the ones with a coffee/ chocolate flavour work better in a dessert.
Why don't you consider this as part of a beer- themed dinner party for the incoming holiday season?
It could be nice!
You can find many other ideas here on my blog, I have more beer related recipes than normale recipes! 🙂
Whip milk cream with icing sugar, not too much, the cream should be whipped but not too firm. Mix it with mascarpone cheese folding gently, add also beer, little by little.

Soak ladyfingers in beer, put them at the bottom of a serving tray then cover with mascarpone cream. Make another layer of soaked ladyfingers, add more cream and level it.

Cover your beeramisù with dark chocolate roughly chopped. Let it rest covered, in fridge, for at least half a day to let the various flavours mixing evenly.
For this recipe I kept the quantities in milliliter and grams, this is because every conversion I tried wouldn't work out as well as the ones I used because pastry requires precision. 🙂
Buy yourself a graduated jug and a kitchen scale, your cooking life will be better!