The more you cook the more you would like to cook.
This is my current mood and I ride this mood even if we are still on a diet because I found who can eat it with no regrets, even if we spoke of cookies, sweets and caloric delicious food.
Who am I speaking about?
My son's rugby coaches and team mates' parents.
So be prepared to see a lot of new things here.
Let's start with these chocolate and walnut cookies, recipe by Marc Grossman.
This is the book from which I took the recipe: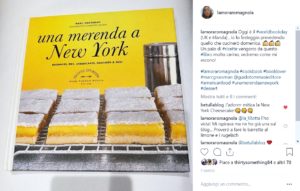 These cookies are less crispy and with a lighter texture than regular cookies, I think you can see it from the photos, but they are pretty good and you can store them in an airtight box for days and even freeze them.
I prepared these plus other cookies typically eaten around Venice, they are commonly called zaeti (yellowish) because they are made with cornmeal ( and raisins); soon I'll post that recipe too.
But now let's get this recipe first. 😊
Beat sugars and butter until creamy, add eggs, salt and vanilla extract, keep on beating. Add sifted flours and baking soda, mix again and add chocolate and wanuts. Set in fridge for at least one hour.

Heat oven at 390°F, make about 20 balls of dough, put them on a baking tray and bake for about 10 minutes. Cookies will be very soft right out of the oven, wait until cold before eating them.
You can store them in an airtight box for up to a week or freeze them into a plastic bag for up to six months.