Happy 2023!!
I come from a long week of Netflix, food, couch, relatives and relax so I can call myself a blessed lady!
Today I woke up earlier than usual ( for a non working day) and I had my cup of coffee, enjoyed the silence and put away Christmas tree and decoration while listening to my fave true crime podcast.
Everyone else is still in bed so I decided to share with you this wonderful recipe of a white chocolate and gluten free cheesecake with a crunchy caramel topping I made for the New Year's Eve dinner.
It's really great, it comes from a book I have in Italian and from which I've taken other, very successful, recipes of cheesecakes like the walnut and maple syrup cheesecake.
I don't know if there is an exact English version of the same book but it's an Italian translation of the recipes from George Geary: I don't have anything else from him on my bookshelf but, regarding to cheesecakes, he is a trustful resource for sure!
Some details about this recipe: the batter is very, very liquid so if you use a springform pan line it up with parchment/ tin foil or il will leak like that :D: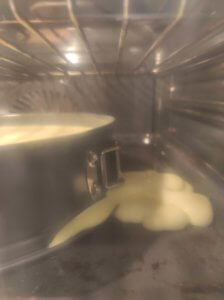 This cake has no bottom crust and no flour in the batter: the crunchiness is given by the caramelized sugar on top and the flour isn't a mistake, trust the process!
If, pouring chocolate in the batter, it forms "flakes" it's because you're pouring it too fast; it's not a big issue, use a blender to make the batter smooth again.
This cake need a quite long rest to reach the right thickness: make it in advance up to two days before but caramelize the top only before serving!
Let's jump to the recipe!
White chocolate, gluten free cheesecake with crunchy caramel topping.
Ingredients
750

g

cream cheese ( 3 packs)

375

g

(1 cup and half) sour cream

110

g

(1/2 cup) caster sugar

4

eggs

375

g

(2 cups) white chocolate

1

tsp

vanilla extract

1

tsp

salt

1

tbsp

lemon juice

light brown sugar for topping
Instructions
Preheat oven at 200°C/390°F

Put inside, from the start, a big pan/casserole oven safe filled with water.

Butter or line a 24 cm/9 inches diameter cake springform pan.

Melt the white chocolate and set aside, let it cool.

In a stand mixer or with a spatula mix well cream cheese, sour cream and sugar.

Add eggs one at time mixing well, the pour chocolate in a tiny stream mixing, see notes in the blogpost if you notice lumps.

Add now vanilla, lemon juice and salt.

Pour the batter into the springform and bake the cake at 200°C/390°F for the first ten minute then lower the temperature to 180°C/360°F and keep on baking for 45/55 minutes.

Take it off the oven when it's still quivering, let it cool completely then cover with cling film and let sit in the fridge for at least 6 hours, even better overnight.

Right before serving sprinckle light brown sugar on top and caramelize it with a burner or under the oven grill for few minutes ( pay attention not to burn it!)