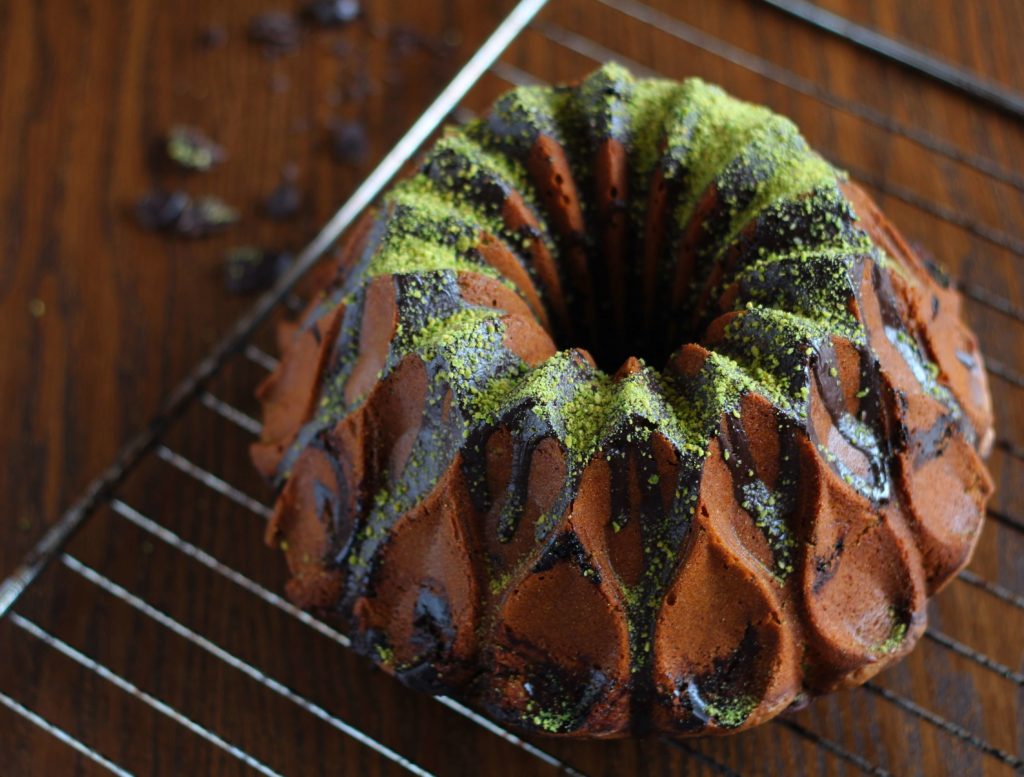 My son called in sick two weeks ago, hubby got sick the Whole last week and now…
Guess who is 102°F and more now?
Yes, you're right, it's my glory moment.
I spent two days in bed, with an awful headache I couldn't even stand up and it's pretty unusual for me.
Luckly today I' m ok enough to stay on the sofa so I give a try with blog and posts.
I have some recipes awaiting for your attention! 🙂
This one is so old, I won a contest of a very famous Italian brand of sweet creams ( chocolate cream, coffee cream, pistachios…) about 8-9 years ago and the recipe went into their recipe booklet in each cream box so it's not probably a new entry on the web, expecially on Italian pages.
To give a new quid to the recipe I used dark chocolate to give it a marbled twist: trust me chocolate and pistachio go along together very well!
Pistachio and chocolate bundt cake is great for breakfast or in the afternoon with a cup of tea or coffee.
I find this bundt not great as dessert after a lunch or a dinner but if your guests love this kind of cakes you can add a spoon of whipped cream or custard pistachio cream.
Mine is so beautiful because I used the mould my best friends give me at Christmas as a present. <3
The pan comes from Nordic Ware, worldwide famous for its pans: they cost a little more than standard pans but they are so beautiful and last a lifelong.
A very important thing to know if you use a pan with an intricated design like the one I used is spraying the pan with a baking spray to release the cake easily.
There are few recipes online of home made baking grease you can spread with a brush but it last only few weeks and I need it less often so I use the storebought spray can.
Please consider also the quantity is for a big bundt pan, if you have a small mould cut the quantity in half.
Beat egg and sugar until foamy, add soft butter then flour, sifted with baking powder.

Add milk slowly, enough to have a thick dough, not too liquid. Add pistachio cream and pistachio grain, mix well.

In a greased pan put some spoonful of dough then pour some melted chocolate. Add more dough then chocolate until you finish both. With a long toothpick move slightly the dough to marble the cake.

Bake at 356°F for 30-40 minutes or until a toothpick, inserted, comes out dry. When completely cool reverse the pan, put the cake on a grill pan, pour the rest of the chocolate, melted, then sprinkle with pistachio grain.