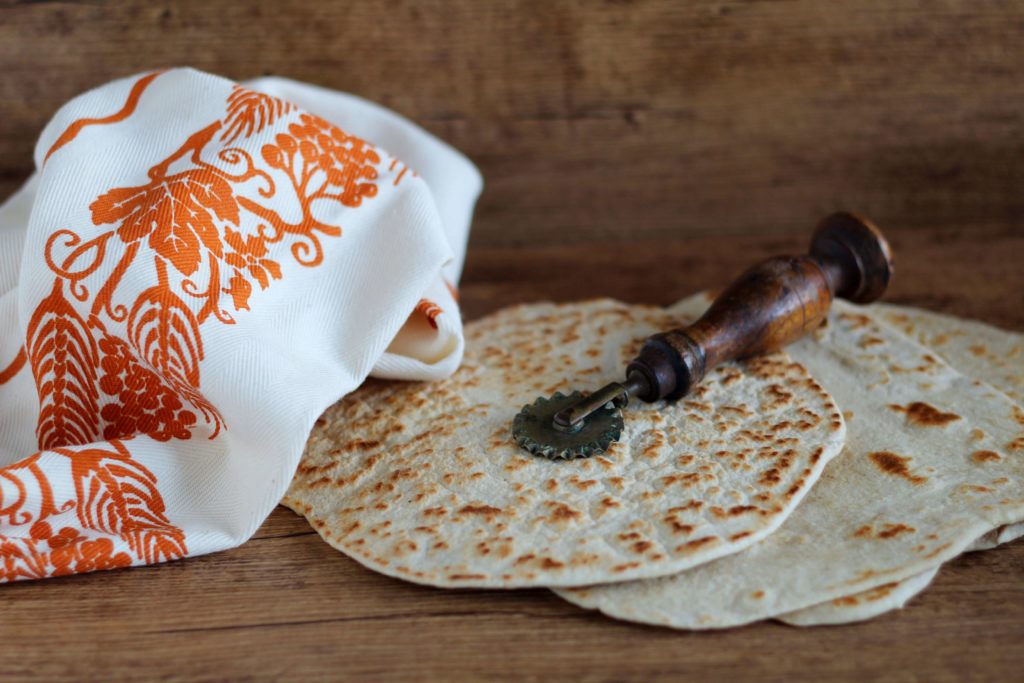 I'm spending a week end at home.
Not unusual but this week end is harder than usual as hubby is sick.
By sick I mean very sick and you know how men deal with flu, cold and bellyache.
All I'm cooking at the moment is white rice and lemon tea but as son is playing Xbox after homeworks and I washed all his rugby apparel then washed the washing machine because of sand and ground I have time enough to write on blog and when I have time for it I feel blessed because I really like it.
Outside is snowing, the weather is more wintery now than in January but it's ok, it's far better than spring temperatures in winter.
If you follow me you know piadina romagnola and you know I already have a recipe on this blog.
This recipe means so much for me that it's the first post on this blog after the big restyling of 2015.
The recipe I'm used to has sourdough excess in it, it meas you end up with a soft and thick piadina.
I wanted to give you a more typical and traditional version of this flatbread.
You will end up with a thinner piadina, perfect to be rolled up like a tortilla.
You can fill it with cold cuts, fresh cheeses or use it like bread with grilled meat.
The best filling if you want to roll it is creamy fresh cheese (like stracchino or squacquerone) and rocket but you may also like tuna and mayo ( and maybe some think onion slices 🙂 ).
Soon I'll post another flatbread recipe I've tried for the first time: it's a "cousin" of piadina but comes from Urbino, it's called crescia and it contains egg.
It also is a layered flatbread, more crunchy but always good with cheeses and cold cuts.
Let's come to this recipe then, I hope you'll enjoy it as I did!
Mix all the ingredients with lukewarm water enough to have a smooth and non sticky loaf.

Cover the loaf with cling film and let it rest for a couple of hours.

Make balls of dough of about 4 oz each, spread them with a rollpin as thin as possible and as round as possible.

Cook over an already hot skillet until the dark spots appear, cook on the other side and serve hot.
You can make the dough the day before, cover with cling film and store in the fridge.
Remember to keep off the fridge at least one hour before using it.