Ready, steady, go!
New month, new post; my new bullet journal routine helps me a lot keeping track of all my posts on the blog/ socials and this routine says it's time for a new post here.
Luckly I have a brand new recipe to post, from a small book I bought on Amazon, first hand but very cheap.
I discovered later it is the translation of a book about cheesecake written by an American chef called George Geary.
I don't know if the translation is very close or not as I have never seen the American book but Italian edition is packed with very nice recipes and I am pretty sure I will try more of them in the future!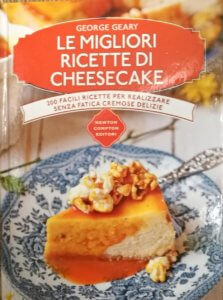 I am keeping track, on the bullet jourlan, of how many cookbooks I buy.
I will have a good overview at the end of the year but I think I should be already ashamed…
Too many, too many!
Let's jump to the recipe, I have to collect Lorenzo from school soon! 🙂
Walnut and maple syrup cheesecake.
Ingredients
For the base:
1

cup

graham crackers or Digestive biscuits

1/4

cup

toasted walnuts

1/4

cup

melted butter
For the filling:
3

packs

cream cheese

1

cup

vanilla yogurt

1

cup

caster sugar

1/4

cup

true maple syrup

3

eggs

1 1/2

cup

toasted walnuts, chopped

1

tsp

vanilla extract

1

pinch

salt
For the topping:
1/2

cup

toasted walnuts, roughly chopped

1/2

cup

true maple syrup
Instructions
For the base:
Put all the ingredients in a food processor, pulse until combined, press them into a cake tin and put it into the refrigerator.
For the filling:
Preheat oven.

Beat the cream cheese with yogurt and sugar for about 3 minutes.

Keep on beating and add eggs, one at time.

Add then walnuts, maple syrup, salt and vanilla.

Pour the mixture over the base, bake for about 40-45 minutes at 360°F, the centre should be a little wobbly.

Let it cold down for a couple of hours then refrigerate for at least six.

Right before serving add on top walnuts and maple syrup.