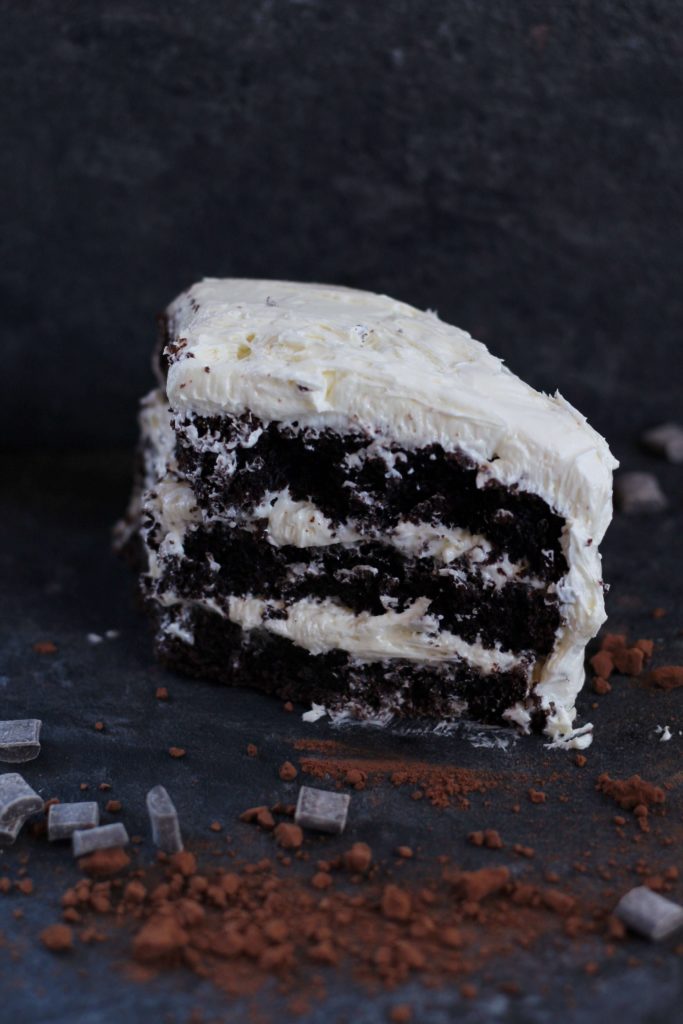 I'm on a diet and I keep posting dessert.
I don't think it's a coincidence.
Truth is I had the chance to make a couple of nice cakes because some weeks ago it was my birthday and I celebrated it with the family.
I also had the possibility to take nice (but not perfect) pics of some other recipes you'll see soon on blog; I have material to work on, WOOT WOOT!!
I post this great recipe now because I wanted to write something about Halloween parties and recipes: it's that time of the year and I love Halloween so much!!
After the Red Velvet cake I wanted to try another very famous cake from the U.S.A. tradition, the Devil's food cake.
It seems the two recipes have a sort of common background: at first Devil's food cake wasn't brown but reddish because of the reaction between cocoa and baking soda, as for Red Velvet.
The cake probably originated in the Southern United States, the first recorded printed recipe is in 1902 and called for chocolate and not for cocoa. 
Is also known under other names like Waldorf Astoria Cake, $100 Dollar Cake and Red Devil's Cake.
I found all this news online on a nice site I found searching for Devil's food cake story called CooksInfo.com: the ultimate place for a curious foodie like I am.
(It's not a spot, I found it by chance and I like it for real). 🙂
I was in need of a good recipe, I browsed my huge cookbook collection and I choose to take it from" The complete Magnolia Bakery cookbook".
This is the book: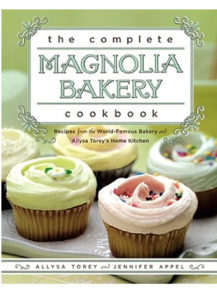 It's filled with
yummy recipes
of cakes, bars, cupcakes, puddings and more, I would like to try them all but trust me they are all packed with calories (as a indulging dessert should be I say) and I'll make them for sure but I think I'll need some years! 😀
The frosting also comes from this book, there are a lot of fillings and frosting among whose I could choose but I opted for a white chocolate frosting to give the cake a black & white contrast which is so appealing…
Ok, truth is black & white looks better in photos. 😛
But trust me this couple get along so well!
1 1/2

cups

unsalted soft butter

6

tabsp

milk

9

oz

white chocolate

1

teasp

vanilla extract

3

cups

sifted confectioners' sugar
Melt chocolate in a double boiler, stir occasionally untill smooth. Remove from heat and let cool.

Preheat oven at 350°F. Grease two 9 inch round cake pans. In a large bowl sift flour, baking powder, salt and baking soda; set aside.

Lightly beat egg yolks until pale coloured; in another bowl cream butter with sugar, add the yolks and beat until well combined.

Add the chocolate, mix until well incorporated. Add the dry ingredients in thirds, alternating with the milk and the vanilla, beating after each addiction.

In a separate bowl beat the egg whites until White and fluffy, gently foldinto the batter. Divide batter into the two cake pans and bake for 45- 50 minutes. Let the cakes cool for 5 minutes in the pan then remove them and cool completely on wire racks.

For the frosting: Melt chocolate in a double boiler over very low simmering water. Stir occasionally until smooth, remove from fire and let it cool.

In a large bowl, on the medium speed of the mixer, beat butter aone until creamy. Add the milk carefully and beat again. Add the melted chocolate and vanilla and beat for about 3 minutes. Gradually add sugar and beat on low speed until creamy and fluffy (about 3 minutes more).
Makes one two layer 9 inch cake.
Frosting is enough to fill and cover the cake or decorate 2 dozen of cupcakes.