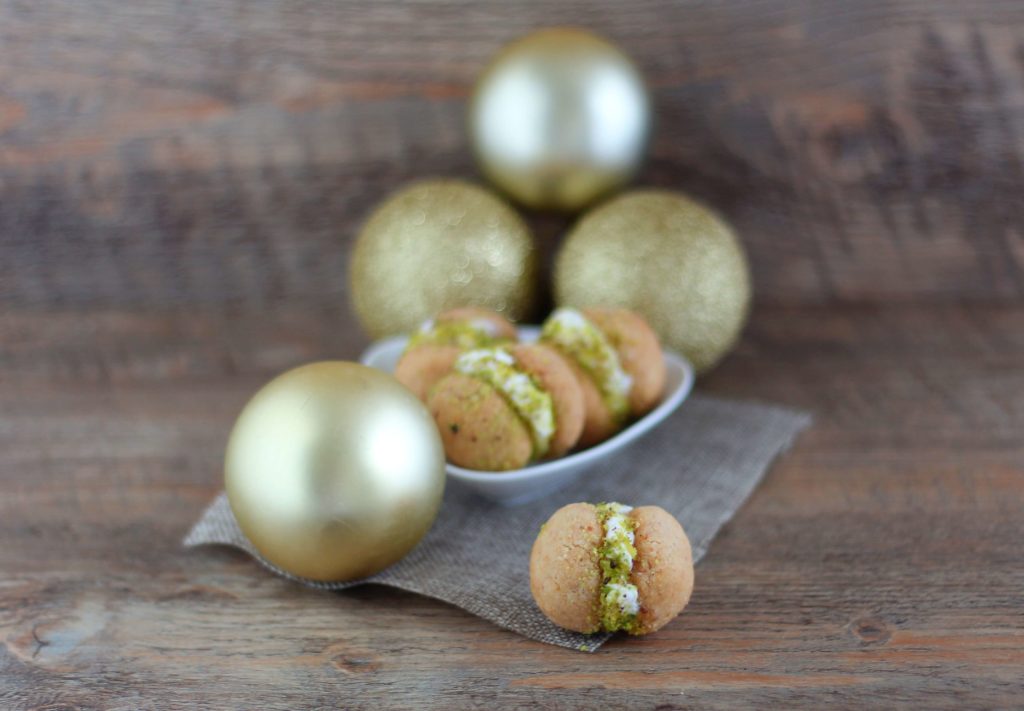 Back to the usual routine after Christmas: no, no, no.
I don't want to come back to work, do you?
I don't want to start dieting again, I don't want to start biking again, I want to keep on waking up at 10 a.m., having fun at restaurants, receiving nice things for the new home. 😛
How did you spend your holidays?
Did you make and receive nice gift?
I mainly received beer, wine and linen for the new home plus lot of joy for being with all my beloved ones.
I know, this is the time of the year when everyone surfing the web looking for "light", "detox", "low- carb", "low- cal" recipes while I'm here posting a nice idea for parties and buffets: I'm never up to date enough and, on the other hand, I have many healthy recipes on blog, just give a look to the index page.
Let me post what I have in my virtual folder as the next months will be hard because we gained some weight and we need to return to the good habits of dieting and exercising…
These cookies are delicate and the cream inside flavourful: they are very easy to make and you can make them (but not filling with cream) one day in advance.
I weighed every single cookie as having them all the same size is important both for good baking and for nice result.
Mix flours, pecorino cheese, soft butter plus some wine if needed until you have a smooth dough.

Form small balls of dough, each of about 8-9 grams ( weigh them on a kitchen scale) and put them on a baking tray and bake at 356°F for about 15- 20 minutes.

Set aside and whip milk cream, mix it with goat's cheese, chopped chives, salt and pepper. Put this cream into a sac- a- poche.

When cookies are cold squeeze the cream on half of them, then close these with the other cookies and roll them into pistachio crumbs.

Fill them with cream only before serving.