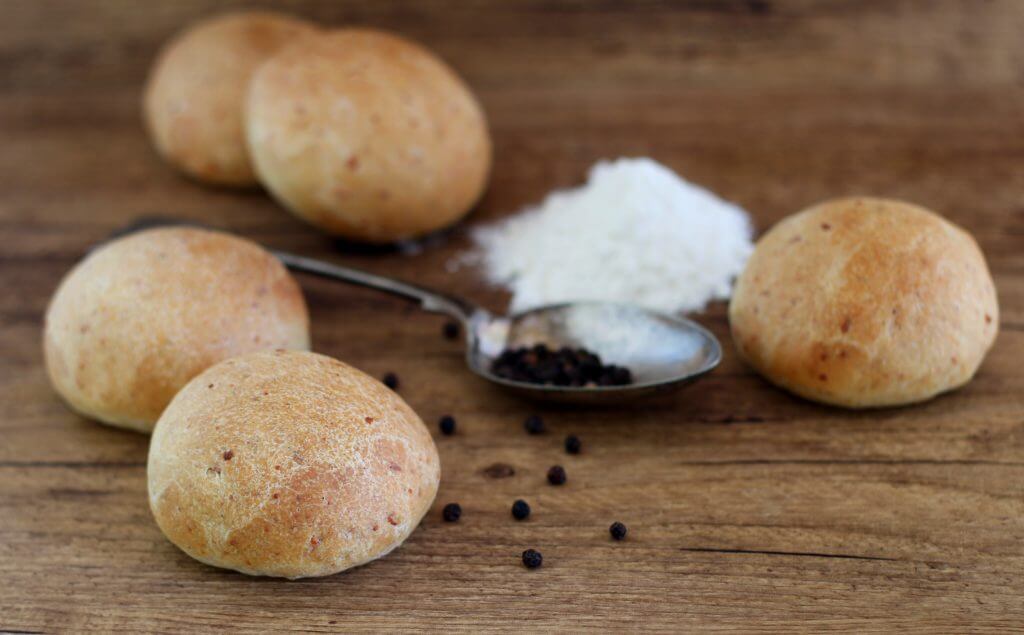 I made this recipe for a lovely contest about sourdough sponsored by a good mill, Molino Dallagiovanna: unluckly I didn't read part of the rules and I didn't take a picture of the recipe with the flour bag so I cannnot enter the contest with this recipe.
No matter, I have another good idea but this recipe is too good and I have to post it on blog.
The size of these buns is good for a party treat or a quick snack: you can fill them with caramelized onions, crispy bacon or a plain omelette.
They are cheesy and spicy, of course you can choose to add how much black pepper do you like: with a teaspoon of it I found them perfect but hubby, who is a big black pepper fan, said they need more of it.
Thanks to sourdough they stay soft for at least two days, you can make in advance, freeze them and re-heat when you need them.
I hope you will enjoy this recipe as much as we do, as usual if you make one of my recipes and want to send me a picture I will post it on my Facebook page (with your name and credits of course).
Blend with a mixer water, sourdough and honey. I Always blend sourdough as it gives better rising results

Mix by hand or with a kitchen appliance flour, sourdough, soften butter, cheese and black pepper. Mix for a couple of minutes then add salt and knead untill you have a smooth loaf.

Let it rise untill it doubles covered in a warm place. Reduce dough and make about 10 small buns, about 2.5 oz each. Put them on a baking tray and let them rise untill they double.

Heat oven at 428°F, put a pan filled with water inside the oven to produce steam. Brush buns with milk then bake for 15 minutes then reduce heat at 374°F and bake for 15- 20 minutes more.