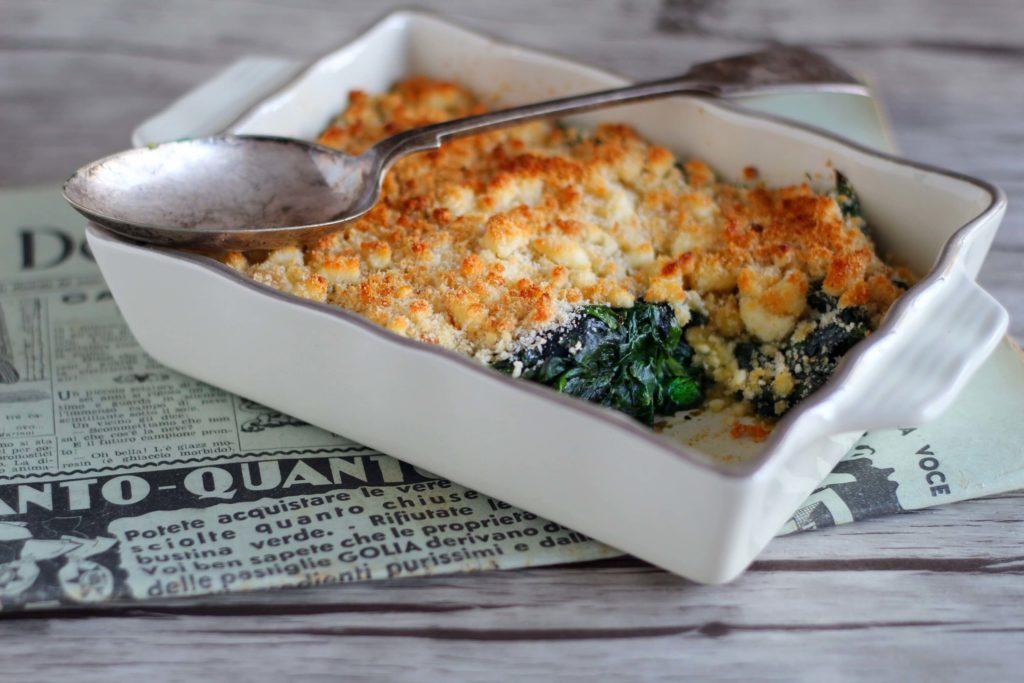 Back with a very nice recipe, pretty useful for your weeknight meals.
It's easy, quick and also have a sophisticated flair if served into a nice oven plate.
It's a side dish but if you are like me and you could eat tonz of spinach in a single meal you can also have it as single course.
I did it for a recipe exchange with my Italian blogger fellows Bloggalline, the iriginal recipe is with summer vegetables ( bell peppers, courgettes…) but as usual I love to modify the recipe I take inspiration from because I don't like to fill the web with copycat recipes.
This week end I'm miraculously  home alone, hubby and son are in Rimini, at grandparents', they are having fun and I'm invest my quality time alone cooking, taking pictures, writing posts.
This is my favourite way to spend free time along with sleeping until late morning and drinking a lot of coffee to stay awake 'till late night.
I'm a night owl who cannot lives the life of a night owl because of daily family/ work routine and I suffer quite a lot because of it.
Yesterday evening I knead 1 kg piada with a new recipe I really want to share with you (more traditional than the one I have already posted with sourdough), 1/2 kg of crescia di urbino ( another kind of flatbread more crumbly but great with cold cuts and cheeses).
This morning I make a chocolate dessert for a St. Valentine post and churros to celebrate Carnival and I took pictures of both.
Tomorrow…
I'll go to my parents' to give away all the food I did or I'll get as fat as a zeppelin! 🙁
Now I only have to edit photos and write posts, this mean the big part of the work so I leave you the recipe hoping you'll like it as I did!
Put spinach in a pan with garlic, oil, salt and pepper. Cook until all the water is evaporated and spinach are cooked.

Mix in a bowl breadcrumbs, feta cheese, Parmesan and salt and pepper to taste. You have to end up with a sandy and crumbly mix, you can add a little oil if the mix is too dry.

Put spinach in a ovenproof pan, cover with crumbles and bake at 356°F until the crumble is golden.
Of course you can use fresh spinach, it's even better and the making off is the same, you have to wash and rinse well the vegetables then put them in the pan until all the water is gone and the spinach are cooked.
You should use about 31 oz fresh spinach.
You can also sautee spinach in the pan with butter and some Parmesan to enrich this side dish.