I put my hands on I book I was craving for years: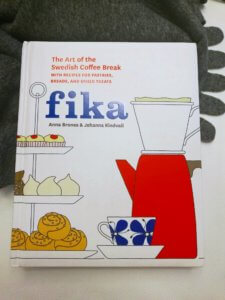 I jiggled when the postman came, saying loudly " This is the book about fika I was waiting!".
I was at work with my husband and a seller he was talking with.
Unluckly fika in Italian means pussy ( that pussy!) so you can imagine me running into explanations about what fika is for Swedish people. 😀
Apart from this bad figure this book is pretty lovely: no photos but nordic style figures as you can see above.
You can learn a lot about how Swedish people take their coffee break seriously, you can learn about the " seven kind of cookies" ( how many cookies the serving dish must have to be properly prepared) and it's packed with pretty simple recipes.
It arrived just around my birthday ( 29th September) and I decided to find a cake to test the book & celebrate.
I saw this kinuskikaka made with a thick layer of caramel and I decided this was perfect for my first 39 years! 🙂
The special thing about this cake is that the caramel is made with a very dark raw cane sugar: at the very first, when I put that in the saucepan with milkcream, I through " I have to throw away everything, what's that?!".
But I kept faith and I kept it on the fire…
After 40 minutes I ended with a creamy, sticky, flavourful caramel.
Give it a try!
Here's the recipe:
Heat the oven at 355°F Grease a 9 inches round cake pan.

Melt the butter in a saucepan then let it cold. In a bowl whisk together yolks and brown sugar, beat until frothy. Pour in the butter and whisk again then sift in the flour, the almond meal, salt and almond extract. Stir just enough to eliminate all the lumps.

In another bowl beat egg whites, when fluffy add cane sugar, little by little, until you have a smoothy and shiny meringue. Fold in the meringue into the cake batter, then pour the batter into the cake pan.

Bake for 30- 40 minutes. Remove the cake from the oven, let cool, then remove the cake from the pan.

To prepare the caramel: bring milk cream and dark brown sugar to a boil then reduce heat and let it simmer for about 40 minutes. It is ready when it sticks to a spoon.

Let the caramel cool a little but not too much or it will be to thick to be spread on the cake. Cover the cake with the caramel and decorate with lingonberries.