Few weeks ago, when school started after the long summer pause, I saw at the newsagent's a magazine with copycat recipes of all the most popular snacks sold here in the supermarkets.
It's quite regular: school starting —–> boom of snacks' sales.
But in the last years many schools here regulated midmorning snacks allowing only fresh fruits so store bought snacks aren't a school related treat anymore.
Anyway Lorenzo sometimes eats storebought snacks in the afternoon ( before homeworks or before rugby, for instance) and I loved the idea of offering an healthier alternative.
I started with one of his ( our, I have to be honest) favorites: Pangoccioli.
Small, sweet, soft bread buns with chocolate drops.
I show you the store product: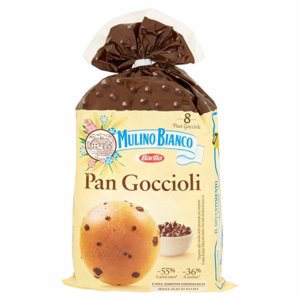 And the magazine I took the recipe from: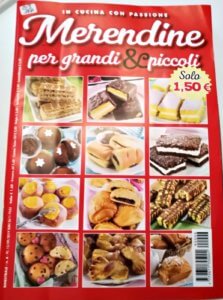 Of course it's in Italian but I think I will try many of them little by little so, if you want, you can try them with me and enjoy the most beloved treats of Italian children! 🙂
Let's jump to the recipe!
Put flours in a bowl Make a hole in the middle and pour the yeast dissolved into the water with part of the sugar. Incorporate some flour and let it rest for about 20 minutes.

Add the rest of the sugar, knead a little and add butter and salt, then knead for about 10 minutes (some less if you use a food processor). Cover the bowl and let the dough rises for about 30 minutes. Coprite l'impasto e lasciatelo riposare in un luogo tiepido per un'ora e mezza.

Add chocolate drops at the dough working it just enough to incorporate the drops. Make 60 g round pieces and put them on a baking tray, letting enough space between them. Let them rise 30 more minutes.

Brush pangoccioli with the egg and milk mixture and bake at 350°C for 20- 25 minutes.