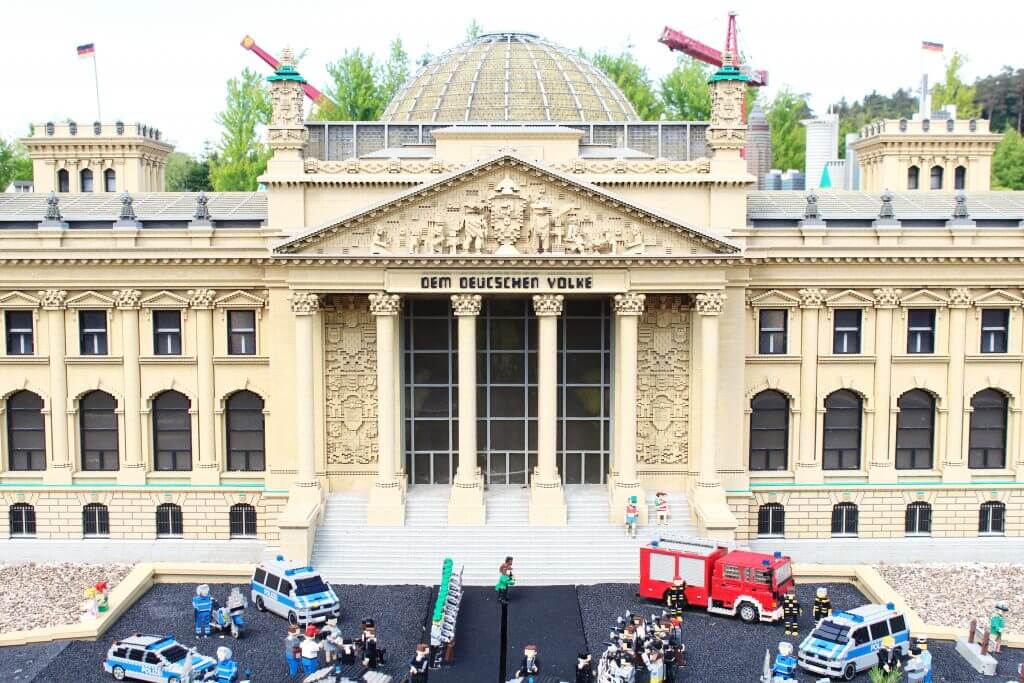 Theme parks are always a wonderful experience for children and an incredible occasion of devastation for
adults.
My son is 5 and he has an extreme crush for Legos and the nearest Legoland park, the one in Gunzburg,
Germany has been an obliged mile stone for us.
We went twice on the same year to capitalize our annula passes ( WHICH ARE PERSONAL, WITH PHOTOS AND NOT
TRANSFERABLE) we did the first time we went because, if you think to enter the park for two days, with a
little addition you can buy tickets that last 365 days.
On Legoland website you can also buy tickets with a special online price.
The first thing I need to say is don't consider your overnight inside the park accomodations: even the
less luxury ones are really overpriced.
Yes the rooms are decorated with Lego pictures and Lego knick knacks but the first time we went we
decided last second and we had to book a room in the castle: 330 euros per night and the shower didn't
even have a glass box but only a plastic curtain that caused a real flood after 3 showers.
The breakfast is served in a huge room (very fussy because of course everyone there has one or more
children) and it doesn't really worth a mention.
Around the park there are few little and cozy hotel garni like hotel garni Heike: quiet, family runned and family
oriented, with almost every convenience ( there isn't an in-room fridge but a coin dispenser at the
entrance and there is no A/C: I suppose it's not something indispensable because of the climate).
From this hotel you can reach the park on foot through a wood, if you want to take the car please
consider the parking fee: if you do the annual pass you can add parking to one of the tickets.
What I suggest you to bring inside the park:
if you have children under 5-6 years you can consider to take a stroller: my son doesn't use it anymore
but after a whole day walking and queueing it can be useful and under it you can store whatever you need.
Every amusement ride has a space where you can park them, avoid, of course, to leave valuable items.
water bottles (pint size): in every theme park in the world food and drinks are overpriced, it's part of
the game but 3 euros for a pint size water bottle is too much.
The second time we went I loaded the car with two packs of 6 bottles each and we had water at reasonable
price for the whole stay.
jackets with hoods: even if the park is open only on good season the weather there is so variable and you
can pass from the hottest sun to the most rainy day in minutes.
light raincoats (disposable ones): not only for rain but for the amusement rides in which water is
involved (there are few).
You can buy them next to the water attractions but they cost 4 euros each.
If you get soaked anyway there are posts with hot air streams that help you dry but they cost around 4
euros for few minutes.
hat & sunglasses: when the sun hits, hits hard.
swimsuit and plastic sandals for children: the play area for little ones has water fountains and streams,
they're not separated from other games and guess what?
When the weather is warm ( it means 18°C/ 64°F for German children!) every child runs to the water.
you can bring from home one of of those children's safety bracelets where you can put mobile number in
case they get lost; if you don't have one you can find disposable ones right after the park entrance,
they're free.
If you want to save further you can bring your own lunch/ snacks: I saw many Germans and Asian with fresh
fruits, crakers or complete lunches with first and second curses.
You're not going to miss some culinary excellences even if the food offer is wide: from pizza to the
grill restaurant, from wurstel with fries to pop corns.
If you have a sweet tooth you can find ice creams and crepes, cakes and muffins.
Please consider thisimportant thing: even if Legoland is filled with international customers and visitors
nothing is written in any language except German.
Only some safety warnings are in English too but menu, directions are in German only.
Even employees of restaurants don't speak basic English, more than once I had to wait untill they find
someone who can understand me.
Staff in the Lego shops and clothes shops and at the rides is better formed luckly.
Let's speak about rides: 110 cm/ 3ft7inches is the height children need to make the most part of rides
with an adult.
There are also rides for toddlers but that height let you maximize the fun.
Every ride has a measurement board to let you check if you can enter or not, don't try to cheat because
at the barrier staff has measurement legos and if they're not sure they rightly check you.
For toddlers and exhausted parents there is the Duplo village (the one with water streams, just to not
let you relax too much) where the floor is shock absorbent everywhere and there are benches, a bar and
Duplo-like police station, hospital, houses…
Next to this place there is the Hipp space, a place where parents with babies can have a quiet moment,
where you can change diapers (there are changing tables in every toilet zone anyway), breastfeeding or
give babies something to eat with Hipp products.
During the most crowded days the queues for each ride can be long and you can easily wait 30 minutes
every time: you can simply wait or opt to invest your money on an Express pass: for 12 euros you can
avoid queue doing it virtually, you'll be warned by your pass when is your moment, for 22 euros your
waiting is reduced by 50%, for 50 euros you can enter from a "vip entrance" instantly.
Prices are per person/day so you can see how fast it becomes quite expensive.
I think it's convenient only if you have one day only and you want really do every ride.
At last the shopping thing: don't think you can buy discounted Lego sets, prices are the same of official
price list.
You probably get better bargains on Amazon or other online stores.
The only place that can really drive you mad is the Lego factory: you can do the whole tour where you can
see how Legos are made then enter the shop or skip the tour and start your shopping between boxes and
boxes of Legos.
You can find every kind of piece you need, you pay for wheight, the price is 90 euros/ Kg and you can
build your own characters choosing from boxes of heads, hairs and hats, legs and bodies, 10 euros/ 6
characters.
Of course most of the visitors want to buy at the factory so expect frantic children running around
looking for the right piece/ match and frenzied adults that chase after them.
I think that's all I have to say about Legoland, I hope it will be useful for you!