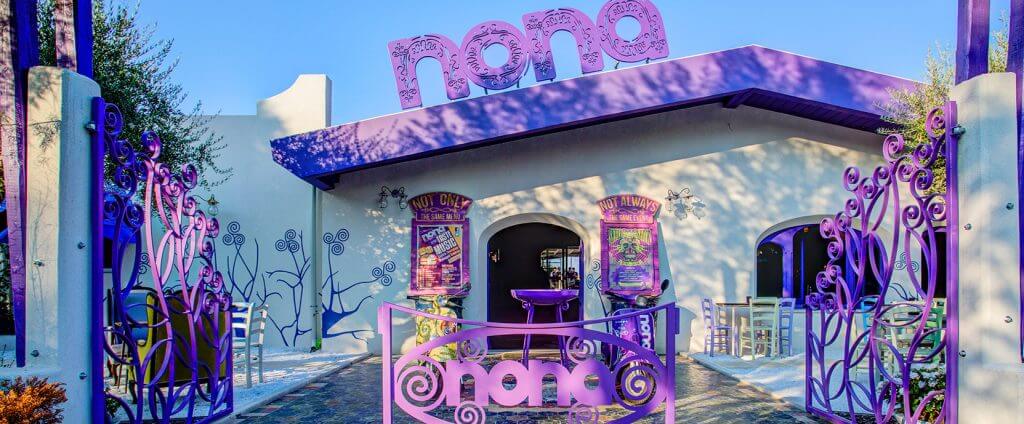 I could name this review " beautiful things that happen by chance": I met the owner of this nice place last January at Sigep, I was there with some bloggers and we had a small chat about what and who foodbloggers are.
We exchanged our business cards then we kept on doing our works.
Some time later I received a mail from Nona's social media agent and we decided to meet and speak about potential partnership.
Blogging is only a hobby for me, I have a family, a job and I've been very busy so I could set a meeting at Nona only the past week end.
I must say I didn't know what to expect because Nona is not just a restaurant or a lounge bar.
Nona is a colorful box filled with ideas and events where you can eat, meet people, do things.
It greets with joy couples and companies, it has a lot to offer to youngs and even more to families with children.
Nona's interiors are great because there is no fear to use vibrant colors, no fear to mix styles and materials.
I love so much the chandeliers like top hats with a bunny escaping from them, I love the seven metres long table made from a single giant piece of spruce where you can sit and eat with strangers and socialize with them.
Nona is right on the beach, in few steps you can walk from sand to grass; on the beach, in summer, there is a kids area with entertainment, on the meadow you can give a look to the lovely vegetable garden.
On the patio you find a big bbq and tables and chairs to relax and have a cocktail feeling the breeze from the sea.
Here every craving finds satisfaction: from pizza to sushi, from meat dishes to seafood dishes from Italian tradition.
I want to underline there is a section on menu for vegan and vegetarian customers: not only a dish or two on the list, a whole menu section from appetizers to desserts.
For our dinner we chose some seafood dishes, stuffed squids cooked au gratin with Vitelotte chips, a tasting from cold fish and sauces, ravioli with lemon and sea bass with shrimps and mushrooms and a seafood carbonara, with foamy egg and slightly smoked fish.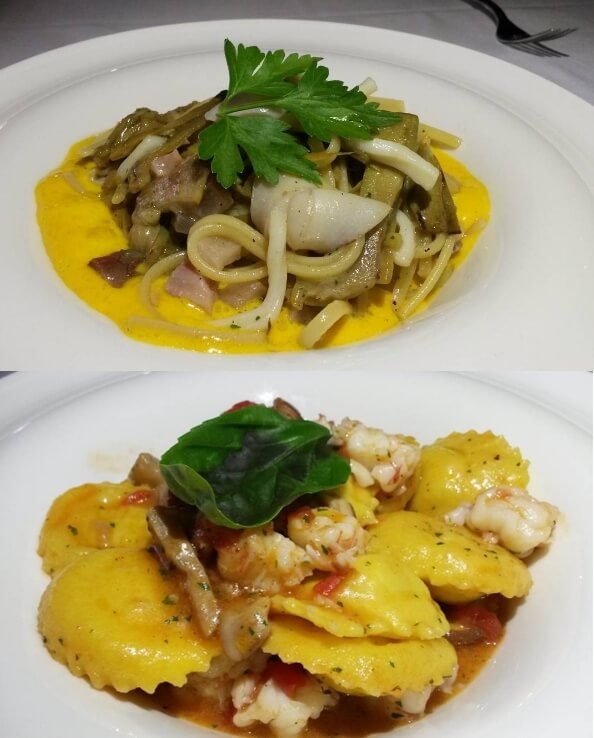 We drank Viola beer, a local artisan beer we liked a lot.
We loved every single dish and every single moment of our dinner, everything is so carefully organized you can see the passion running through this place.
In winter, on sunday, there is a wonderful brunch with activities for kids, in summer part of the beach become the fun zone for children, supervised by entertainers: no brunch but two great services, nona@casatua to receive any dish from Nona at home and nona@spiaggiatua to receive any dish from menu under your beach umbrella, you don't even have to get up from your beach chair.
At Nona sport lovers can follow soccer matches, F1 and motorbike, food lovers can take courses with chef Antonio Palmisani.
Douring the week, in the evening, dj sets and live music sessions take place, often on Wednesday and Thursday, now and then you can attend literary meetings with book authors or charity events.
To track all the events and the news you can rely on the site, always up to date: I check it every week and I'm looking forward to have brunch dates back, I know my son will love them as much as me!