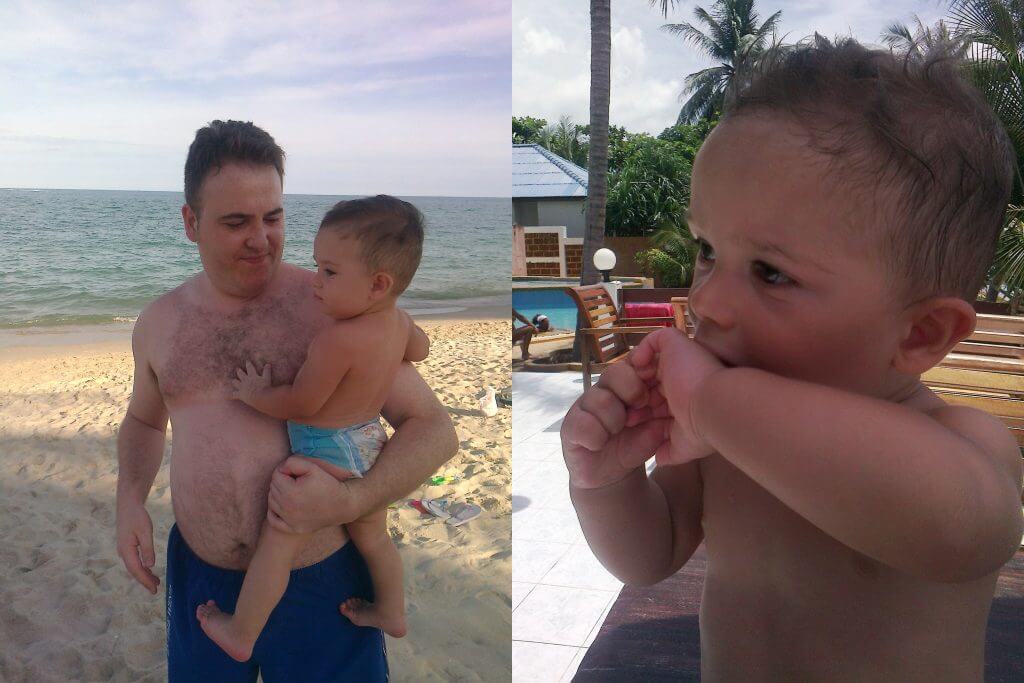 I want to share again a very clicked post from my older blog: it's a guide to travel with infants and toddlers, we can say from 0
to 4 years.
This long piece was about our travels to Thailand, we went twice when Lorenzo was very little and next year we'll be back again.
They are suggestions good for almost every place anyway.
Now I travel with a "big boy" and many of the things I've enlisted here aren't a need now, maybe I'll write a post about travelling
with older children but before…I have to gain experience on my own!
Of course what I'm going to write reflects my son's requirements, they could be different from someone else's needs even of the
same age: common sense is the first thing you need when it comes to children and motherhood.
I also have to underline that, even if we usually travel to exotic places, we always limit our travels to turistic localities or
places where it's easy to find basic commodities, medicines and basic healtcare.
We do not cross the desert with a toddler or sail the Mekong with an infant.
These are adult things, someone also calls them holidays even if life-threatening.
Let's stick to the point: if you're planning a holiday far away you're probably doing it in advance so ask your family doctor/
pediatrician if any particular vaccination is needed or recommended.
My son did the hepatitis A that is not usually made in Italy but worthed a lot in Bangkok and around.
Ask your doctor what kind of medicines are better for you to take with you too.
My son is luckly very healthy and I need just the basics like:
– thermometer
– paracetamol ( drops and suppository)
– anything used for teething pain
– saline solution's vials
– sea water nasal spray
– probiotics
– sun block maximum protection for children (and hubby who's redhead and he burns in minutes under the sun)
– after sun cream
– after bite lotion
– medical certification about vaccinations made
– children safety bracelet
– safety scissors for nails
– chamomile eye drops
– diaper change cream
– wet wipes
– pediatrician/ family doctor phone number
– medical insurance phone number
IF YOU TRAVEL WITH A TOUR OPERATOR YOU USUALLY HAVE A BASIC HEALTH INSURANCE TO COVER EMERGENCIES, ALWAYS CAREFULLY READ WHAT IS INCLUDED AND WHAT IS NOT; IF YOU TRAVEL BY YOURSELF AS WE DO INSURE THE FAMILY WITH A TRAVEL INSURANCE OF YOUR CHOICE.
NEVER, EVER TRAVEL WITHOUT IT.
It closes the "medicine and hygiene"section, now I want to write about what makes the travel more confortable, especially the long
flights.
I usually bring:
– some toys from his favourites, only the silent ones in respect for other passengers
– heavy socks to avoid shoes on board
– baby bottle or cup to drink and to avoid earache on take off and landing
– pacifier if needed
– bib
– hand sanitizer
– some diapers and wipes
– two complete clothing changes
– cookies or crakers or a dry snack he loves
– the MEI TAI (sort of bum bag)
I don't bring anything else to eat because Lorenzo eats what we eat since he was one.
Keep in mind that almost every air company offers toddler lunch or any kind of diet or special needs lunch if requested in advance
or at least 24 hours before departure.
Waht to wear?
On long flights I always freeze.
I did some flights with shorts then I learnt how to wear: long trousers, long socks, t-shirt and a zip hoodie or a jacket plus a
scarf to avoid cold air on the head from above.
For my son I use the same method:
– a onesie to cover his belly
– a t-shirt
– a zip hoodie
– long trousers
– long socks
– sneackers
Air companies usually offers a blanket, a pillow and disposable slippers: blanket is useful, pillow is just space-consuming, I only
saw slippers used from Japanese men.
Now it's time to list all we need for a seaside holiday: of course it's the easiest part and you only have to adjust the list
according to your destination.
– swimming diapers
– swimming suits
– plastic sandals
– hat
– sunglasses with U.V.A. and U.V.B. filters, they cost a little but children's eyes need pretection!
– sun block t-shirt
– onesies
– short troursers
– t-shirts and vests
– socks
– a couple of zip hoodies
– a "more elegant than usual" change
– plastic bib with pocket to collect what falls
– his music box to feel like home
– open shoes
– sneakers
In the old post I also put the number of pieces ( 15 t-shirts, 7 socks…) but it depends on the place you go (the colder the place
is the less changes you need or at least it's the theory) and on the habits of the place: in Thailand there are great laundries, in one day you have all your
things washed and ironed to perfection and they are incredibly cheap.
Did I miss something?
If so please tell me!