A slightly different post from my usual ones to strike back after the holidays.
You know, I usually post long reviews about restaurants, I try to put in them every detail I remember and I find useful; it's a long work and I love to do it at my best.
In the past days in Thailand we went to restaurant every single day, trying to change as often as possible: it's our fifth time in Lamai and we now have a pretty nice knowledge of the places around plus we discovered something new this time.
I want to summarize in a single blog post the four restaurants where, according to me, you can eat very well at the right price in Lamai (the city in Koh Samui where we usually go because it's cozy and peaceful, perfect with a child).
Guiltily I made no photos at all in this holiday, I must admit I felt lazy and without my phone ( broken the first day of holiday) I felt even more unmotivated so the pictures you see in this post come from the web, of course you can see the source under each photo. 😉
Some general suggestions: in Koh Samui seafood is the more requested food, all the best restaurants sell it by the pound, you can choose from the ice counter: always select a restaurants where prices are well displayed ( this year about 120/140 THB for 100 grams for jumbo prawns), ask to see the weight of the fish of your choice ( they usually do it without you need to ask) to see how much you're going to spend ( almost always you have to consider a 10% service charge, a 7% VAT and, in case of credit card payment, another 3% charge) and remember each restaurant only buy a certain amount of seafood each day so if you have your dinner at 7 PM you have plenty of choice, if you have your dinner at 10 PM you just have to see what's left.
BIG WAVE RESTAURANT (LAMAI NIGHT PLAZA). 
One of the oldest restaurants I attend, probably the simplest and cheapest but always packed with nice seafood and jumbo prawns that are really jumbo 🙂
They offer a wide range of thai cousine dishes but you can aleays find a dish of pasta, salads, sandwiches.
Their strong point is for sure grilled seafood, served with spicy and non spicy sauces.
KANGAROO RESTAURANT (101/4 MOO 3 LAMAI BEACH ROAD).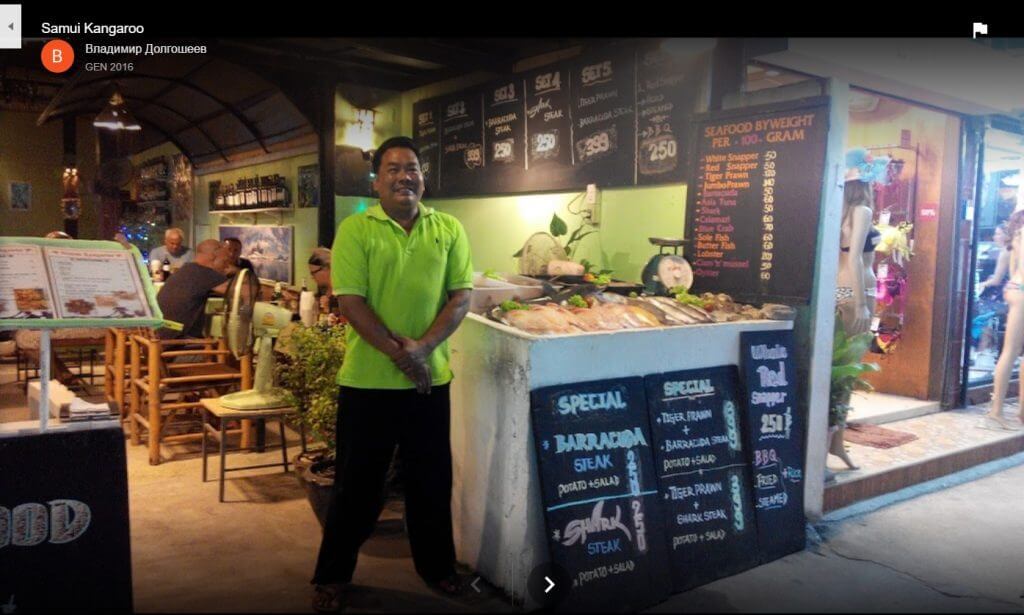 This is a new entry in out top five, it's near our hotel and we went here often.
Seafood is well listed, pizza and pasta dishes are avalable.
Thai dishes are good and go from curries to noodles and rice.
My favourite dish is, for sure, garlic and pepper sauce squid, so tasty I asked the manager the recipe, I'll try to make it soon and if it will turn out well I'll post it.
Owner has been so nice to invite me in the kitchen to see how the dish was made.
MANGO BISTRO ( LAMAI BEACH, BAN LAMAI).
Another Thai cousine restaurant, I add this place in this list because we ate very good mussels marinara (that is not exactly the marinara sauce we are accustomed to, it's thick and creamy).
We knew those mussels as "portoguese mussels" and they were our favourite dish at The Cliff but this year we found their mussels quite flavorless and we were quite sad about it.
Luckly we gave a try with marinara mussels from Mango bistro and, even if maybe mussels were more little and a little bit less chubby, sauce is far better.
All the other dishes are good too, thai and international.
THE BUTCHER (124/307 LAMAI BEACH ROAD).
Another new entry among our favourite restaurants in Lamai, something different because at The Butcher, as the name suggests, the main dish is red meat, good quality red meat ( from Australia, USA, sometimes Kobe bef from Japan) and you can find it in form of sirloin, tenderloin or hamburgers.
Cooking is perfect rare, side dishes are tasty and generous, sauces are delicious.
Staff is professional, owners very careful about customers' satisfaction.
Prices are, of course, a little bit higher than in other places I listed above but anyway affordable and if you want to change food it's the right place.