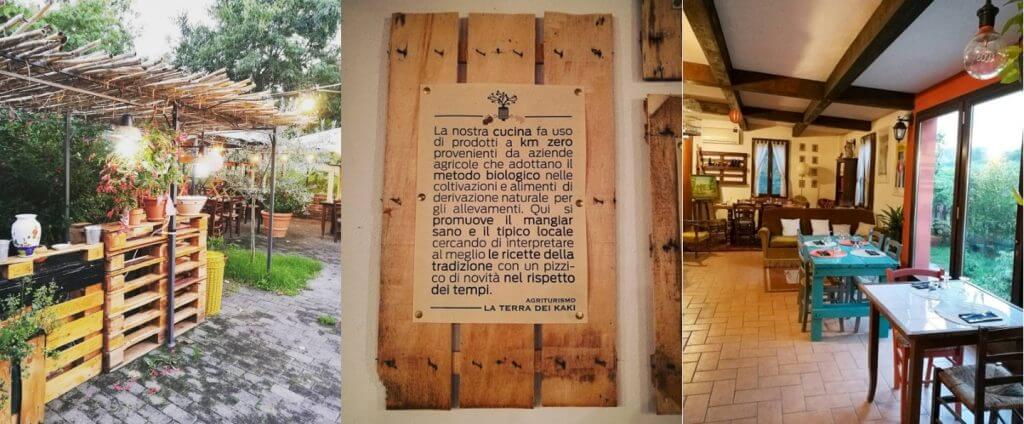 Romagna, my adoptive country, could offer a lot to ones who can figure out something more than well equipped beaches, trendy clubs, seafront walks among shops and hotels.
For a long time this place has had a country vocation, it lives off the land before off the tourism.
Some people, doing sacrifices and efforts, continue this tradition giving everyone the chance to feel this spirit.
La terra dei kaki ( Persimmons' land) is a farm and a restaurant where you can eat farm's production plus some foods from small farmers and breeders around.
They respect seasons and weather, no matter what, menu changes as the nature changes.
I know you probably heard about eating local and organic before but how many times you can exactly know, if you ask, the name of the owner of the meat you're eating?
I've tried this agriturism on a friday night, just before their fall closure, unluckly I had no time to go there in summer and it has been a real pity as you can eat al fresco surrounded by vineyards and fields.
Anyway, the place inside is cozy and warm, tastefully decorated with vintage forniture from flea markets and it makes you feel very welcome.
Here you can find masterpieces of local cooking like tagliatelle al ragù (never, ever ask for spaghetti Bolognese please, they don't exist) and grigliata mista (mixed plate of grilled meat) but here you can know where the eggs for pasta come from, you can speak with the owner who grew the potatoes you are eating as side dish.
I've tried a cold cuts dish with a ham aged with Cervia salt that deserves a standing ovation, then I ate gnocchi made with hemp flour, seasoned with vegetables, ravioli with goat's ricotta cheese and herb butter, cappelletti with ricotta cheese, chasew nuts and a pesto made with wild fennel and mint.
Everything outstanding.
Owners care a lot about people with special food restrictions: you can find plenty of vegan and gluten-free options on menu, if you have any other special request just tell the waiter, they will arrange your food at their best.
I must say, speaking about vegan cooking, I've tasted a vegan chocolate cake I was saying "no, it's not vegan, it's impossible, it's too good".
Their carrot gluten free muffin was moist and delicious, the ricotta and fruit cake was very good.
Owners, with the help of a young enologist, search for good wines from the winemakers around Cesena and Romagna to have the best quality/price relationship; they do a great job I think as the Solis Ortis we drank was a hit.
Prices are very well contained, around 30-35 euros for a whole meal, wine included.
La terra dei kaki is children and pet friendly: children can play outside in the good season with toys offered and on the trampoline and pets are allowed outside and inside if they can relate to persons and other pets which can be there.
Taking a stock of my experience I can say this is a place to visit, go there with open mind and joy and the willing to know more about your food and not only the willing to eat.