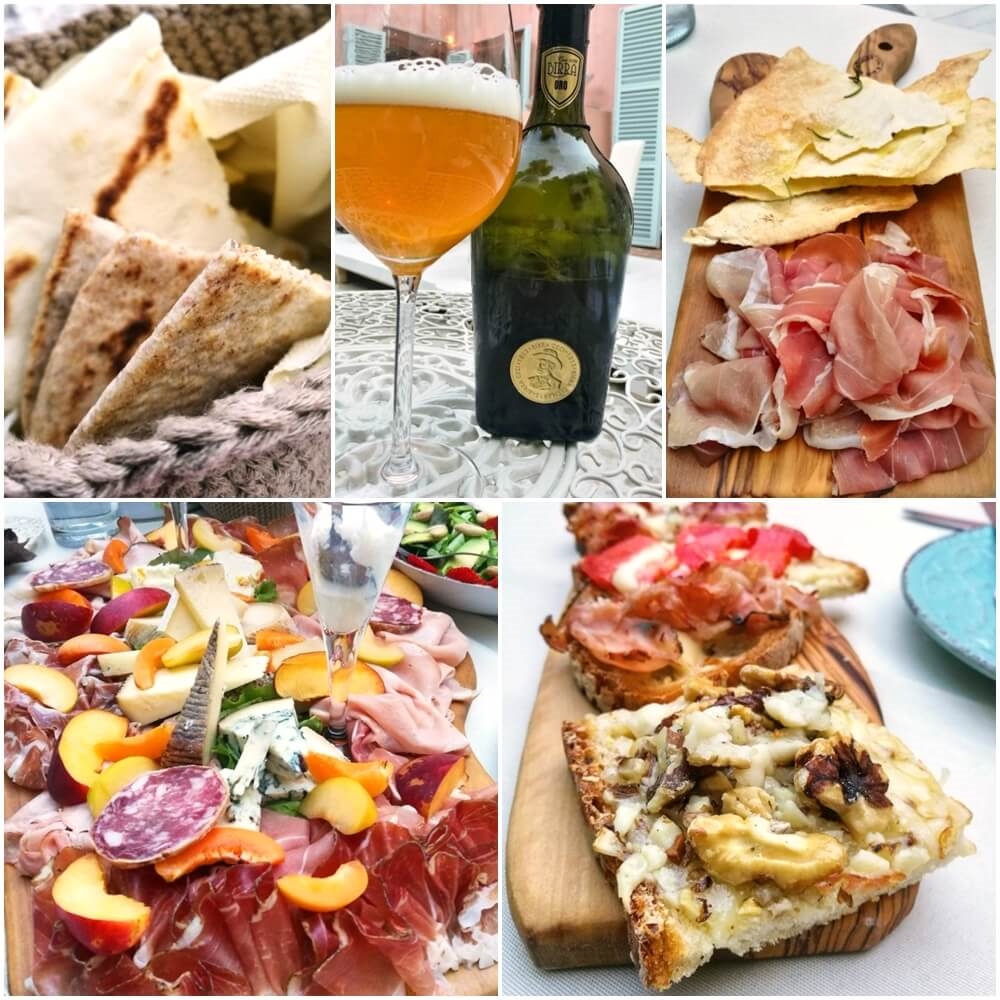 A long time passed since my last restaurant review.
This is mainly because the new restaurants I visited since then didn't catch my attention and my approval, not enough to be postd here.
This is what I was thinking about last night while I was going to one of my favourite places around and…
Oh I've never spoke of it, la Contrada dei Nobili!
Such a shame.
I'm here to fill this gap as Contrada is one of the best and most spectacular place to eat in Santarcangelo di Romagna.
Contrada is located inside an historical palace in the heart of the old village, in the summer you can dine inside the inner garden, among herbs and candlelights; in winter you can have your meal in front of the fireplace, inside a room filled with wonderful paintings.
Francesco and his staff serve mainly cheese and cold cuts platters, something you may think not so refined or graceful but trust me, every platter is filled with the best selection of products from Italy and especially from local artisans.
Ham is not simply ham, is Parma's drop, the most savory Parma ham you can find.
Plus, have you ever tasted pink salami?
I don't think so as I've never had too before eating there for the first time.
I should spend lines and lines of words about their cheeses, Francesco's zeal and passion bring him to hunt the best stracciatella ( creamy fresh cheese from Apulia), bring him to Roncofreddo where Renato Brancaleoni and his cheese atelier "La Fossa Dell'Abbondanza" ( The abundance's pitch) produce some of the most amazing cheeses you can taste; my English is not enough to let you imagine how incredible a tasting experience of them could be for a true cheese lover.
Every platter is served with sliced fruits and different salads to refresh mounth.
I have to mention also their crostini ( sort of bruschetta but with cheeses, vegetables and/ or meat on top), their good piadina, their big and refreshing salads.
Of curse you can pair every dish with a good wine or a nice craft beer, just ask for the best pairing or a suggestion.
Desserts are homemade and very traditional like mascarpone ( tiramisù), custard cakes, rolls; serving are pretty generous not to say very big! 🙂
Prices are average, very good if you consider the high quality of what you are eating.
PS. Photos are mine as usual, just a little bit less quality than usual as they are done with cellphone and at Contrada lights are soft and low.