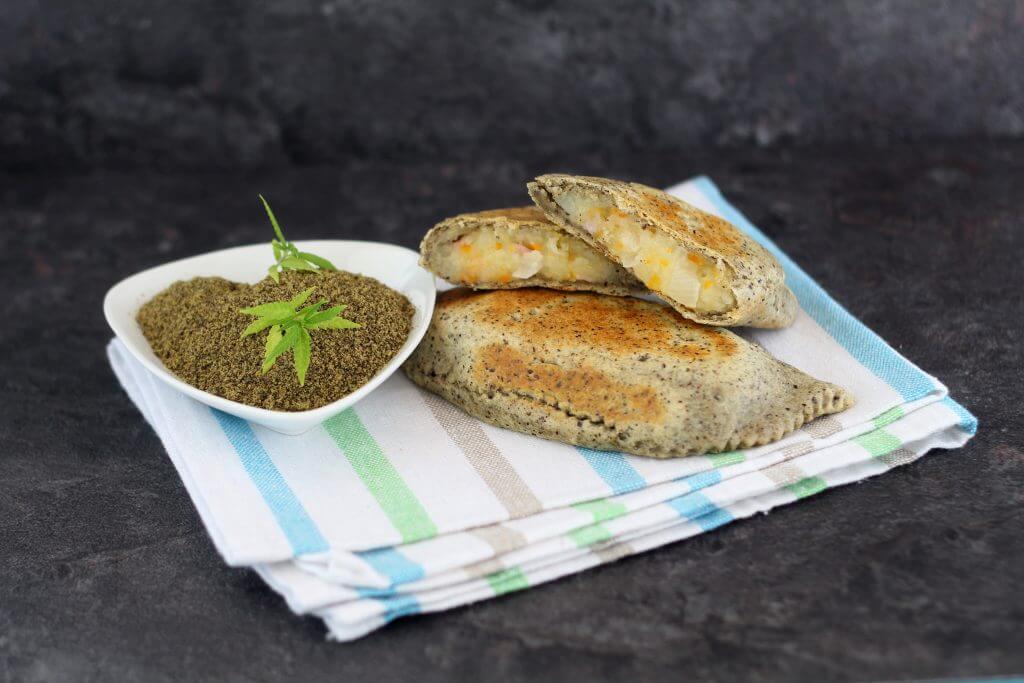 I've found the time to add another flag on the map of my "turnovers world tour ".
Maybe you remember the American ones or the French ones, all of them are made with piadina dough plus a filling which remembers the chosen country.
This time I had hemp flour at home: thinking about hemp then about drug is a very short step: you have to know that hemp has a long tradition in Romagna area too, in the past almost all the fabrics in Romagna were made with hemp.
In Italy hemp is illegal as a drug, the flour I used and the seeds from where the fresh leaves you see in photos come from are certified with less than 2% THC.
Of course often people link hemp to Holland, I did it too and I created a turnover made with 20% hemp flour filled with hutspot ( Dutch potato salad) and smoked bacon.
Dutch usually pair hutspot with rookworst, smoked sausages, but I can't find them here and they admit smoked bacon instead.
To make turnover dough you have to use my recipe for piadina, substituting 20% of regoular flour with hemp one.
Here you are the recipe of the filling:
Boil chopped vegetables in salted water untill thender

In a pan sautee smoked bacon until gold.

Smash vegetable with a fork, add sour cream and bacon then mix well.

As usual, when I make this kind of "unconventional" turnovers, I make them quite small so make pieces of dough of about 70-80 gr, spread them with a rollpin and put filling inside. Close and cook on a hot skillet but take care to take the heat low because turnovers need time to cook, if the heat is too much they burn.

This kind of turnover is better if eaten warm and not hot.