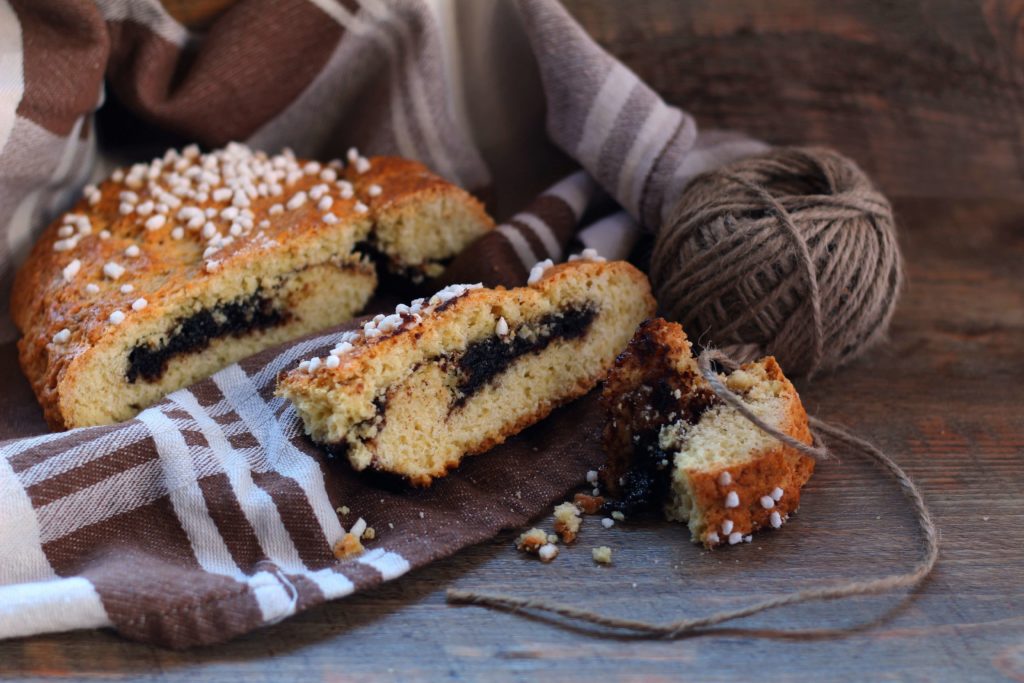 I'm really pleased to introduce you this cake, " pinza bolognese", this is my dad's favourite dessert, is really simple and cheap, it comes from a very old tradition (first quote about this cake was in 1644).
In Italy we have a special name for this kind of cakes: "torte da credenza".
It means "cupboard cakes" and includes all the cakes which last for days without the need of a refrigerator; it means cakes with no creams or custards, unmoist plum- cakes and bundts, ring shaped cakes.
I didn't find an English equivalent for this but I'm sure you understand what I mean because every country has its own set of dessert of this kind of desserts, often from farm or country origins.
To make a real pinza bolognese you should use bolognese mustard (a jam made with quince apples and quince pears, oranges and mustard seeds, also called black jam for its colour); I know it's hard to find outside the city surroundings so I suggest you to use cherry jam or plum jam.
Just in case you'd really want to try ours I show you a jar of it, one of the best quality ready made speaking (doing this jam at home is quite time consuming, about three days of work, so almost everyone nowadays buys it), photo is linked to an online shop, let me know if you tasted it!
( No, it's not a sponsored link, providing sources is a free service I try to give in every post).
I almost forgot to say that pinza in Italian means tweezers, it's an odd name but probably recalls the tight hug between dough and jam.
Suar sprinklers on top are mandatory, don't forget them! 🙂
Recipes of the dough comes from this book, it's about Apennines mountain cooking, it's packed with yummy recipes including a great one for tortellini: the chef/ writer is famous for her tortellini and I can swear they are probably the best I've ever eaten.
I show you the book, linked to Amazon.it for your comfort but I'm pretty sure you can find it in Italian only.
Now: if you have read the whole post you deserve the recipe! 🙂
In a bowl sift flour and baking pownder; add sugar and butter, rub with finger until you have a sand dough.

Add egg, zest from the lemon, and milk ( you could need some less or some more, it depends on the size of the egg) and knead just until well combined.

Put the dough on a baking tray covered with baking paper, give it the shape of a rectangle.

Spread mustard or jam on the dough then bend the long sides of the rectangle overlapping them. Sprinkle sugar grain on top of the pinza. Bake at 338°F for 30/ 40 minutes.

Let it cool completely before serving; it's ok if the cake crumbles a little.
It can be stored in an airtight box for a long time.