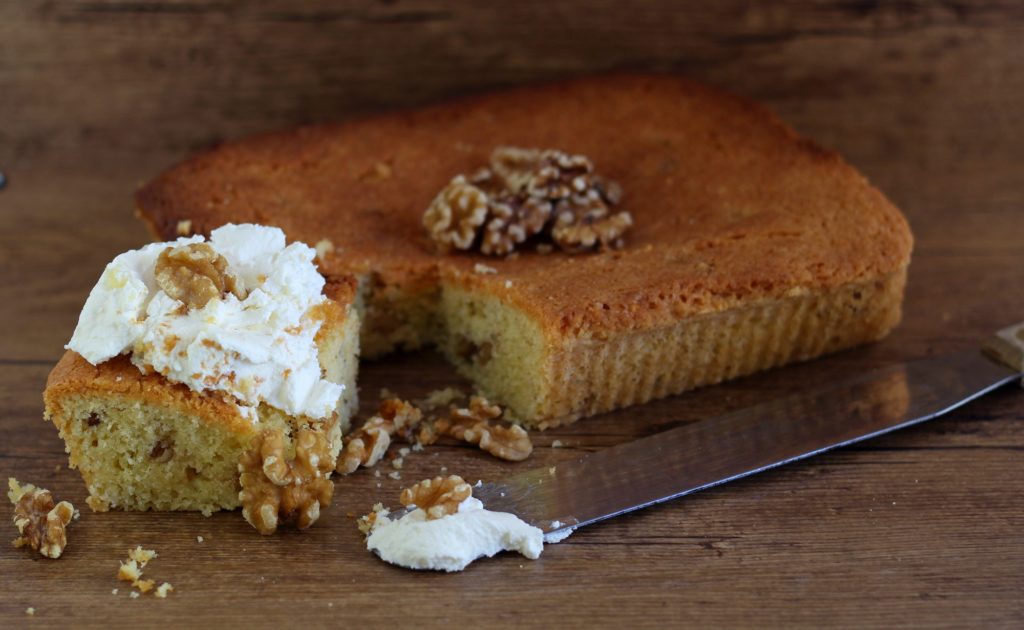 Few weeks ago my father in law came at us to go with my husband at the stadium to see a football match, Bologna- Inter F.C.
We had a quick dinner with piadina bread and cold cuts plus a good cold beer as they had to run off the stadium: it's not far from where we live but of course you have to find a parking lot then walk, then pass the check points…
They were on a rush to be there in time.
I was very happy to have a whole evening just for me, Lorenzo just started school after the summer break and was exhausted and soon ready for bed so I had totally free time to do something in the kitchen.
It's something that donesn't happen often.
I browse a lot of books, I really have to show you my whole collection of cookbooks but I should really neat and organize it better than it is right now. 😛
Then I saw British baking by Paul Hollywood and found this recipe: easy, quick and tasty as we love walnuts very much.
I tried a lot of recipe from this book and I've always been satisfied so I decided to make this one.
I only added 2 tablespoons of rhum, it fits perfectly and I recomend this boost; I also made half the amount of the frosting as it makes the sweet too rich for us: we are always on a diet, I only had a small bite of the cake, hubby ate none, the rest went to my parents', at least they loved it very much!
I make this cake in a rectangular tin of about 20X20 cm ( 8X8 inches), it turned out moist and tall, perfect in few words.
I prefer it without frosting, my parents too but I think it's a matter of habits.
Now I go on with recipe because it's the 4th post I write today ( two recipes but both need to be written in italian and English), I'm going to have busy weeks and I'm trying to save time on weekend while I'm at my parents in law.
Heat the oven to 180°C ( 360°F), grease the tin.

Beat butter and sugar untill fluffy, beat in eggs one at time adding a tablespoon of flour with the last one to avoid lumps then add vanilla.

Sift the rest of the flour and fold the mixture gently; at last add chopped walnuts.

Pour the dough into the tin and level the Surface. Bake for 20- 25 minutes until risen and Golden brown. Let the cake rest for 5 minutes in the tin then let it cold on a wire rack.

To make the buttercream beat the butter until very soft, add the icing sugar and beat again. Beat in the vanilla extract and enough milk to make it spreadable.

Spread the icing on top of the cooled cake and decorate with extra walnuts.
For a 20 cm square tin ( 8 inches).