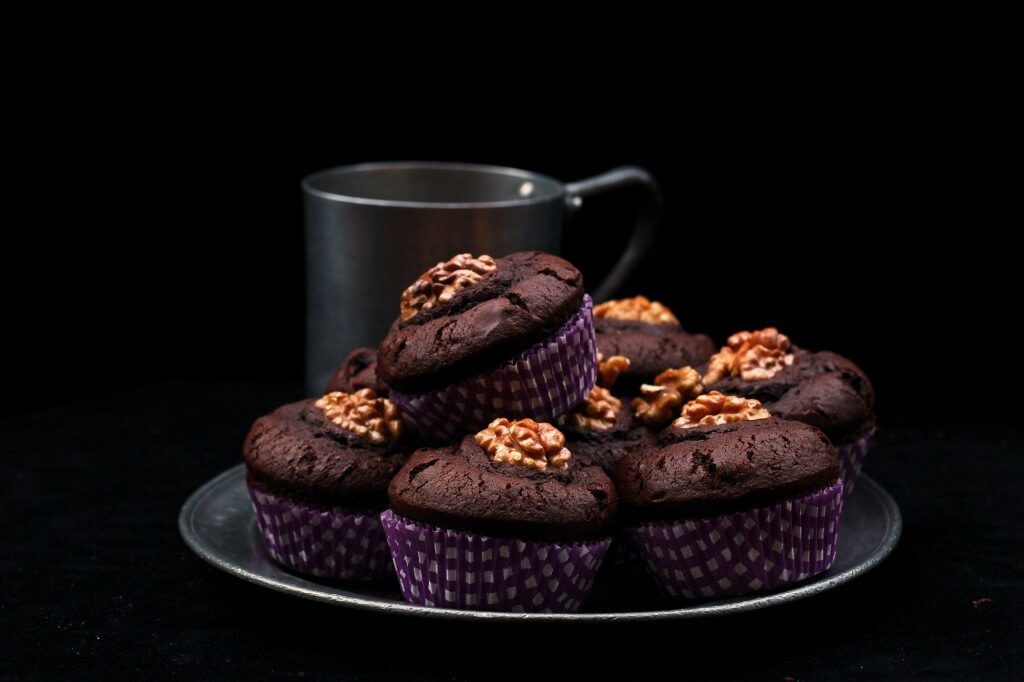 -26 days to Halloween.
It's time for me to post themed recipes so you can plan your gothic dinners, your horror feasts, your dreadful parties with buffets to scream for.
These triple chocolate muffins are so easy but so good ( not so difficult with all that choccolate), you can make them standard sized or one-bite, I always add chopped walnuts because I love them and because I'm inclined to hyperbole.
Halloween is one of my favourite holiday of the year, I love scaring- everything and I used to throw Halloween parties here when this day was almost unknown in Italy and you couldn't find a single themed decoration in shops.
I did spiderwebs with wool tread, I spent hours cutting ghosts from white cardboard, I had a lot of fun and I'm ready to do it again for my son when he will be grown enough to enjoy this kind of party.
I don't have a lot of time to write today, I care a lot about posting but it's a week my son Lorenzo suffers of insomnia and of course he keeps me awake too; my brain is working at half speed and I just would like to sleep, I must be honest.
Unluckly I can't, work is calling and, seeing that, I insert this recipe in my shift!
Mix in a bowl all the dry ingredients, in another softened butter, milk and eggs.

Combine the two mixture, melt dark chocolate and add it too.

Add the chocolate drops and put dough into the muffin tin.

Bake at 350°F for 20-25 minutes. Let them cold and serve.
You can add chopped wanuts inside and Whole half nuts on top to decorate as you can see in photos.