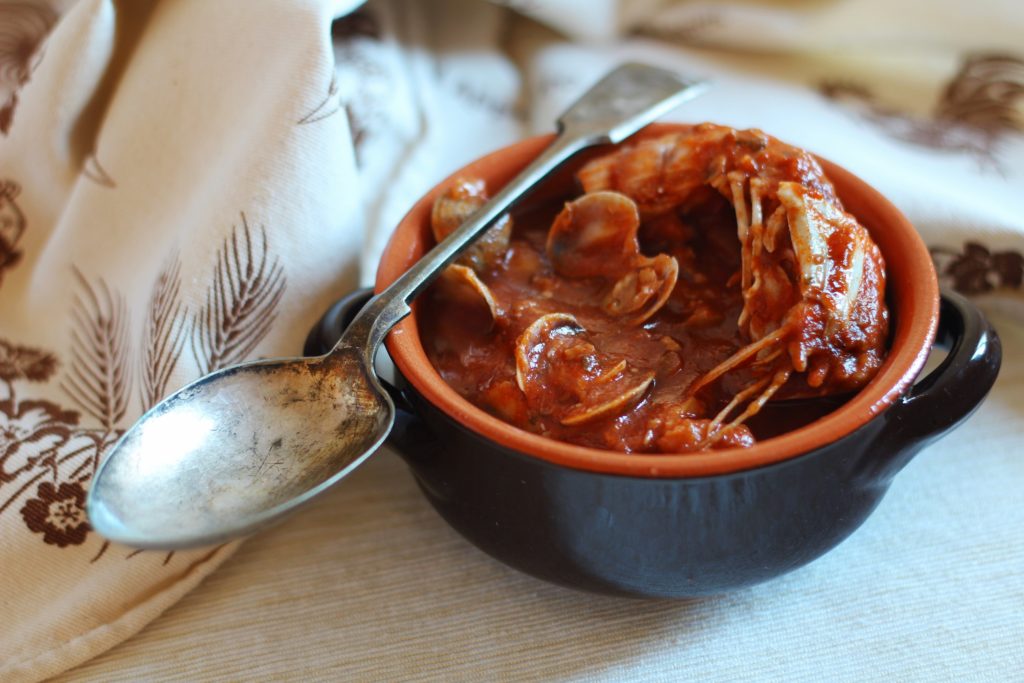 It's friday, hubby is out helping his father buying a new sofa, son is at a friend's home.
I am home ALONE and I swear I'm not going to do anything but writing a new post with a tea cup by my side and fox crime on tv.
Pure blessing.
Since we moved we usually have a walk at the local market on saturday morning; there we can find very fresh fish and, as we are still on a diet, fish become our " week end cheat".
I'm learning how to cook it properly and it's not difficult at all if the fish you use is fresh and high quality.
Husband comes from a city by the sea so fish has always been part of his food heritage: few weeks ago he was craving for a bowl of "brodetto alla romagnola", a fish soup made with different seafood and tomato sauce.
It's a real comfort food, expecially if you pair it with toasted bread in thick slices.
It's not hard to do and it will be soon a favourite for you and your family, I am sure.
Please don't look too much at the photos, still working on the new location and its lights.
Put clams and mussels in big bowls covered with salted cold water. Let them rest for few hours.

In a large, short pan (if earthware is perfection) sautee oil with minced onion and garlic. Add chopped squid, cook with a lid on medium fire for 15 minutes.

Add vinegar, let it evaporate for a couple of minutes then add tomato sauce; bring it to a boil then add monktail, redfish, cook for ten minutes and add mantis shrimps and all the seafood except clams and mussels.

Cook with a lid on on gentle fire for about 40 minutes, add some water if it gets too thick.

Almost at the end add clams and mussels and parsley, mix well, cover with a lid until they open. Adjust salt and pepper ( I use a sprinkle of chili flakes) and serve with thick bread slices, toasted.