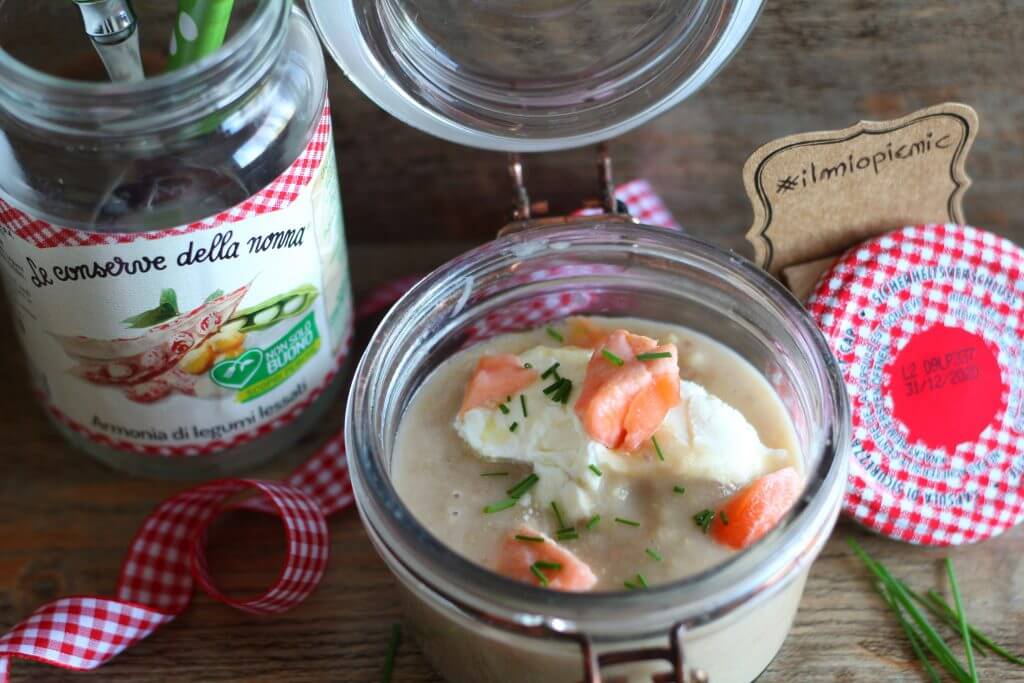 With this recipe I attend a recipe contest organized by a lovely brand of preserved vegetables, the contest and all the recipes are in Italian but as I did here I want to translate at least the recipe for you.
I wanted to do something easy but tasty, something you can take with you in a jar when you wander around for a spring pic-nic or garden party.
I adore beans, chickpeas and legumes, they often come in wintery foods but I wanted to give this dish a spring flair.
I'm posting quick posts lately but I'm quite busy with work, sponsored posts, Lorenzo's therapy and more: please forgive my hurry and enjoy the recipe!
Put in a pan olive oil and garlic, sautee it, remove it then and pour legumes with their water. Let them boil untill they mashed; add salt and pepper to taste. Remove from heat and add crushed pink peppercorns and chives.

In a greased pan sautee diced salmon for a couple of minutes.

In a mason jar pour the legume cream then add a spoonfull of caprino cheese then salmon cubes. Add some crushed peppercorn and chives on top, serve with wholeweath bread slices.