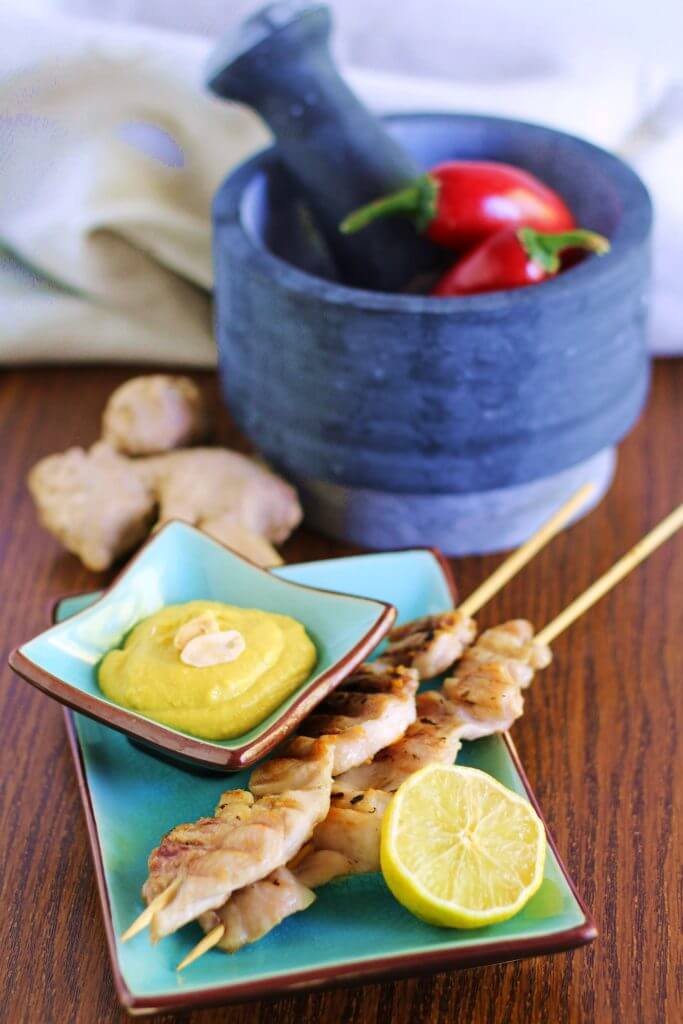 This chicken is delicious, a masterpiece of Thai kitchen.
If I may say so, thanks to a recipe I received from an American girl with Thai origins I met years ago on the web, my satay chicken is very close to the one you can taste in Thailand.
The ingredient's list seems very long but don't worry: the longest part of the recipe is the marinade time.
I only pity the decision to take pictures of this yellowish recipe on a blue dish: shame on me I've been so silly!!
Glares and faked colours everywhere! 🙁
This is a dish I make now and then so I'll take new pictures as soon as possible!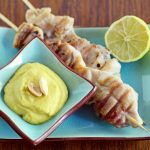 Chicken satay.
2017-01-29 13:56:11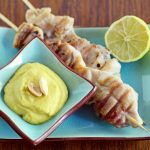 Serves 6
One of the most famous thay dishes.
Ingredients
21 oz. chicken in regoular pieces (breast, thights)
For the marinade
1 big shallot, minced
1 garlic clove, minced
1 piece ginger, about 1 thumb big
1 teasp coriander powder
1 teasp cumin
2 tabsp raw sugar
3 tabsp soy sauce
3 tabsp sesame oil (or canola oil)
1 tabsp fish sauce ( optional)
For the sauce
1.7 oz NON SALTED peanuts
1-2 garlic cloves
1 tabsp sesame or canola oil
2 tabsp soy sauce
1 tabsp lime juice
1 teasp turmeric powder
chilli to taste
coconut milk as needed
Instructions
Put the chicken meat in a bowl with all the marinade ingredients, mix well by hands to season every piece of meat.
Close and put in the fridge from 2 hours to overnight.
When it's time to roast the meat put the chicken pieces on skewers, then use a grill or a oven and roast for about 10-15 minutes.
While skewers are cooking put peanuts in a mixer with all the sauce ingredients: add coconut milk as much as needed to have a smooth cream.
Liquid or dense is up to you, just add more or less coconut milk.
Serve the chicken hot with room temperature sauce.
Notes
The satay sauce can be stored in fridge for 3-4 days well covered.
If it becomes too thick just add coconut milk or water spoon by spoon.
La Mora Romagnola https://www.lamoraromagnola.it/