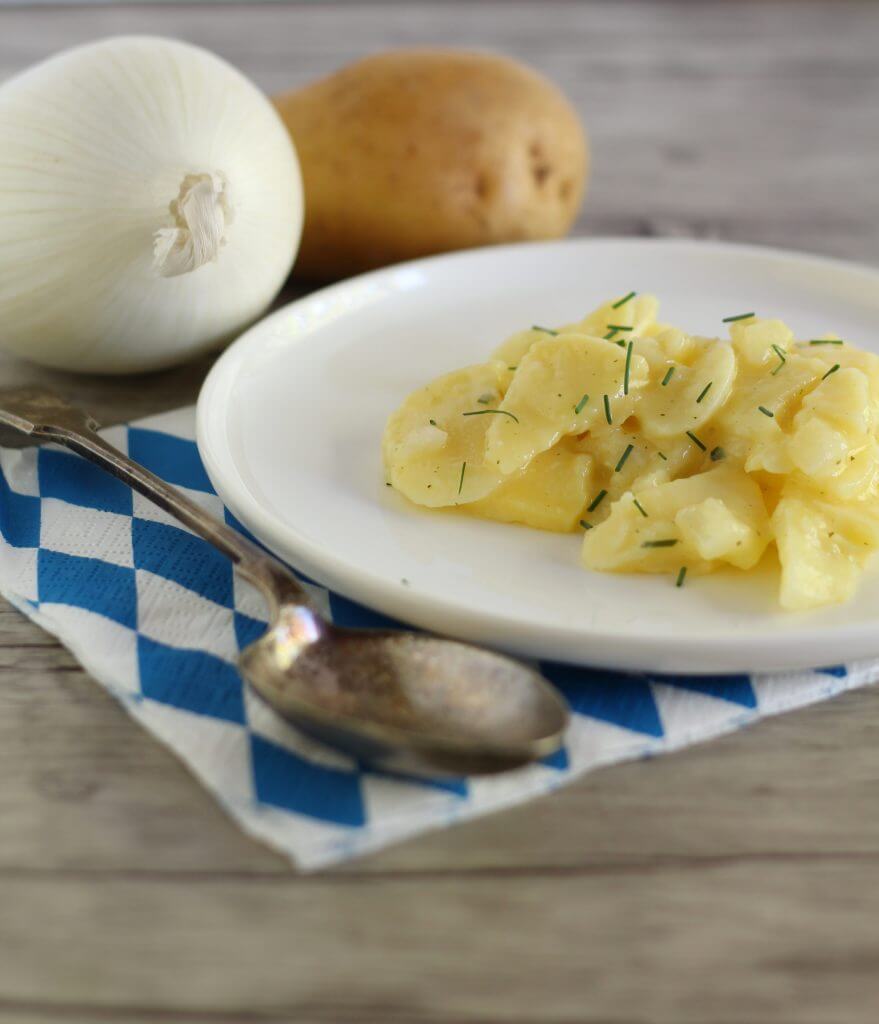 If this year I'm going to Ljubljana, last year I was in Munich; it wasn't my first time there, Munich is quite popular place for Italians, but going there with my friend Elisabetta, a deep lover of Germany and Bavaria was a completely different thing.
I discovered lovely German place where to eat, I could wander around Viktualienmarkt, I could see any shop and any gourmet place around.
I must say I never wrote a mini gourmet-guide about Munich on this blog and it's a good idea for a future post.
This potato salad is typical from Bavaria, unlike other potato salad in other parts of Germany it has nor mayonaise neither wurstel inside it so it can easily become a vegan side dish.
The only thing that requires a little commitment is you have to boil potatoes one day in advance so they can soak the right way ( I did this salad twice before knowing this trick and I ended up with a potato mush, not bad but not really a kartoffelsalat).
Kartoffelsalat bayrisch, Bavarian potato salad.
Ingredients
1

kg

potadoes, steamed a day in advance

125

ml

meat or vegetable broth

2

tbsp

olive oil

2

tbsp

white wine vinegar

1

white onion

1

pinch

caster sugar

salt and peper to taste

chives to garnish
Instructions
Put broth in a pan on mediuum heat, when it comes to a boil add the finely chopped onion, oil, vinegar and sugar.

Boil until the onion is tender, menawhile slice potadoes in thin slices and put them into a bowl.

Pour the broth over potadoes, mix well with a spoon and season with salt and pepper.

Add the chopped chives.

You can eat it immediately or, and I find this far better, let it cold well then eat with a lot of nurnbergwurst