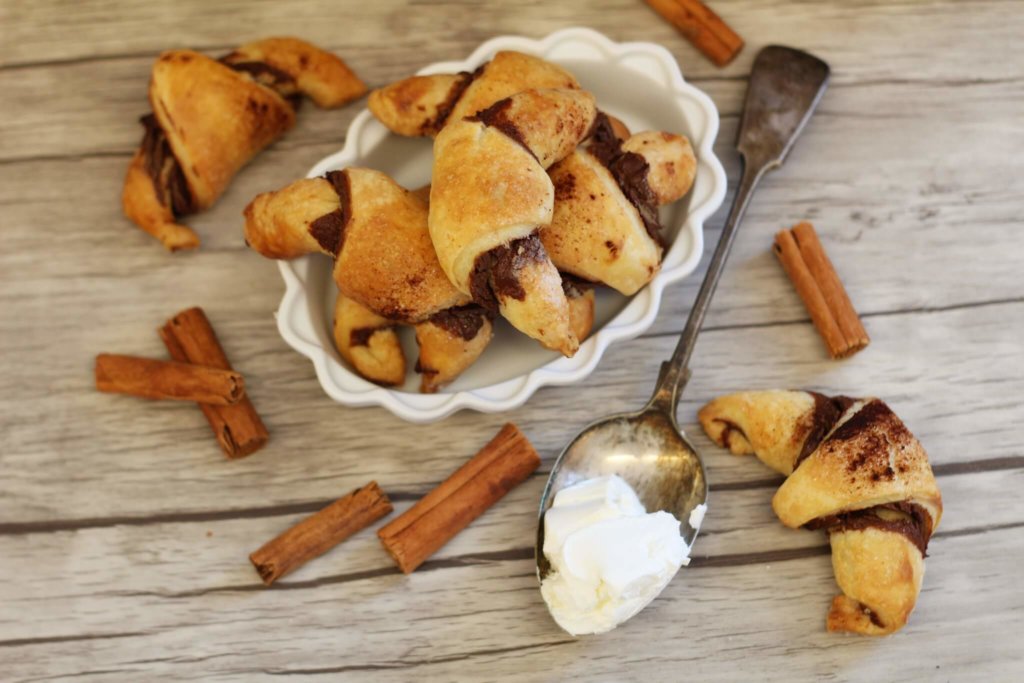 The end of the school year is always a storm of things to do, mettings, sport tournaments…
And, of course, all these things strikes on me: I am busier than a very important business man. :O
Next week there is the school party and I am going to bake a huge amount of sugar cookies and chocolate muffins; when I am obliged to bake I loose all the joy and fun. :/
Anyway today I have a couple of hours and I really want to update the blog with a new recipe; unluckly my old laptop is acting oddly lately and the internet connection is the main issue ( the most important, the less working of course!) and posting is becoming harder and longer than usual.
We should really buy a new laptop but we don't really want to spend money 😛
Let's talk about the recipe: chocolate rugelach.
They are well known treats from the Jew's tradition, they are similar to croissants but far less caloric because there is more cream cheese than butter in the dough.
Traditionally they were made with sour cream but in Italy sour cream is not that common and the recipe I have, from Marc Grossman, calls for cream cheese so here we are. 🙂
Inside I put, as recipe says, chocolate cream and walnut filling but you can add any dried fruit or whatever you like.
DO NOT eat all of them at once. Really, I m not joking… It has been a real risk for me! 😀
Mix by hand or with a mixer all the dough ingredients. Make a smooth loaf and wrap it in cling film, let it rest in fridge for at least 4 hours.

For the chocolate cream: bring butter and milk cream to a boil, add the chocolate, remove from fire and mix until chocolate is weel melt. Preheat ovn at 360°F.

On a slightly floured surface spread the dough with a rollpin. You should end with a disk of about 30 cm diameter. Brush the disk with chocolate cream then sprinkle with all the filling ingredients. Cut the disk in 12 cloves and roll them croissant- like. Put them on a baking tray.

Mix yolk and water, brush the rugelach then sprinkle with caster sugar and cinnamon. Bake for about 20 minutes until rugelach become gold. Wait at least 10 minutes before tasting.

Mettete i rugelach su una teglia e infornate per circa 20 minuti, fino a quando sono ben dorati. Lasciateli raffreddare una decina di minuti almeno prima di assaggiarli.