SCROLL DOWN FOR ENGLISH VERSION.
Prometto: questo sarà l'ultimo post a tema Halloween.
Non importa se manca ancora più di una settimana ho raggiunto il limite massimo e sento il bisogno di cambiare.
Contrariamente al solito non vedete diverse foto dello stesso soggetto, i motivi sono due:
ho fatto le foto in una giornata buia e piovosa, il soggetto non era certo dei più facili e di certo anche nella preparazione avrei potuto essere migliore ma non modello visi di carne macinata tutti i giorni.  😀
molti fra quelli che hanno visto la foto del polpettone l'han trovata troppo inquietante e non vorrei urtare la sensibilità di nessuno anche se a parer mio al massimo fa ridere.
Per questo ho messo la foto solo in fondo al post.
Come per le meringhe anche qui si tratta più di un'idea per fare festa che una ricetta specifica: potete fare il polpettone che preferite, basta formarlo con le mani a ricordare una testa e decorarlo con bendaggi di bacon e occhi e denti di cipolla.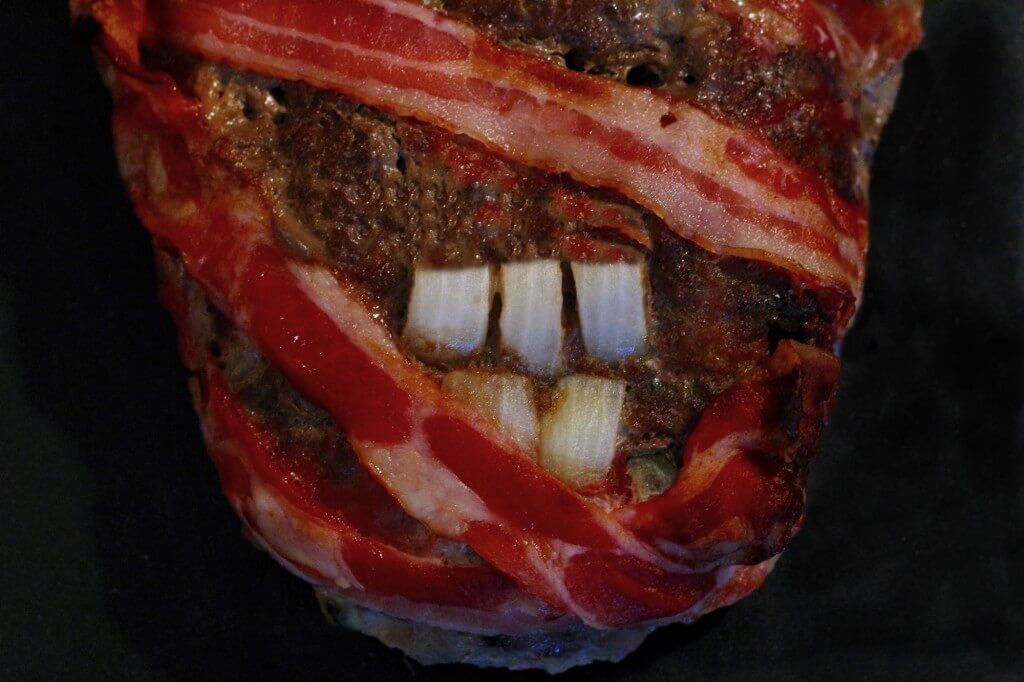 Polpettone pauroso.
2015-10-23 19:16:42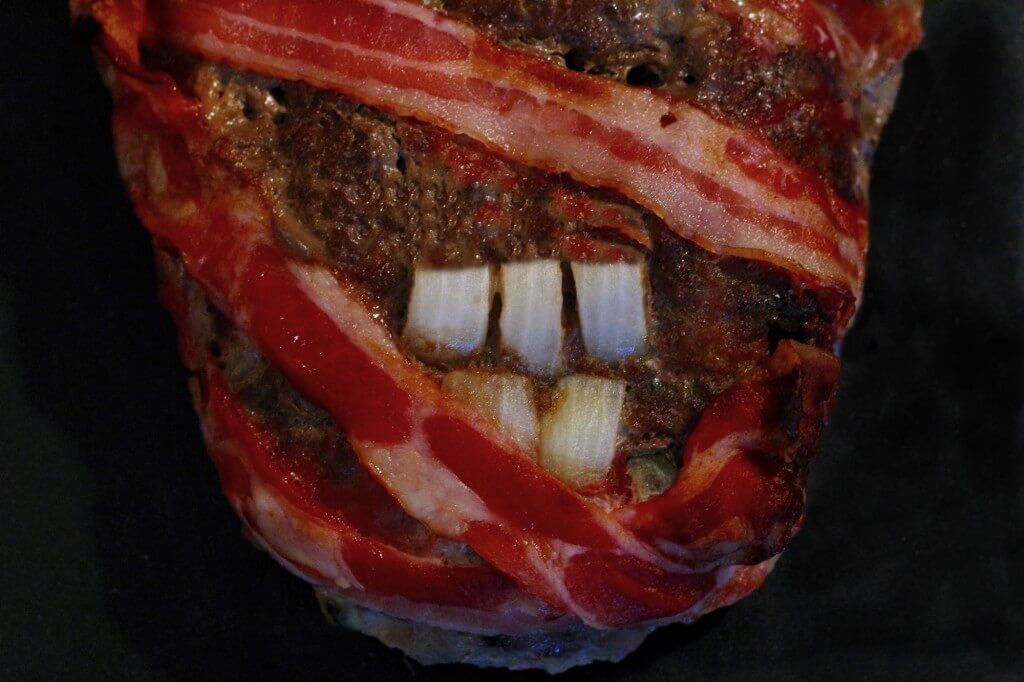 Serves 6
Un semplice polpettone che si veste a tema horror.
Ingredients
500 gr macinato di carne a piacere ( io misto vitellone e suino)
1 cipolla bianca
4-5 cetriolini sott'aceto
1 uovo
100 gr Parmigiano grattugiato
1 manciata prezzemolo grattugiato
sale e pepe a piacere
4-5 fette sottili di bacon
Instructions
Mescolate macinato, uovo, formaggio, prezzemolo, cetriolini tritati finemente.
Date alla polpetta una forma somigliante a una testa con leggere cavità per gli occhi e il naso.
Modellate un velo di cipolla per creare due occhi e premeteli per inserirli leggermente nella carne.
Modellate dei piccoli rettangoli con la cipolla e create i denti.
Aggiungete le fette di bacon in maniera casuale, come fossero bendaggi.
Cuocete in forno a 200°C per circa 30/40 minuti.
Notes
Solo mentre mangiavo ho scoperto che, togliendo le fette di cipolla che formano gli occhi, si ottengono delle cavità oculari abbastanza impressionanti!
Cercate di mantenere lo spessore del polpettone abbastanza uniforme o rischiate che le parti più spesse non cuociano.
La Mora Romagnola https://www.lamoraromagnola.it/
 I swear this is the last Halloween-themed post.
I know we are in the last week before the night but I feel it's time to move on and post different things.
You don't see photos of the dish on top as usual, this is because:
I did the photos in the worst day ever ( rain, dark), meatloaves are't easy to picture at all and I also could have been more accurate in the making of but i don't shape face-meatloaves everyday 😀
Many of my friends have seen the photos and they say they're too shocking even if I find them only funny.
So I only posted a picture at the bottom of this post.
As for bones meringues this is far more a party idea than an exact recipe: you can make the meatloaf recipe you prefer, just shape it face-like and use bacon as bandages and onion for eyes and teeth.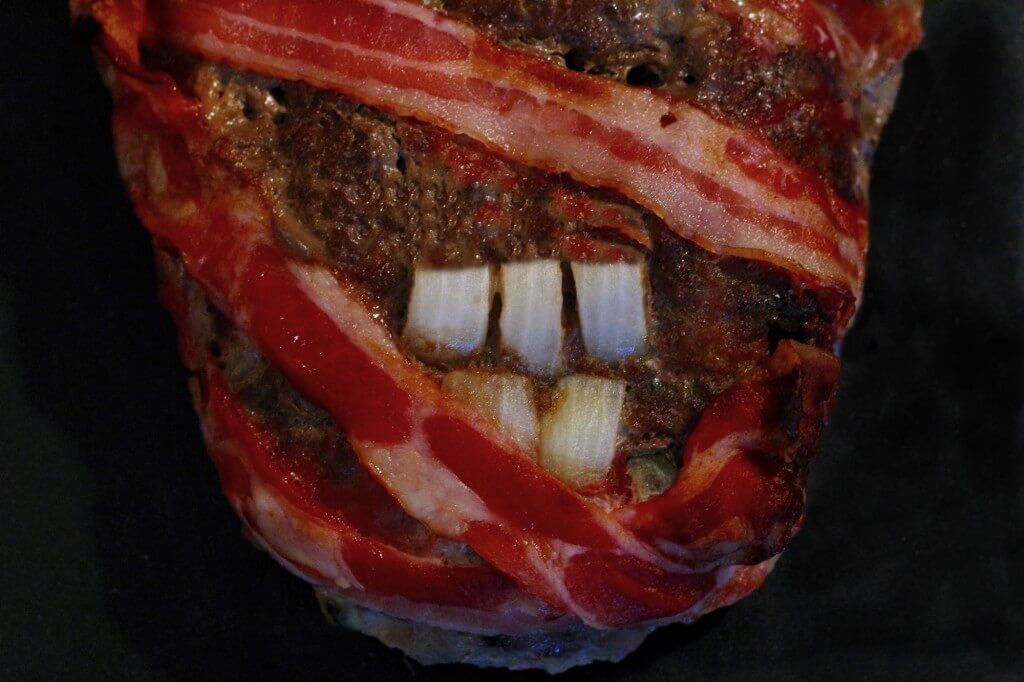 Scary meatloaf.
2015-10-24 21:56:56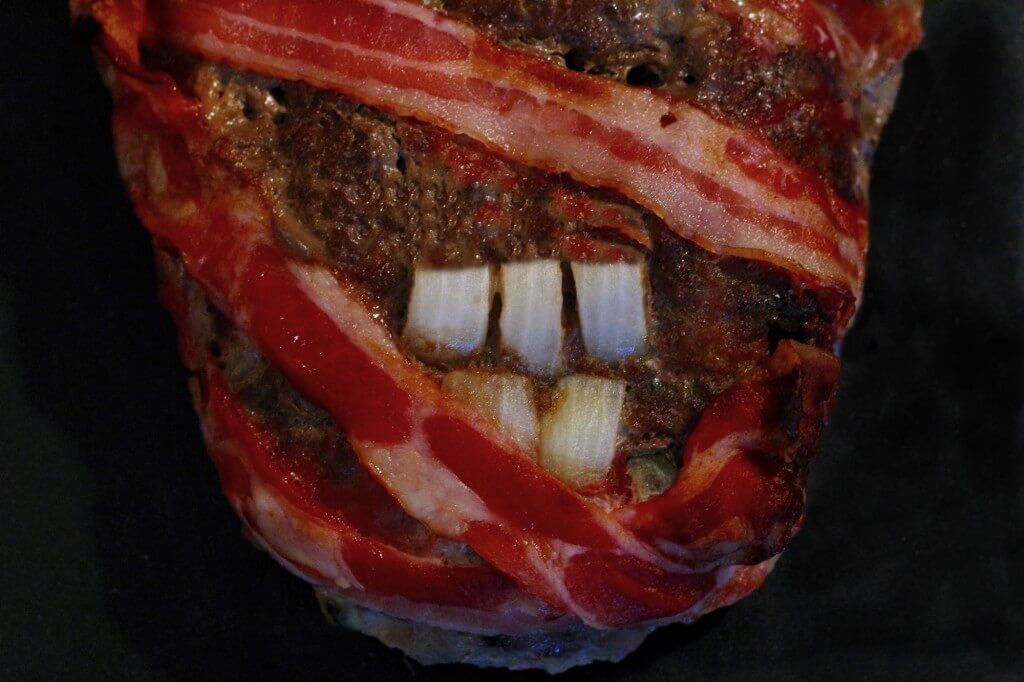 Serves 6
The classic meatloaf is going scary.
Ingredients
18 oz minced meat (beef and pork for me)
1 egg
1 onion
4-5 pickled gherkin
3.5 oz grated Parmesan or other cheese
1 bunch chopped parsley
salt and pepper to taste
4-5 bacon stripes
Instructions
Mix meat, egg, Parmesan, parsley, finely chopped gherkins and salt and pepper to taste.
On a baking tray mould a head, remembering holes for eyes and nose.
Cut the onion to shape eye whites, press it gently on meat.
Shape onion rectangles to make teeth, add them.
Use bacon to wrap head like they were bandages.
Notes
Try to keep meatloaf's gauge uniform or it will not cook evenly.
While I was eating I discovered that if you remove onion from eyes you end up having a different color of meat that gives you a quite scary impression!
La Mora Romagnola https://www.lamoraromagnola.it/