SCROLL DOWN FOR ENGLISH POST.
Qui in Romagna l'autunno è già più che inoltrato, di foglie sugli alberi ne sono rimaste poche; si sente in giro l'odore delle caldarroste e fra un paio di settimane si inizierà ad assaggiare la cagnina (vino nuovo), possibilmente in piazza in bicchieri di plastica, in piedi fra i banchi della fiera di San Martino (o dei becchi che dir si voglia) a Santarcangelo che quest'anno si terrà il 7, l'8 e l'11 novembre.
E' un appuntamento che non si può perdere per noi della zona: i bimbi aspettano le giostre e le "luverie" (cose buone da mangiare), i grandi i banchi, lo struscio per incontrare tutti quelli che non vedi mai ma che sai che alla fiera ci sono di sicuro e, ovviamente, anche loro le luverie!
Una ricetta squisitamente autunnale che faccio da tanto tempo e che avevo anche sulla vecchia versione del blog, è stata rifatta da molte amiche ed è sempre piaciuta tanto.
Qualche settimana fa i nostri vicini di casa, cinesi di seconda generazione, ci hanno regalato una cassa da 10 chili di mele buonissime.
Per ringraziarli ho fatto loro questi dolcetti e ho colto l'occasione per fotografarli e finalmente posso condividerli qui.
Sono semplicissimi, un classico dolcetto da fare in pochi minuti e che va bene per colazione o merenda.
La spolverata di zucchero di canna sopra forma una crosticina dolce e deliziosa.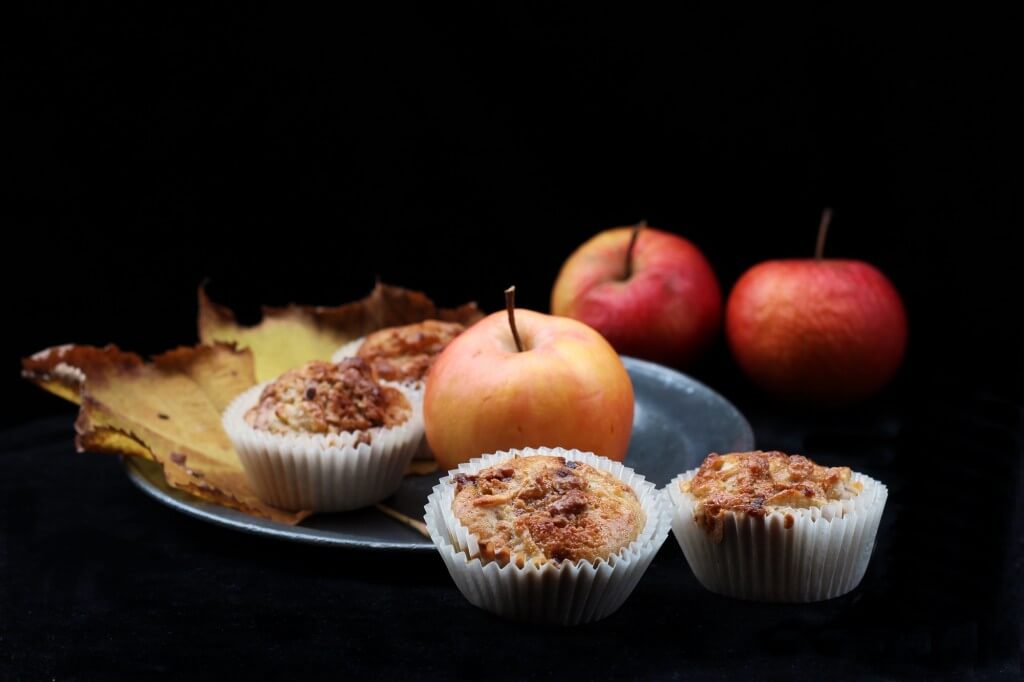 Muffin alle mele con copertura croccante.
2015-10-25 11:48:51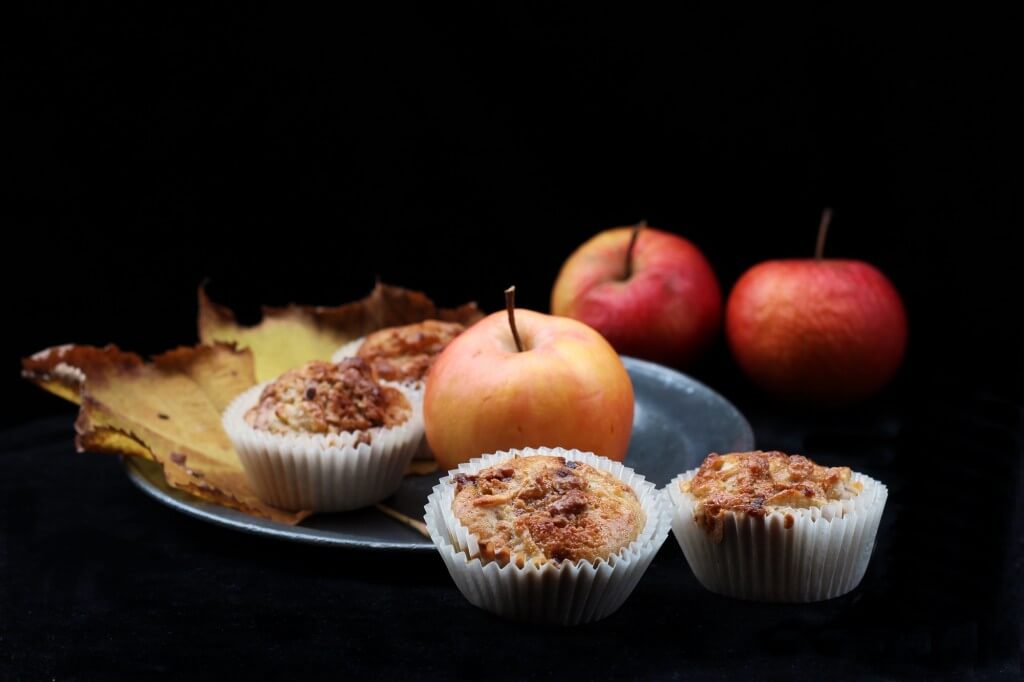 Serves 10
Profumati dolcetti che sanno d'autunno.
Ingredients
300 gr farina 00
140 gr zucchero
80 gr burro morbido (io ho messo 60 gr. di olio di mais)
2 uova
180 ml latte
scorza di limone grattugiata q.b.
mezza bustina di lievito per dolci
2 mele grandi
zucchero di canna grezzo q.b.
Instructions
Mescolare in una ciotola tutti gli ingredienti secchi e aggiungere poi poco alla volta le uova, il latte, il burro fuso/ l'olio.
Tagliare le mele a cubetti piccolini ed aggiungerle all'impasto, riempire i pirottini, cospargere abbondantemente di zucchero di canna e infornare 20-25 minuti a 180 C°.
Potete servirli tiepidi o freddi.
Notes
Io amo aromatizzare l'impasto non solo con scorza di limone ma anche con zenzero in polvere e vaniglia.
Se piace ovviamente la cannella sta benissimo.
Sopra oltre lo zucchero di canna si possono aggiungere mandorle, nocciole o pinoli.
La Mora Romagnola https://www.lamoraromagnola.it/
Here in Romagna fall is in its depth, almost no more leaves on trees, you can smell roast chestnuts and in a couple of week we will taste some cagnina (new vine), probably standing in the middle of the city's square, in plasic glasses, among  St. Martin's fair stands (also called cuckolded fair, one of the most varied fairs in Romagna, already famous in the fourteenth century. Originally annual livestock fair, it has now become an occasion for commerce, popular folklore and entertainment).
This is the appointment you can't miss: children wait for amusement rides and merry go rounds and for "luverie" (treats, sweet and non sweet), adults wait for stands, shopping, metting with old friend and, of course, for luverie too. 😀
This recipe is ideal for baking season, it has fall taste and autumn flavour; it's a must at home, I had this on my old blog and a lot of friend made it and lovet it.
Some weeks ago our neighbours, a Chinese young couple, gave us a whole crate of tasty apples, to thank them I made these muffins and I pictured them in a decent way for the post.
They are easy, you can make them in minutes, they are the perfect treat for breakfast or tea break.
The extra sprinkle of brown sugar creates a crunchy crust sweet and delicious.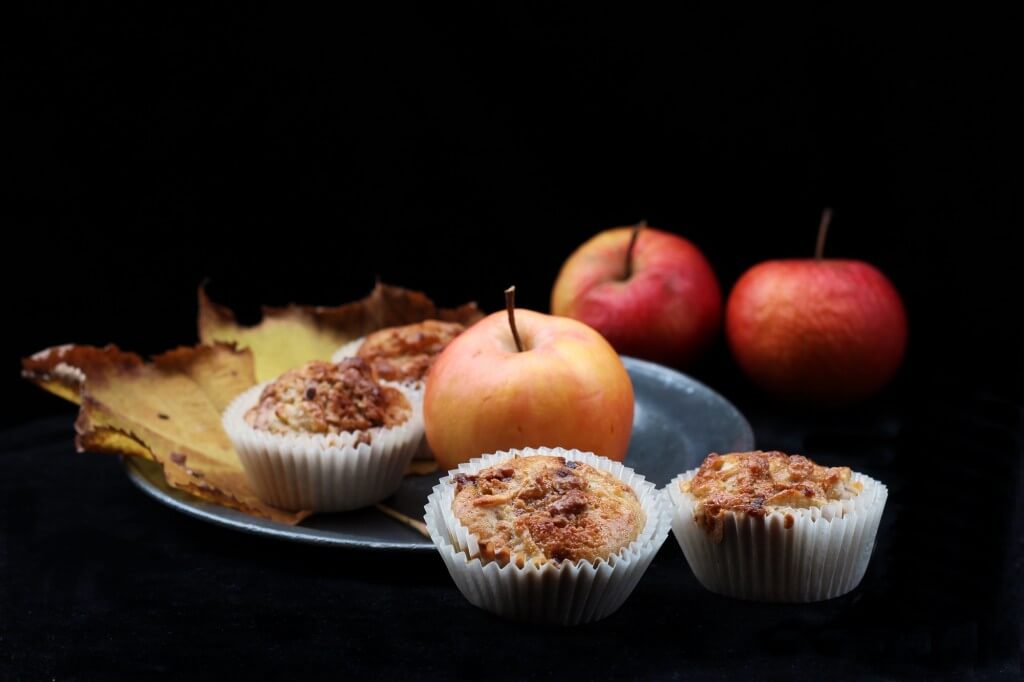 Apple muffins with crunchy crust.
2015-10-26 21:49:34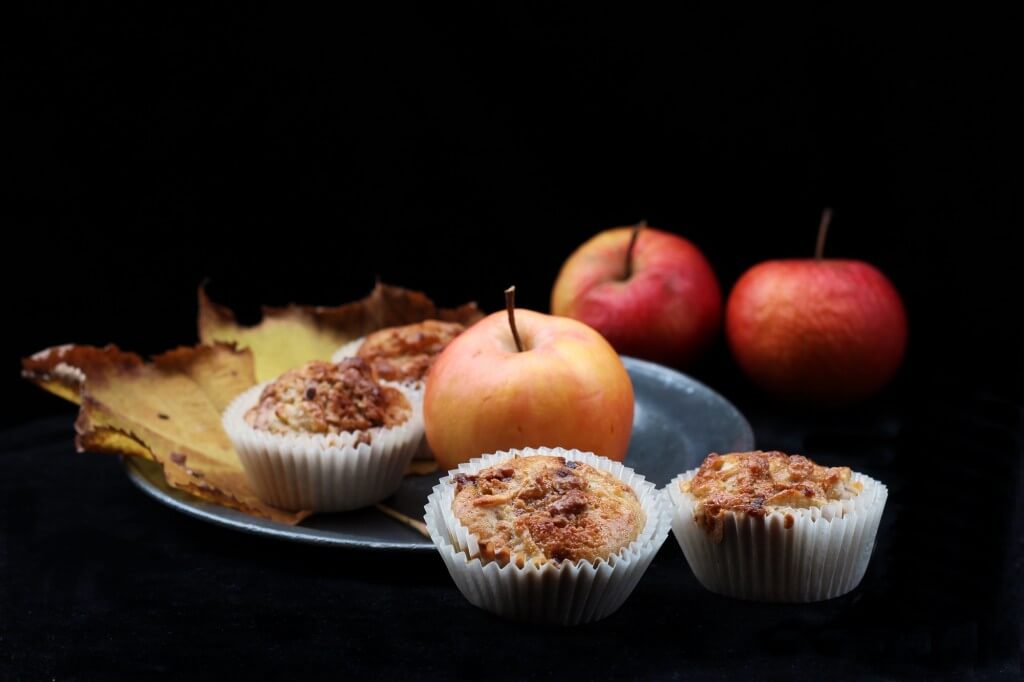 Serves 10
Tasty autumn treats.
Ingredients
10.5 oz all purpose flour
5 oz caster sugar
3 oz butter or 2.8 oz canola oil
6 oz milk
2 eggs
2 teasp. baking powder
zest from 1 lemon
2 apples
brown sugar to sprinkle
Instructions
Mix in a bowl all the dry ingredients then add, little by little, eggs, milk and butter/oil.
Peel and dice apples, mix them to the dough.
Fill the moulds and sprinkle with a generous amount of brown sugar.
Bake at 350°F for 20-25 minutes (or a little bit more as apple can be soggy).
Notes
I also add powdered ginger and vanilla seeds to the dough.
Of course you can add cinnamon, it's perfect in it it's just I don't like cinnamon.
On top, with brown sugag, you can add almonds or pine nuts or hazelnuts.
La Mora Romagnola https://www.lamoraromagnola.it/