SCROLL DOWN FOR ENGLISH POST.
Io e le mie amiche di piume e becco ( le Bloggalline per intenderci) ci divertiamo a rifare una la ricetta dell'altra.
Grazie a un'idea della mia amica Jessica di In Mou Veritas ( colei che mi ha iniziato al lievito madre, le cui feste sono memorabili e i cui party tutorial sono indiscutibilmente geniali) ogni mese veniamo abbinate alla cieca a un'altra Bloggallina e dal suo blog dobbiamo scegliere una ricetta e rifarla uguale o modificata.
Questo mese (il primo di questo gioco molto stimolante) la mia fonte di ispirazione è Titti di Piccola pasticceria Clandestina.
Come dice il titolo del blog ci sono dolci a bizzeffe: io ho scelto dei mini muffins alla castagna gluten free e li ho veganizzati e leggermente modificati.
Sono piaciuti in casa anche se, vista la presenza della crema di marroni che è molto dolce, la dose originale di zucchero è eccessiva; nella ricetta trovate la dose già modificata.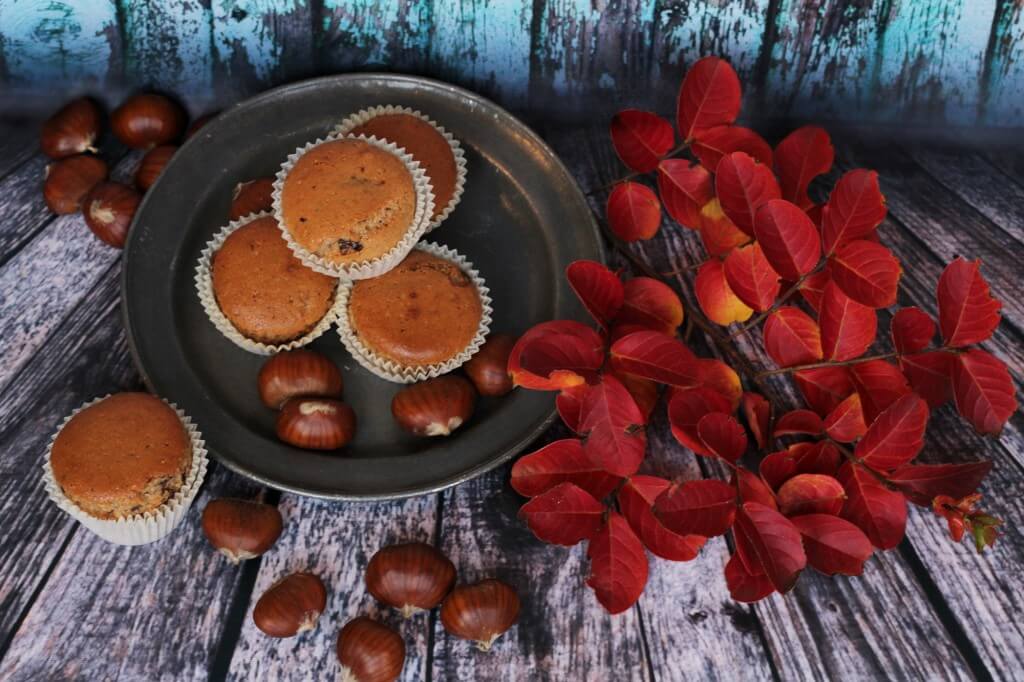 Muffin vegani alle castagne.
2015-10-30 14:13:09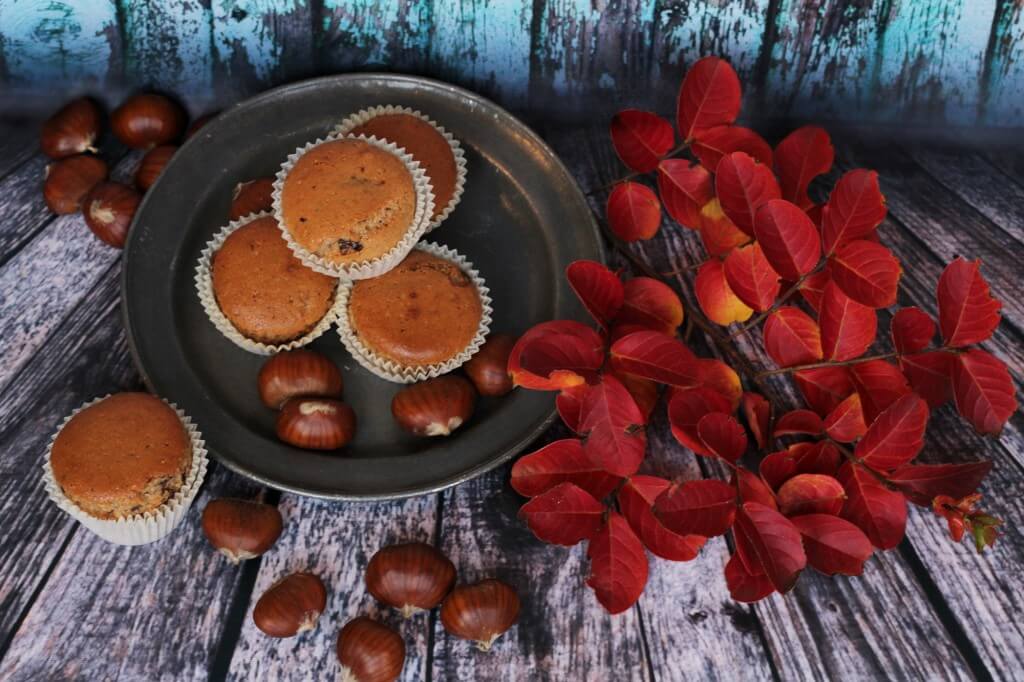 Serves 10
Piccoli dolcetti autunnali senza glutine e del tutto vegan.
Ingredients
100 gr fecola patate
100 gr farina castagne
120 ml latte mandorla (o riso o altro latte vegetale)
90 gr zucchero
60 gr banana schiacciata
60 gr olio semi
1/2 bustina lievito
60 gr crema di marroni
40 gr gocce o scaglie cioccolato fondente
Instructions
In una ciotola mescolate le farine, il sale, il lievito, le gocce di cioccolato.
Aggiungete pian piano mescolando o sbattendo con le fruste la banana schiacciata, il latte di mandorla e l'olio di semi.
Mettete un cucchiaio di impasto in ogni pirottino, aggiungete un cucchiaino di crema di marroni e coprite con un altro cucchiaio di impasto.
Cuocete in forno a 180°C per circa 20-25 minuti.
Notes
Se non usate la crema di marroni portate la dose di zucchero a 110 gr.
Adapted from Blog Piccola Pasticceria Clandestina
La Mora Romagnola https://www.lamoraromagnola.it/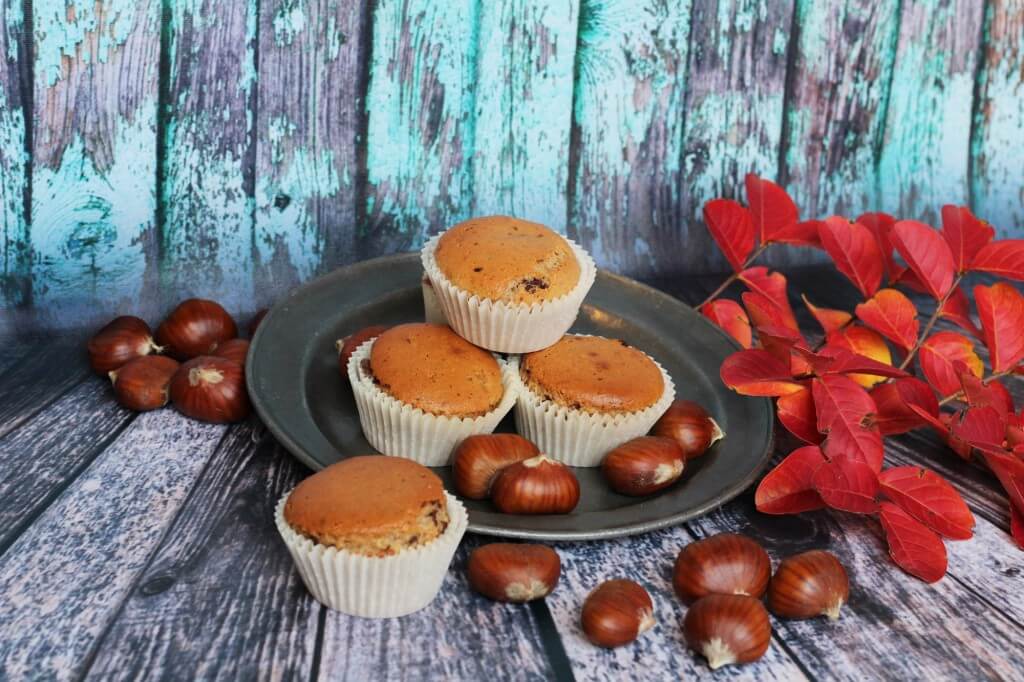 Me and my blogger friends from Bloggalline ( a community of foodbloggers) love to make each other's recipes.
Thanks to Jessica from In mou veritas ( some recipes on her blog in English too) and her idea of a "recipe exchange" every month we are paired and we have to choose a recipe from our mate's blog to make and to post on our blog.
This month, the first of this bracing game, I have to remake a recipe from Piccola Pasticceria Clandestina, Titti's blog you could translate in " Little clandestine bakery".
As the title suggests it's a dessert-based blog and I've chosen some mini chestnut muffins then I made them vegan.
We liked them even if, because I used almond milk and added chestnut cream, the sugar amount must be reduced ( in the recipe card you'll find the revised dose).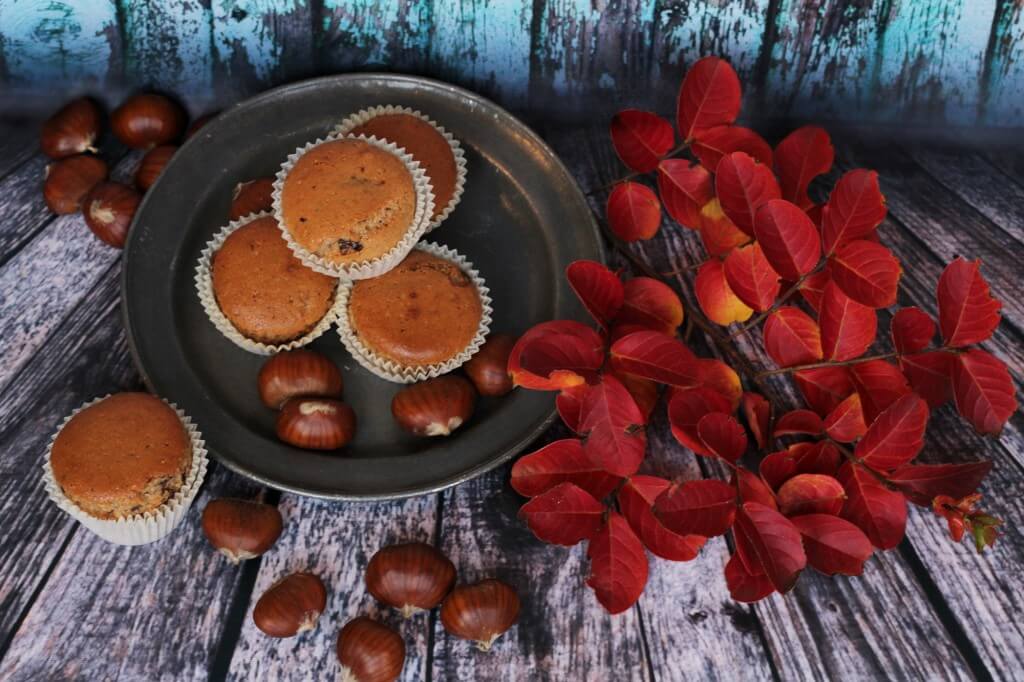 Chestnut vegan muffins.
2015-10-30 15:08:01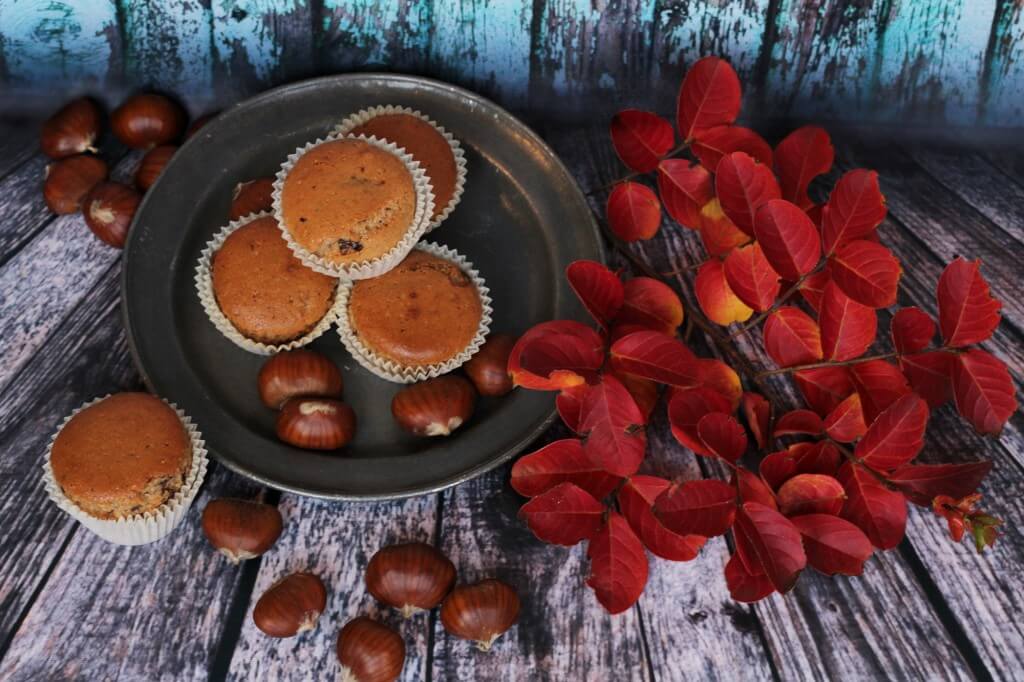 Serves 10
Gluten free vegan chestnut muffins.
Ingredients
3,5 oz chestnut flour
3,5 oz potato starch
4 oz almond milk
3 oz sugar
2 oz mashed banana
2 oz canola oil
2 teasp baking powder
a sprinkle of salt
2 oz chestnut cream/ spread
1,5 oz dark chocolate drops
Instructions
Mix flours, salt, baking powder, chocolate drops, sugar in a bowl, while beating add mashed banana, canola oil, almond milk.
Pour a spoon of dough inside a muffin tin, add a teaspoon of chestnut spread then another spoon of dough.
Bake at 350°F for 20-25 minutes.
Notes
If you don't use chestnut spread use 3,8 oz sugar.
Adapted from Blog Piccola Pasticceria Clandestina
La Mora Romagnola https://www.lamoraromagnola.it/