SCROLL DOWN FOR ENGLISH POST.
Siete là fuori, io lo so.
Voi, voi che come me non temete nemmeno i 40°C quando si tratta di accendere il forno.
Vane le suppliche del marito che vorrebbe tenere accesa l'aria condizionata (che accesa assieme al forno farebbe saltare tutto ovviamente).
Vana quella vocina nella testa che mi richiama al buonsenso.
Unitevi a me nella preparazione di questa delizia che metterà a tacere tutti coloro che vi danno dei matti a usare il forno in un luglio come questo.
Queste cipolle sono buone buonissime e facilissime da preparare, sono anche molto scenografiche, più sono tonde più i petali si aprono, quelle che avevo io erano leggermente piatte e il risultato è meno evidente ma comunque apprezzabile.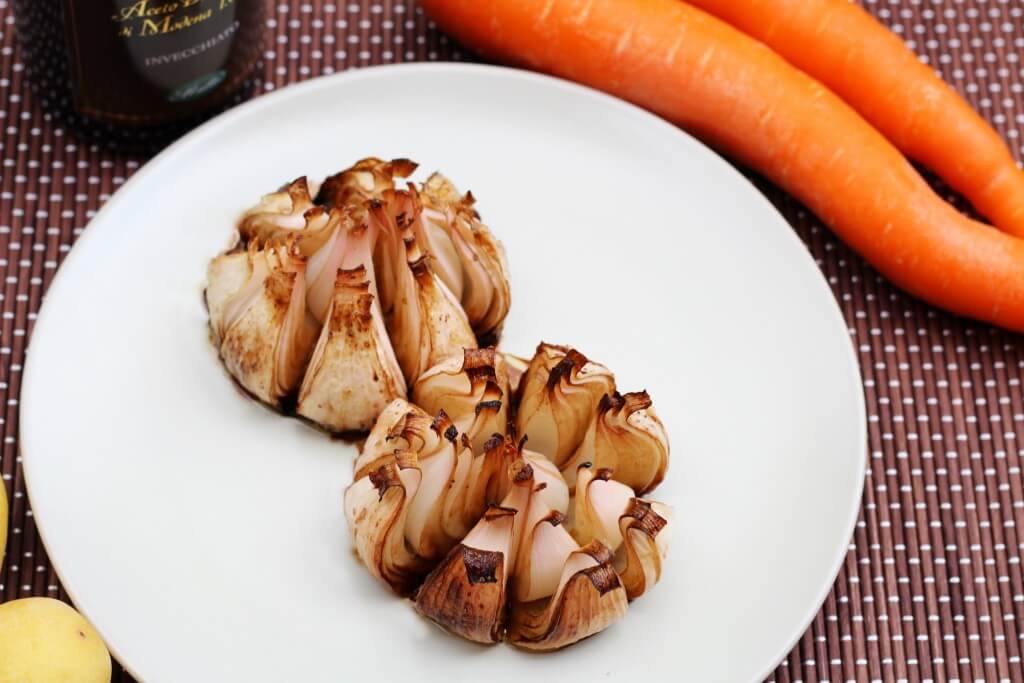 Cipolle al forno caramellate.
2015-07-24 22:50:31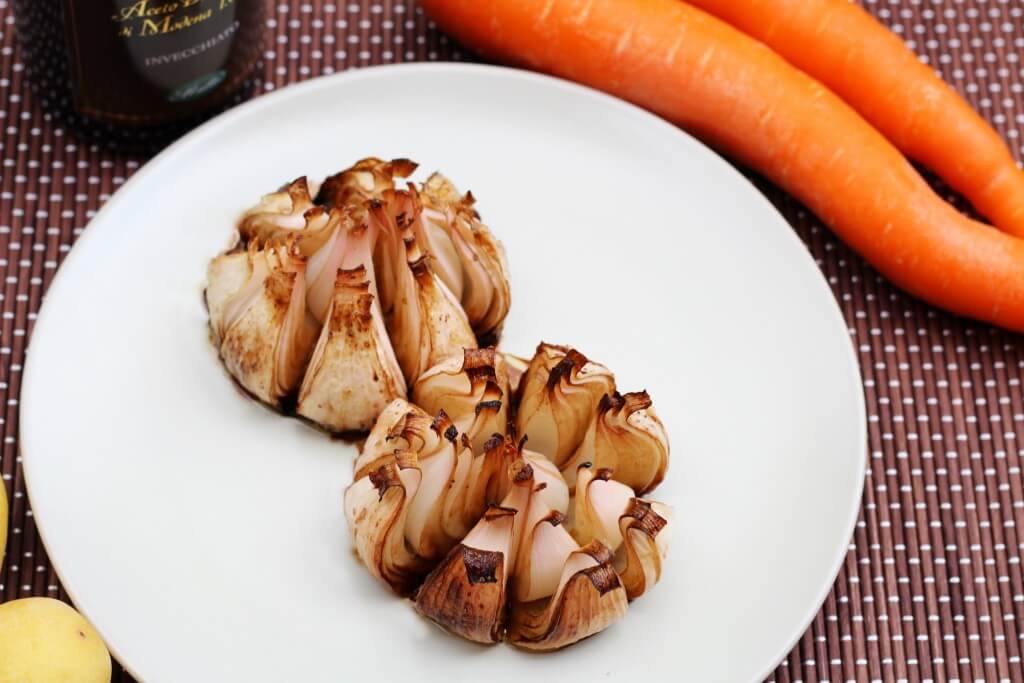 Serves 3
Deliziose cipolle all'aceto balsamico che si aprono come fiori.
Ingredients
6 cipolle bianche medio-grandi
4 cucchiai d'olio d'oliva
4 cucchiai di aceto balsamico di Modena
2 cucchiai di zucchero di canna grezzo
sale e pepe a piacere
Instructions
Sbucciate le cipolle e tagliate il fondo in modo che rimangano dritte e stabili.
Incidetele con quattro tagli a croce senza però arrivare fino in fondo, non dovete separare gli otto spicchi che ne risulteranno.
Mettetele tutte in una capiente ciotola, versate l'olio, l'aceto, il sale e il pepe.
Rigiratele in modo che si bagnino bene, uniformemente.
Lasciatele coperte una mezz'ora poi disponetele ben distanziate su una teglia.
Versate un po' del condimento rimasto sul fondo al centro di ogni cipolla, aggiungete sopra un po' di zucchero di canna e infornate a forno già caldo, statico, a 200°C.
Sfornatele dopo una ventina di minuti o quando saranno comunque morbide fino al centro.
Notes
Buone calde e tiepide.
Se non si aprono abbastanza potete, una volta cotte, aprire leggermente gli spicchi con le mani facendo attenzione a non romperli.
La Mora Romagnola https://www.lamoraromagnola.it/
 You're out there, I know.
You, the ones who don't care about the wheather, the ones who turn on the oven even if the thermometer says it's 104°F.
No cares about hubby who wants the A/C on ( and here it can't stay on if you're baking, it overtakes the amount of energy we can use at the same time with our electric contract: if you exceed this amout the circuit breaker springs).
No cares about that voice in your head that says " for heaven's sake make a salad!!"
Join me in the making of this recipe, eating it all the disapproving people will fall silent.
Those onions are easy to make, delicious to eat and also beautiful to see; the rounder the onions are the more they will open, mine were a little bit flat but you can see the nice result anyway.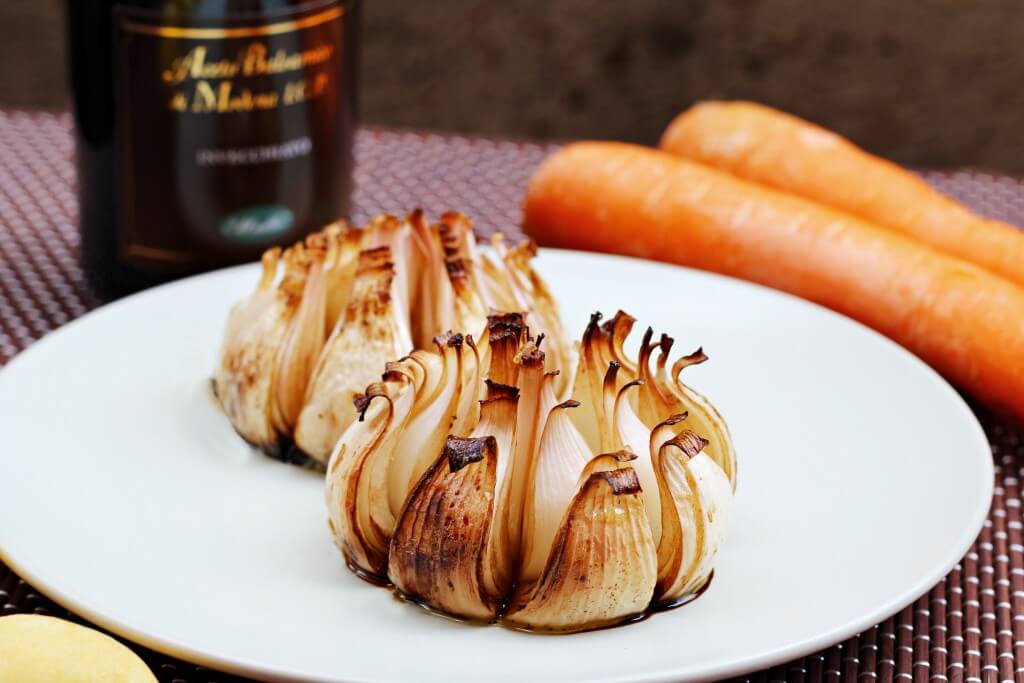 Baked caramelized onions.
2015-07-25 15:35:23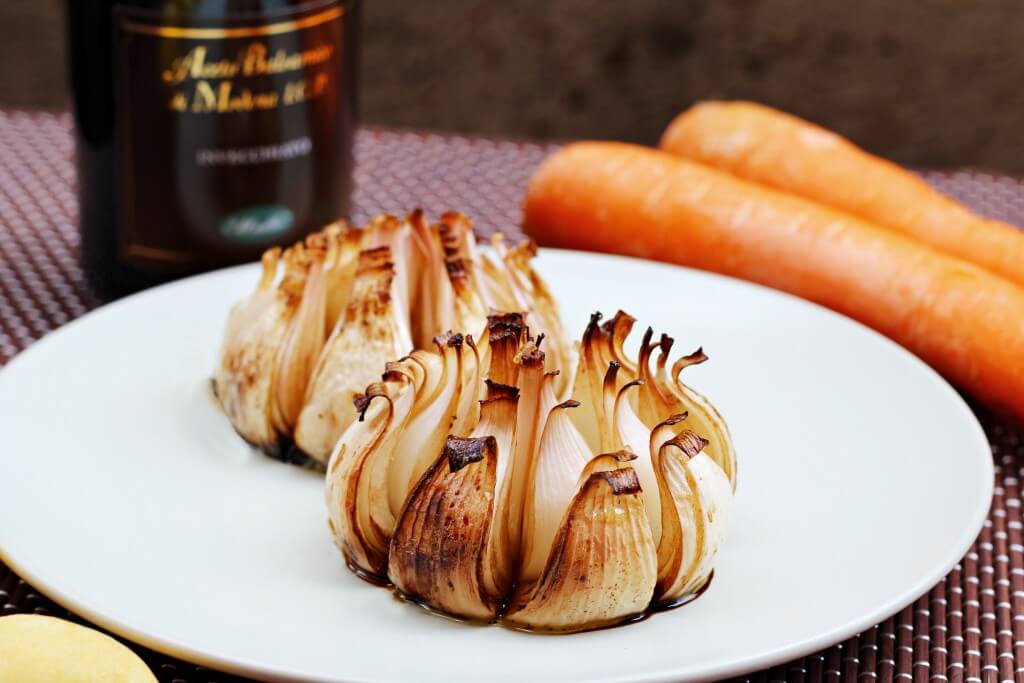 Serves 3
Delicious onions baked with balsamic vinegar.
Ingredients
6 white, medium onions
4 tabsp. olive oil
4 tabsp. balsamic vinegar
2 tabsp. brown sugar
salt and pepper to taste
Instructions
Peel the onions and cut the bottom to make them stand right.
Make 4 deep cuts like you're slicing a cake but do not cut till the end, the wedges must stick together at the bottom.
Put them in a big bowl and pour oil and vinegar then add salt and pepper.
Mix them untill they are all seasoned.
Let them rest for 1/2 then put each onion on a baking tray keeping distance because they have to "blossom".
Pour the seasoning you have on the bottom of the bowl inside each onion, sprinkle a little sugar and bake for 20 minutes or untill tender in the centre at 390°F.
Notes
Great hot or warm.
If they don't "blossom" enough you can help them opening wedges with your hands after baking but be careful they can break.
La Mora Romagnola https://www.lamoraromagnola.it/