SCROLL DOWN FOR ENGLISH POST
A Capodanno ho avuto il tempo e il supporto della migliore amica per proseguire con il mio "giro del mondo in 80 cassoni".
Dopo i cassoni islandesi, il mio primo esperimento, quelli francesi e quelli americani oggi approdiamo in Inghilterra.
Amo quel paese, ho diversi amici che vi abitano, ho condiviso un appartamento all'università con una ragazza londinese e, per quanto cappuccino e cornetto siano un  pasto di tutto rispetto, l' English breakfast per me è il massimo quindi i cassoni li ho riempiti con un riassunto di questa abbondantissima colazione.
Al momento di farli mi è venuto un dubbio atroce: come fare delle uova strapazzate degne di questo nome?
Da piccola mia mamma me le faceva ma erano stoppose, poco cremose, una frittata mal riuscita.
Niente a che vedere con quelle inglesi ma anche la mia amica Ela ricordava un'infanzia di uovo raschiato dal padellino non particolarmente attraente.
Per fortuna mi è tornato in mente il video di un attore da me amatissimo che col suo stile inconfondibile e la sua bellissima voce insegnava proprio a fare le classiche "scrambled eggs".
Il video è in inglese ma vale la pena vederlo e sentirlo perchè Ian McKellen è un idolo assoluto!
Posso anche assicurarvi che le sue uova strapazzate sono perfette, se non capite il video non vi preoccupate, nella ricetta c'è il procedimento in italiano. 
La piadina è fatta sempre secondo la ricetta base solo sostituendo parte della farina normale con la farina di segale ( in proporzioni variabili a piacere, fino alla metà del totale).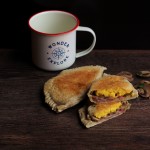 Cassoni di segale con ripieno inglese
2016-01-04 22:50:45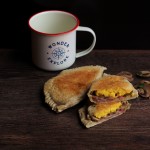 Serves 6
Cassoni anglo-romagnoli per colazioni da campioni.
Ingredients
450 gr impasto piadina con farina di segale secondo la ricetta linkata
4 uova
3 cucchiai panna fresca
1 noce abbondante di burro
100 gr funghi champignon freschi tagliati a fettine
1 spicchio aglio
12 fette bacon sottili
1 cucchiaio prezzemolo tritato
2 cucchiai olio d'oliva
sale e pepe a piacere
Instructions
Dividete l'impasto in sei palline, tenetele coperte con pellicola da cucina.
Per le uova strapazzate: in un tegame alto (non una padella) e preferibilmente antiaderente (ma non è fondamentale) rompete le uova, aggiungete panna e burro e salate e pepate.
Mescolate tenendole sul fuoco a fiamma bassa, pian piano il composto inizierà a rapprendersi, quando sarà grumoso abbastanza toglietelo dal fuoco e continuate a mescolare per un paio di minuti.
Si possono lasciare più o meno morbide ma per i cassoni consiglio di farle sode.
Cuocete i funghi in padella con l'olio e l'aglio, salate e pepate e all'ultimo aggiungete il prezzemolo tritato.
Rosolate anche il bacon in una padella, cuocetelo ma non fatelo troppo croccante.
Stendete le palline di impasto molto sottili, l'impasto con la segale è più appiccicoso del normale ma si stende bene, in ognuno mettete due fette di bacon, una cucchiaiata di funghi e una e mezza di uova.
Richiudete a mezzaluna sigillando coi rebbi di una forchetta.
Cuocete sul testo o padella calda ma non troppo perchè i cassoni tendono a colorire molto in fretta nelle parti più sottili lasciando crude le parti dove si sovrappongono.
Notes
Sono migliori tiepidi, lasciateli riposare una decina di minuti.
La Mora Romagnola https://www.lamoraromagnola.it/
On the New Year's Eve I had the time and the best friend's support to keep on travelling around the worl with my flatbread turnovers.
After Icelandic turnovers, French ones, Americans, today we reach England.
I love that country, I have few friends there and when I was at university I shared a flat with a London girl; even if "cappuccino and brioche" is a great breakfast I'm deeply in love with English breakfast so I filled my turnovers with it.
I was almost starting and suddleny I had a big dubt: how to make scrambled eggs?
It's seem obvious to many I think, but it's not a common dish here in Italy; sometimes you eat it as a child but it's nothing you usually care about when you grow up; me ( and my friend too as I asked her) just remember our mums scratching a broken egg from a skillet.
The egg was gristly and not tasty at all.
Luckly I remembered a video from one of my favourite actor, Ian McKellen, where he teaches how to make scrambled eggs.
I suggest you to watch this video even if you're great with breakfast eggs because his style and his voice are so great!
Piadina turnovers are always made with this basic recipe, just use rye flour, how much you want up to half the total amount.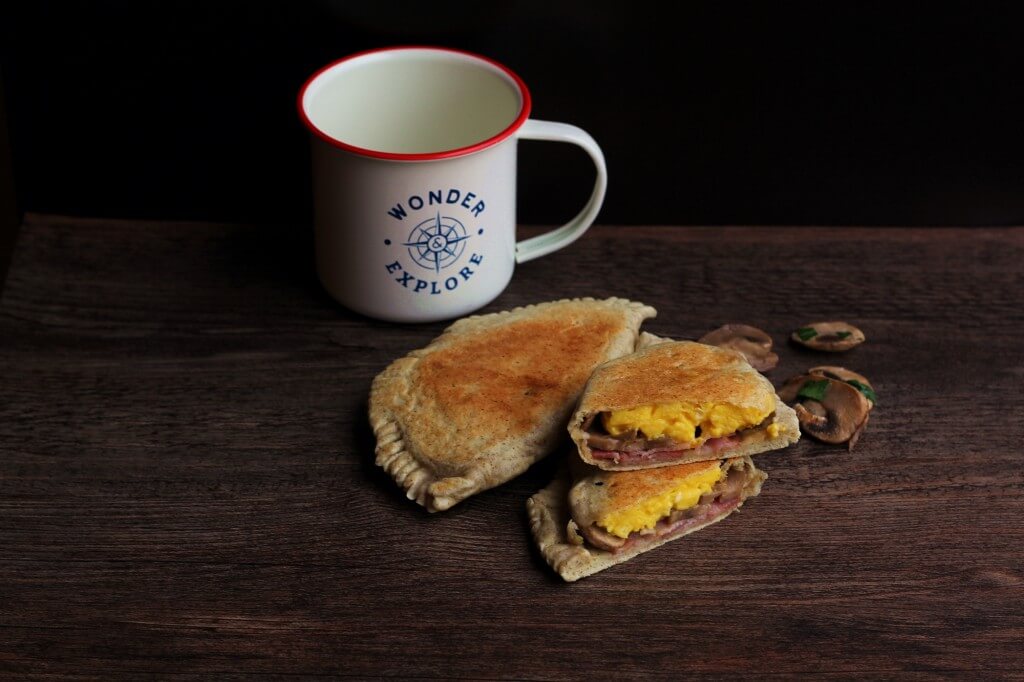 Rye flatbread turnovers with English filling
2016-01-04 23:08:33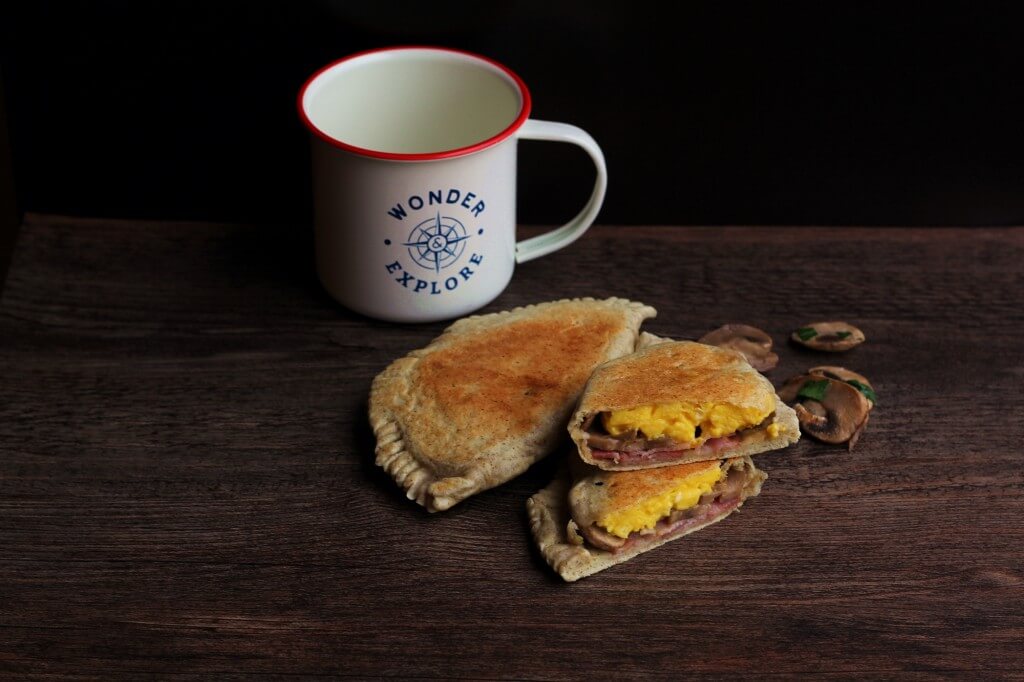 Serves 6
Great English breakfast inside a typical flatbread from Romagna.
Ingredients
16 oz piadina dough made with rye according to the linked recipe
4 eggs
3 tabsp double cream
1 tabsp butter
3.5 oz fresh sliced mushrooms
1 garlic clove
12 bacon slices
1 tabsp chopped parsley
2 tabsp olive oil
salt and pepper to taste
Instructions
Divide dough in 6 balls, cover them with clingfilm.
Make scrambled eggs according to the video recipe, for turnovers better have them a little bit harder than for classic breakfast.
Sautée mushrooms in a pan with olive oil and garlic, add salt and pepper and parsley minutes before the're ready.
Crisp the bacon, not too much.
Spread each ball of dough, rye dough is a little bit sticky but it's very spreadable.
Add in each 2 slices of bacon, a tabsp mushrooms and a tabsp and half scrambled eggs.
Close and seal edges with a fork.
Cook on a hot skillet, pay attention not to burn them.
Notes
They are far better if warm, let them rest 10 minutes before eating.
La Mora Romagnola https://www.lamoraromagnola.it/