SCROLL DOWN FOR ENGLISH POST.
Torno alla carica con una ricetta velocissima che presuppone anche un post velocissimo perchè Gennaio è il mese dei colloqui, delle riunioni per le elementari, della ripresa dei corsi e degli sport e io sono sempre in giro.
Dovrei proprio iniziare a scrivere sul blog tramite telefono quando sono in giro tramite la app di WordPress ma per ora ha sempre vinto la pigrizia!
Ho trovato questo dolce declinato in un'altra versione, ho provato a farlo nonostante io non abbia esattamente un'inclinazione vegan.
L'unica cosa che non mi aggrada molto è la consistenza, troppo morbida per i miei gusti ma è anche vero che l'ho fatto e mangiato quasi subito, probabilmente con qualche ora in frigo si rassoda meglio!
Gli ingredienti sono solo due, unica accortezza: spesso i latti vegetali che si comprano sono zuccherati ma non sempre, controllate quello che andrete a usare e assaggiatelo.
Potreste dover aggiungere zucchero oppure potreste trovar il latte già molto dolce.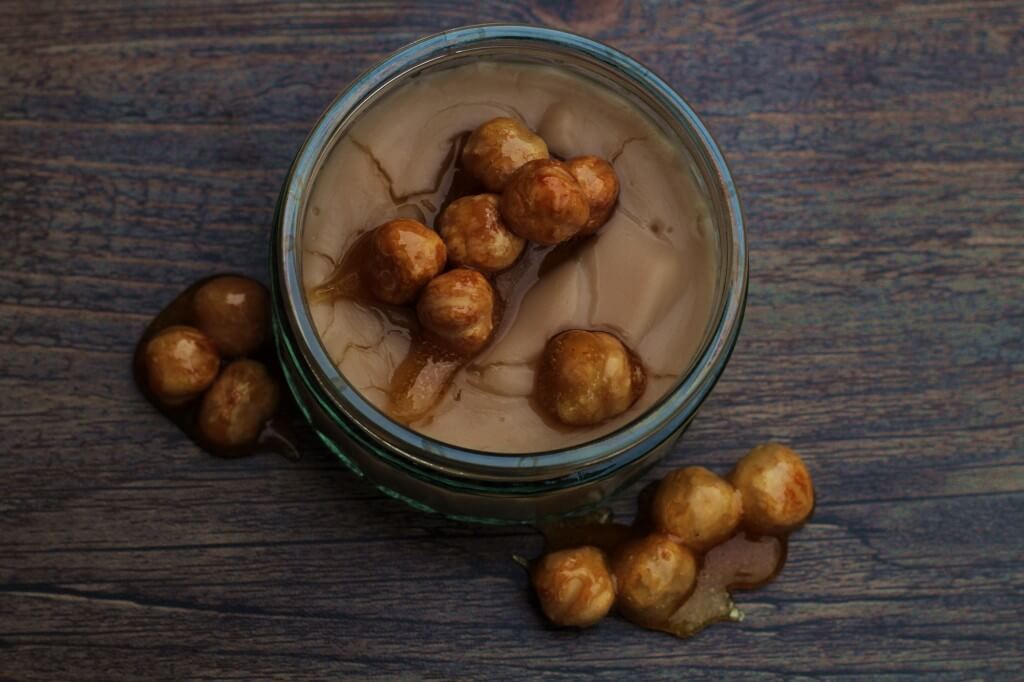 Budino vegano alle nocciole
2016-01-11 13:04:47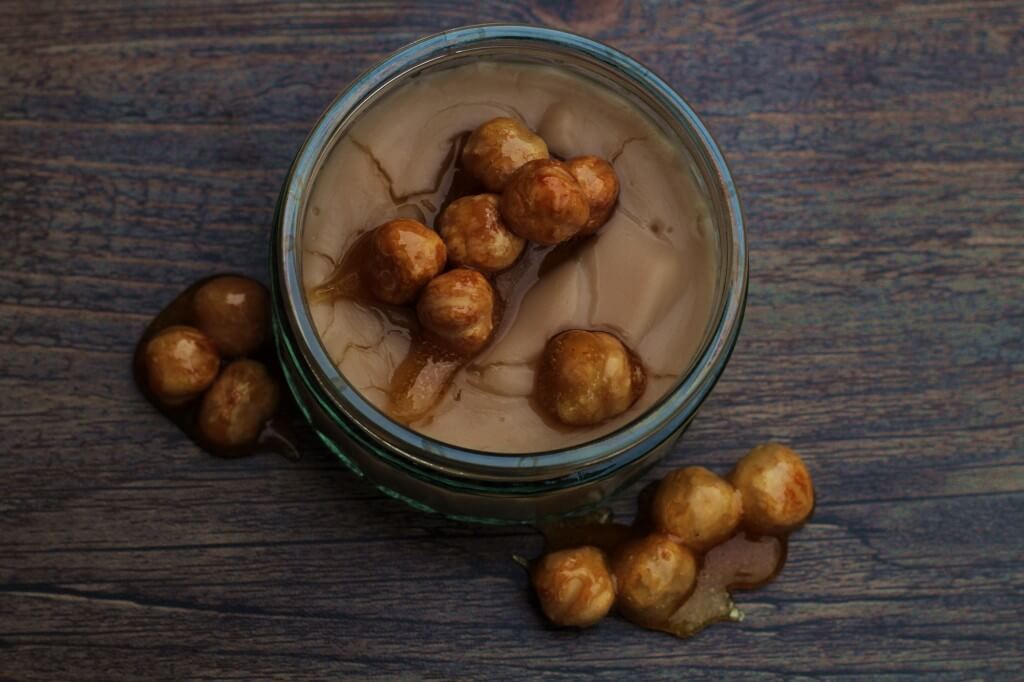 Serves 5
Un vellutato dolce al cucchiaio vegan al sapore di nocciole.
Ingredients
500 ml latte nocciole
60 gr amido di mais
100/ 150 gr zucchero se il latte di nocciole non è zuccherato
per le nocciole caramellate
50 gr nocciole
4 cucchiai zucchero
1 cucchiaio acqua
Instructions
Mettere a bollire il latte, se non è zuccherato aggiungere lo zucchero e mescolare finchè non si è dissolto.
Sciogliere l'amido a parte con qualche cucchiaio del latte già caldo fino a non avere grumi e inserire poi il composto nel tegame.
Mescolare su fuoco basso facendo attenzione che non attacchi sul fondo fino a che non diventa crema.
Cuocere per altri 2-3 minuti fino a completo addensamento, versare in cocotte o tazzine moonodose.
Lasciar raffreddare a temperatura ambiente poi in frigo per 2-3 ore.
Per le nocciole caramellate
Mettere in un tegame lo zucchero e l'acqua, porre sul fuoco senza mescolare o toccare fino a che non assume il tipico colore dorato.
Tostare le nocciole se non lo sono già mettendole in un padelllino a fuoco basso per 5-6 minuti muovendole leggermente ogni tanto.
Quando il caramello è pronto tuffarci le nocciole, toglierle poi a piccoli gruppi e metterle a indurire su un foglio di carta forno.
Porre le nocciole sul budino una volta raffreddato e servire.
Notes
Le nocciole caramellate vanno messe sul budino solo poco prima di servire o l'umidità del dolce scioglierà il caramello.
La Mora Romagnola https://www.lamoraromagnola.it/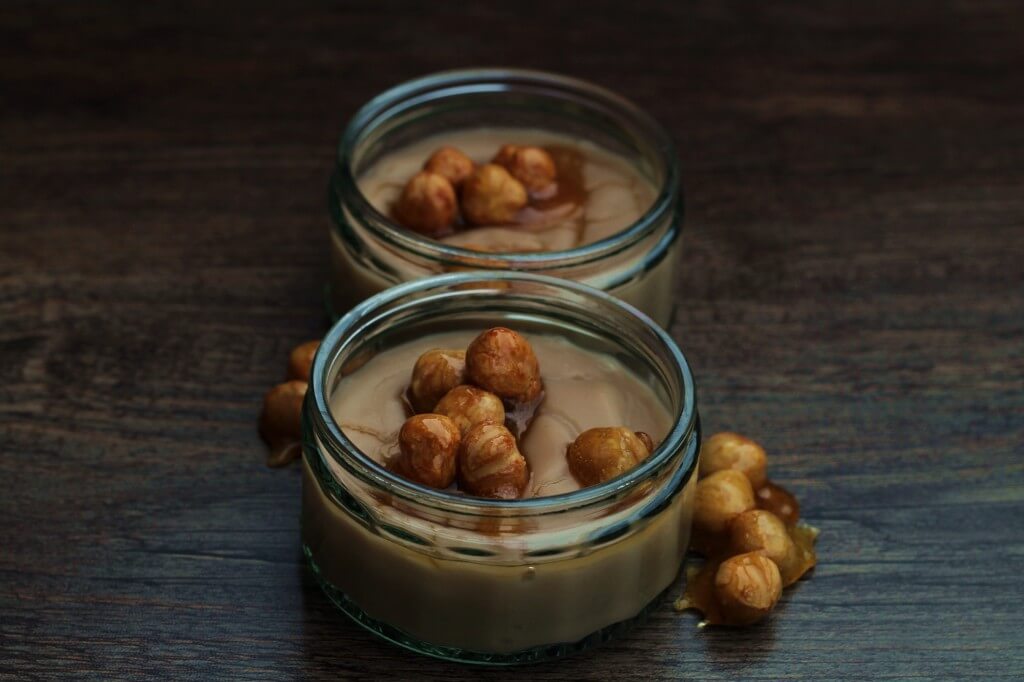 I'm back with a very very quick recipe because January came and it's packed with school meetings, sport activities, things to do.
Lorenzo will start primary school next year and I'm quite busy with registration and I'm often around seeing schools.
I should really start writing with WordPress app for mobile!
I found this dessert around the web made with almonds and coconuts, I decided to give a try with hazelnuts because I love them.
The only thing I didn't like too much was the consistence but I made the mistake of eating this jus minutes after it cooled, it needs few Hours in the fridge to have the right texture.
Please consider that many vegetable milks are sweetened so if you need to add sugar and how much you need depends on it.
Taste the milk of your choice and add sugar written on the recipe only if you think it's needed.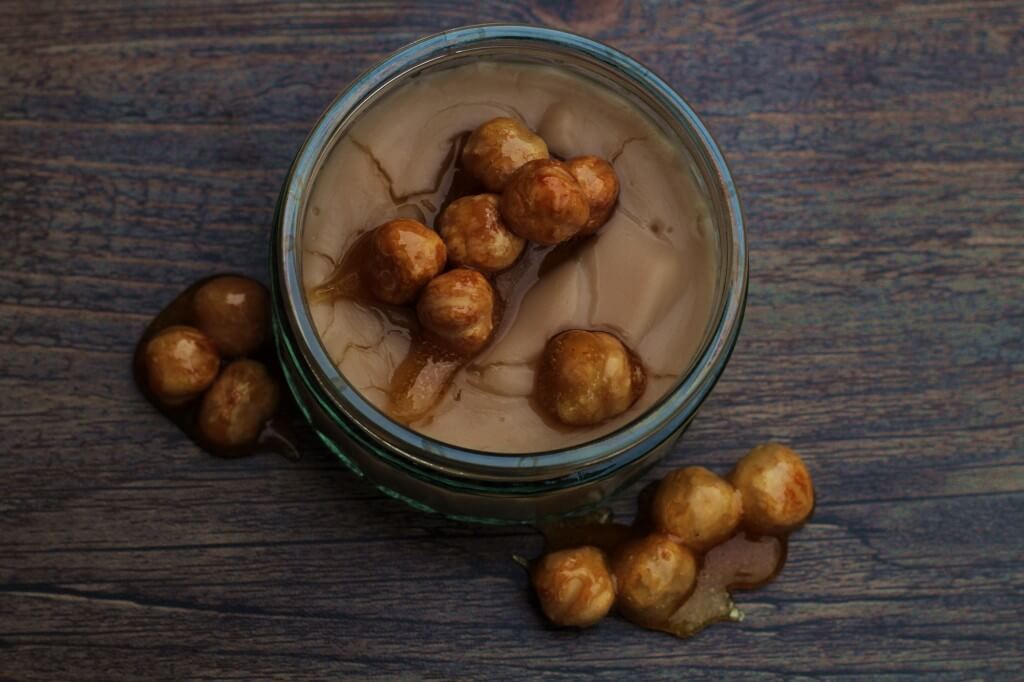 Hazelnut vegan pudding
2016-01-11 23:08:27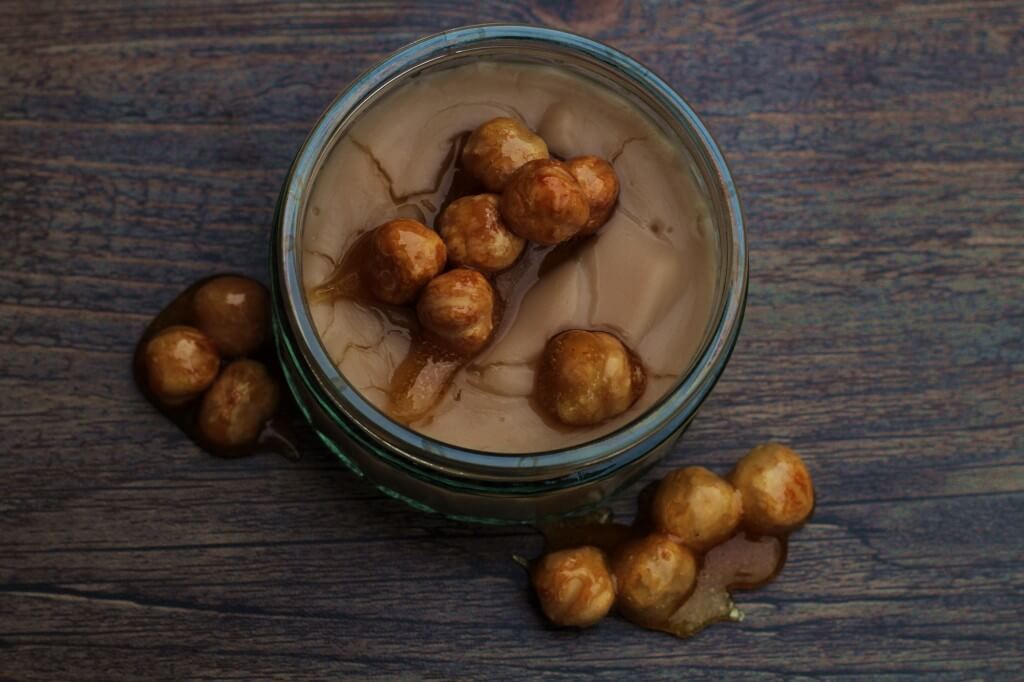 Serves 5
A smooth hazelnut vegan pudding with a crunchy topping.
Ingredients
2 cups hazelnut milk
2 oz. corn starch
3.5/5.2 oz sugar if needed
for crunchy hazelnuts
4 tabsp sugar
2 tabsp water
1.7 oz toasted hazelnut
Instructions
Put milk on low fire, add sugar if needed and mix to dissolve it.
In a bowl mix starch with some hot milk untill you have no lumps, add this to the rest of the milk and keep on stirring untill you have a cream, keep oon cooking and stirring for 2-3 minutes then pour the pudding into single serving cups.
Let it cool room temperature then in fridge for at least 2-3 hours.
For crunchy hazelnuts
Put in a pan sugar and water on low fire, don't touch it untill it reach a golden colour then put into the pan the hazelnuts.
Pull out the hazelnuts in small groups of 3-4 with a spoon and let them cool on a baking sheet.
Put the crunchy hazelnuts on pudding before serving.
Notes
Put the hazelnuts on pudding just minutes before serving or the moisture of the pudding will melt caramel and damp the nuts.
La Mora Romagnola https://www.lamoraromagnola.it/