SCROLL DOWN FOR ENGLISH POST.
Con l'inizio di febbraio iniziano i post romantici, pieni di suggerimenti per serate di San Valentino magnifiche, suggestive e gourmet.
Io sono una donna pratica, non festeggio nè San Valentino nè altre ricorrenze come gli anniversari; non è questione di principio è che non riesco a farmi coinvolgere da cuori, cenette, regali, sorprese.
In verità detesto abbastanza queste cose, quasi quanto i menu a tema dei ristoranti per questi avvenimenti.
In teoria dovrei quindi disinteressarmi della festa e continuare a postare come se nulla fosse ma so che voi siete là fuori a cercare ricette per i vostri amati e io ho questa crema al cioccolato in archivio…
Non postarla sarebbe un grosso sgarbo perchè è facile e buonissima, un dessert a prova di maldestro ai fornelli, che sia uomo o che sia donna.
Si può fare in anticipo che non guasta, potete servirla con quello che preferite: biscottini, cialde, granella di nocciole o mandorle.
Vorrei tanto mettervi a posto con tutto il menu ma qui la dieta procede e bene e questo implica il cucinare solo verdure crude o bollite e proteine o cereali fatti nei modi più leggeri possibili.
Sto meditando di cucinare per i vicini, una giovane coppia cinese con due bimbi.
Sono sempre così simpatici e cortesi che si meritano un bel dolce fritto no? 😛
Veniamo alla ricetta così iniziate la settimana in dolcezza!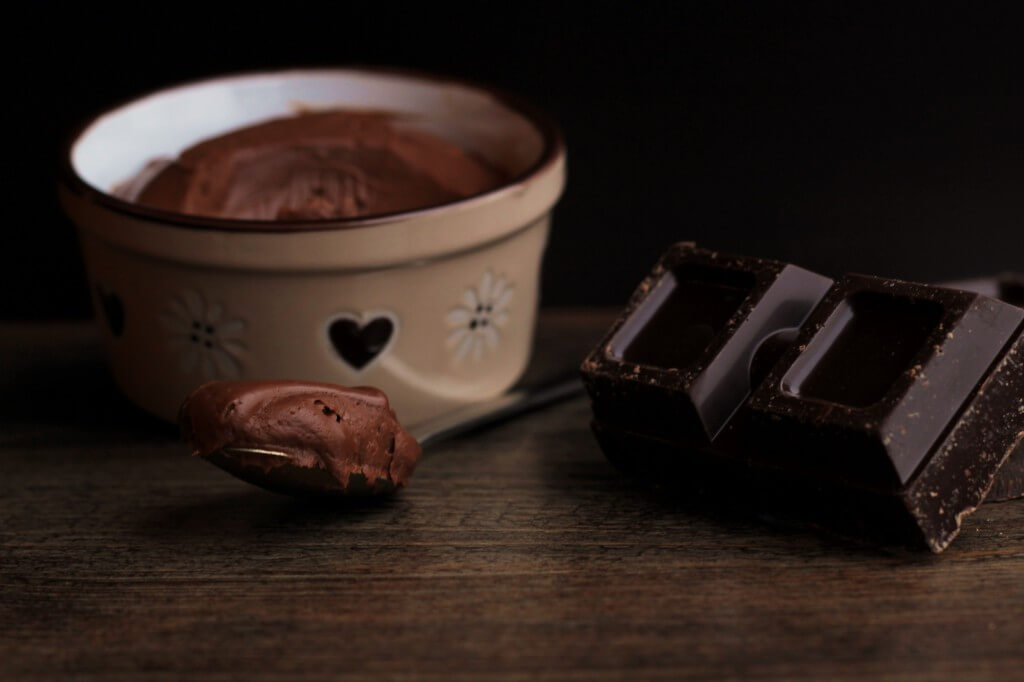 Crema al cioccolato
2016-01-31 21:05:56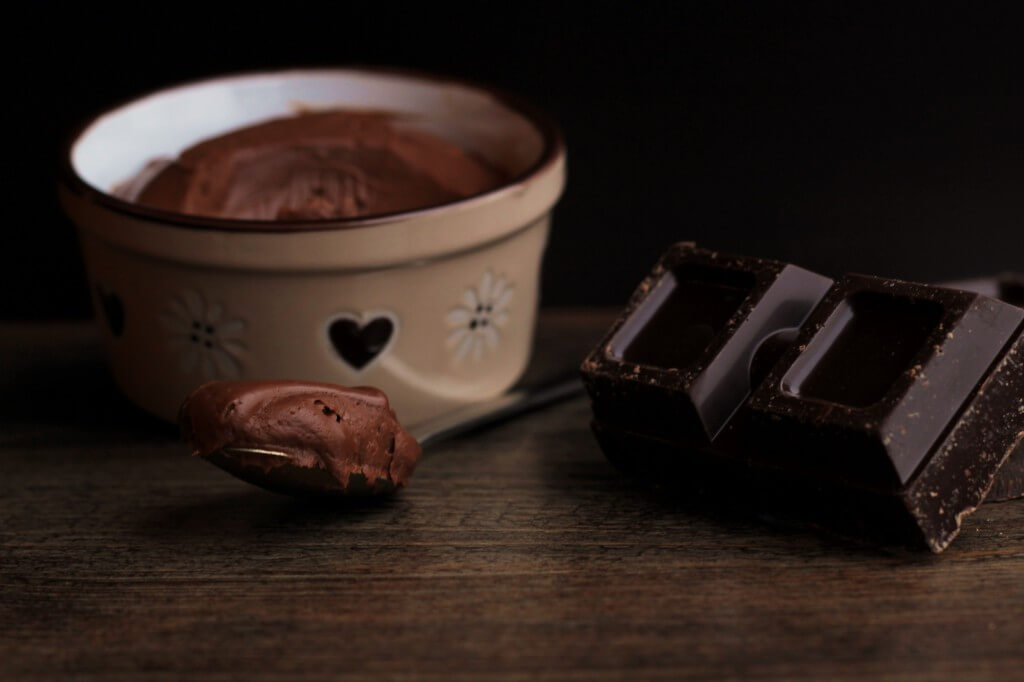 Serves 6
Una vellutata crema al cioccolato fondente.
Ingredients
250 ml latte intero
40 gr zucchero
20 gr amido di mais
2 tuorli
1/2 baccello vaniglia
190 gr cioccolato fondente
125 ml panna fresca
Instructions
Riscaldate il latte con la vaniglia in una pentola.
Separatamente montate i rossi con lo zucchero fino ad avere un composto spumoso poi aggiungete l'amido e incorporatelo bene.
Versate a filo sulle uova il latte caldo ma non bollente mescolando velocemente.
Rimettete sul fuoco e lasciate che la crema addensi mescolando costantemente.
Lasciate intiepidire coprendo la crema con pellicola per alimenti a contatto in modo che non si formi quell'orribile strato rappreso.
In un pentolino mettete a scaldare la panna fino ad ebollizione, spegnete poi il fuoco e aggiungete il cioccolato a pezzi.
Mescolate finchè il cioccolato non è sciolto e il composto liscio e lucente.
Lasciate intiepidire questa ganache poi mescolatela alla crema.
Versate in coppette monoporzione e lasciate riposare almeno un paio d'ore in frigo coperte da pellicola.
Decoratele eventualmente solo prima di servire.
La Mora Romagnola https://www.lamoraromagnola.it/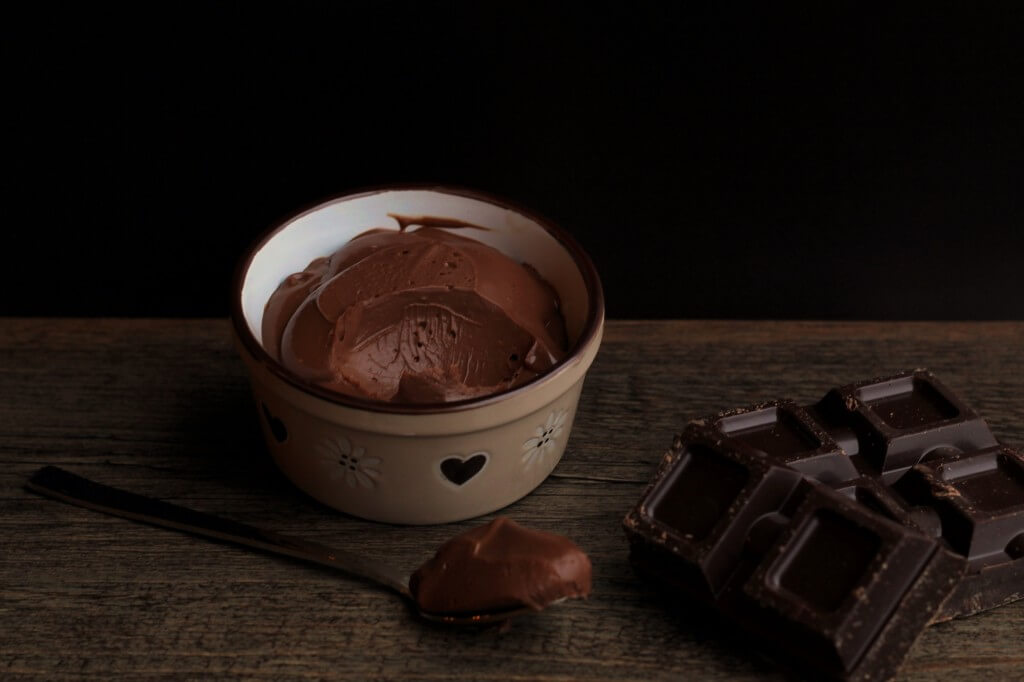 With February comes a rain of romantic blog posts and recipes for special dinners.
I'm a practical woman, I don't celebrate St. Valentine or any kind of anniversary; it's not a matter of principle, just I quickly get bored about hearts, presents, romantic dinners and surprises.
I know I'm strange, I can't stand those things almost as much as I can't stand restaurant menus on those days.
I should so go on with my posts, not caring about the incoming Valentine's day but I know you're out there looking for nice ideas and recipes for that day and I have this chocolate cream in my archive…
It would be so rude of me not sharing it with you because it's simple, you can make it in advance and it's so easy it's ok for the clumsier cook, man or woman.
You can serve it with cookies, nuts, fruit or whatever you like.
I would really post a whole menu to help you with this special dinner but the family diet is keep on going (and well) and I don't cook almost anything except raw vegetables, whole cereals and proteins the lightest way.
I'm thinking about cooking and giving what I've done to our neighbours, two young Chinese with a couple of lovely children: they are always so kind they deserve a deep fried sweet no?
( Carnival time here is the time for deep fried everything, especially sweets and I'm craving to cook some of them even if I can't eat them.)
Let's come to the recipe, I want you to start this week with a sweet tooth!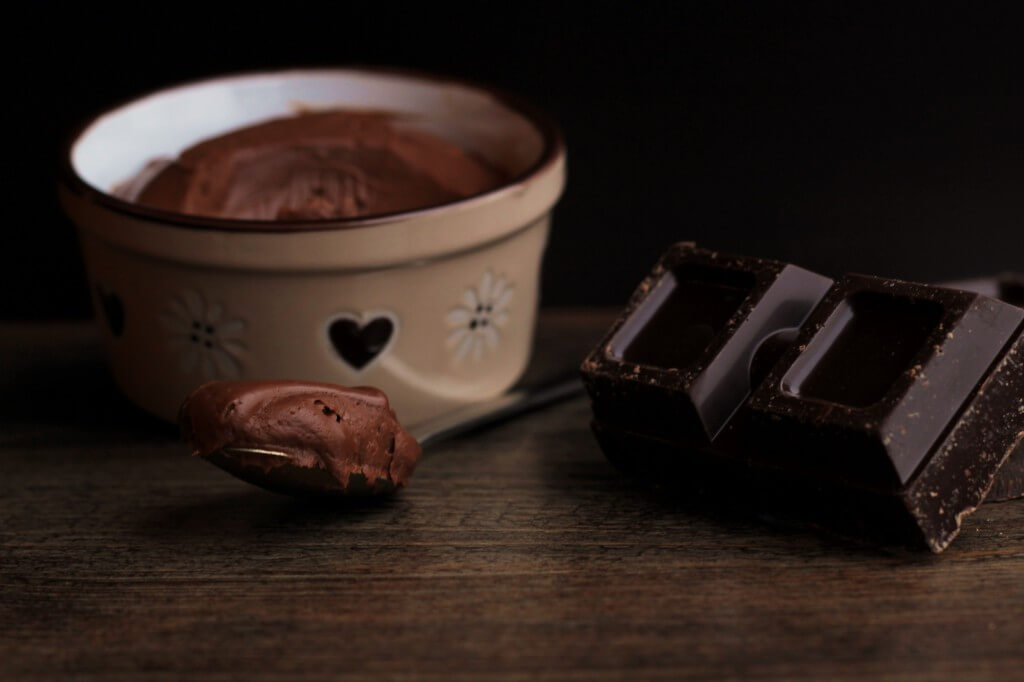 Chocolate cream
2016-01-31 22:01:03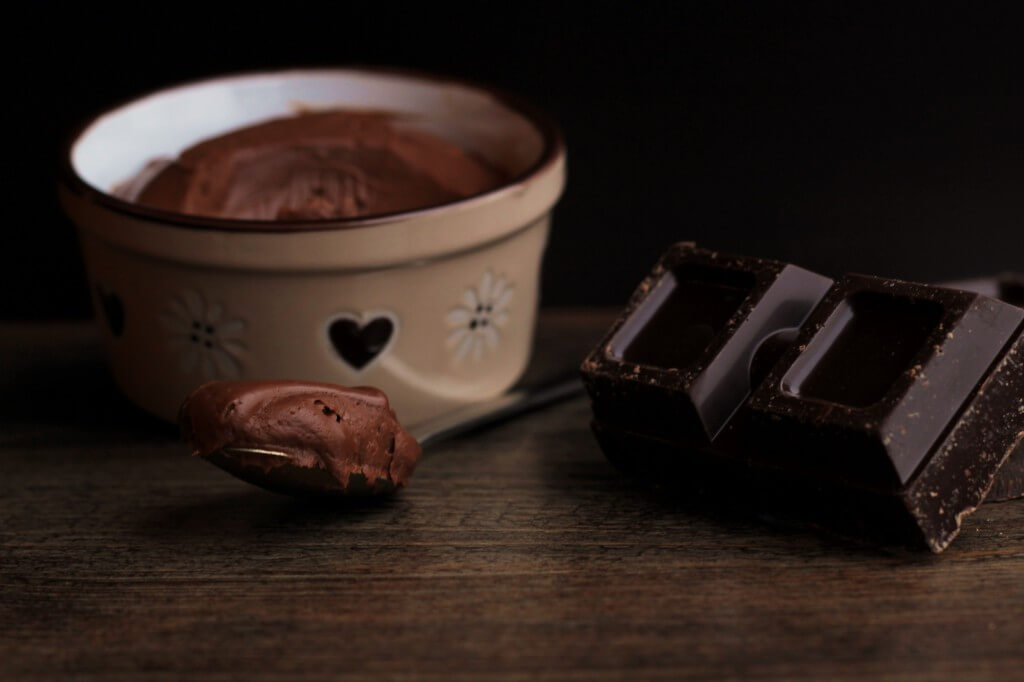 A smooth dark chocolate cream.
Ingredients
8.80 oz whole milk
1.4 oz sugar
0.70 oz cornstarch
2 yolks
1/2 vanilla bean seeds
6.7 oz dark chocolate
4.4 oz milk cream
Instructions
Heat milk in a pan with vanilla seeds, do not let it boil.
Beat yolks with sugar, when frothy add sifted cornstarch and mix well.
Pour milk on eggs mixing quickly then put the pan on low fire and let it thick mixing constantly.
Let it warm covered by cling film, the cling film must touch the cream to avoid that awful thick layer.
In a saucepan heat the cream untill boiling, turn off fire and add chocolate in pieces.
Mix untill you have a shiny cream.
Let it warm then add this ganache to the egg cream, mix well and pour into single-serving cups.
Store covered in fridge at least two hours.
Decorate only before serving.
La Mora Romagnola https://www.lamoraromagnola.it/