IL LOCALE HA CHIUSO NEL 2017.
SCROLL DOWN FOR ENGLISH POST.
Momento verità: io e mia cognata quando si parla di locali o ristoranti raramente ci troviamo d'accordo.
Se vado in un posto e glielo consiglio lei ne esce poco convinta, se lei mi indica un ristorante io quasi sempre non lo trovo ideale.
Sul Fossa Blues invece siamo concordi e al coro di apprezzamenti si uniscono anche cognato e migliore amica il che la dice lunga sulla qualità del posto.
Perchè fossa? 
Perchè il locale è appena fuori Sogliano al Rubicone, paese noto a livello nazionale e internazionale per i suoi formaggi stagionati nelle fosse: che siano di pecora, di latte vaccino o misti la stagionatura fatta in questo modo peculiare regala ai formaggi un sapore particolarissimo e intenso che trova moltissimi estimatori, me compresa.
Perchè blues?
Perchè la passione per questo genere musicale è evidente sia nei brani (a volume assolutamente discreto e piacevole) che accompagnano i pasti, sia nell'arredamento e nella decorazione d'interni che nel logo scelto come insegna del locale.
Il locale è di dimensioni contenute ma offre un terrazzo con una vista impagabile, specialmente al tramonto, un giardino pieno di verde e degli interni deliziosi; vista la sua posizione è il luogo ideale per scappare dalla calura estiva qualche ora.
Importante sottolineare che il Fossa Blues è aperto a cena il giovedì, il venerdì e il sabato e domenica fa orario continuato: nessuno vi vieta di salire per merenda e con merenda intendo proprio una voce presente in menu con degustazione di salumi e formaggi tutti rigorosamente di piccoli produttori locali accompagnati da pane e altre delicatezze artigianali.
Io e la mia migliore amica siamo andate a cena venerdì scorso, in tempo per goderci un tramonto da cartolina che ho cercato di fotografare senza riuscire a renderlo bello come in effetti era:
Cosa si mangia oltre alla merenda che vi ho citato?
Come antipasti, essendo i gestori originari di Lugo, spiccano i tortelli nella lastra: sottili sfoglie di acqua e farina ripiene, il ripieno varia secondo stagione, cotti su una piastra rovente.
Semplici e buoni come tradizione comanda ma se siete davvero "luveriosi" ( gaudenti detto alla romagnola) potete provare la versione fritta a base di pasta all'uovo; anche qui i ripieni variano secondo stagionalità ed estro dello chef.
Non abbiamo provato i primi ma ho sentito lodi diffuse rivolte ai loro ravioli con asparagi.
Le carni: sempre da produttori locali, secondo disponibilità hanno tagli importanti come fiorentina o costata ma anche hamburger, la nostra scelta della serata di cui quindi posso parlarvi più diffusamente.
Io ho preso un fossa burger: il pane è morbido, ben lievitato, senza quell'odore pungente di lievito che a volte accompagna questi panini, assorbe il sugo della carne senza disfarsi; la carne è ottima, il macinato è aromatizzato quanto basta e la crema di fossa che lo accompagna non fa rimpiangere condimenti più esterofili.
Il lard burger è la versione nostrana del bacon burger e non ha nulla da invidiare a quest'ultimo: il pane è di uguale fattura al fossa burger, solo con semi diversi a decoro, dentro oltre a un'ottima carne e a un buon lardo fondente ci sono cipolla, rucola e funghi freschi.
Ad accompagnare queste due meraviglie abbiam preso ovviamente delle patatine, meno ovvia la salsa: non ketchup, non maionese ma crema al fossa.
Molto buona, abbiamo ripulito la ciotola!
Ad accompagnare queste buone cose abbiamo preso una pils, hanno una scelta di birre non vastissima ma di qualità, stesso discorso per i vini.
I dolci cambiano spesso, così spesso da essere elencati a voce e non scritti in menu: sembravano tutti ottimi ma con noi il cioccolato vince sempre e ci siamo lanciate su uno shottino di gianduia con cantucci che ci è piaciuto davvero.
Riepilogando: un tortello nella lastra, due hamburger, una patata con crema di fossa, due shottini al gianduia, due birre medie, una bottiglia d'acqua sono costati 51 euro circa.
Un prezzo ottimo a mio giudizio; il panorama, il fresco e la musica sono gratis ma valgono centinaia di euro!
True story: me and my sister in law don't have the same standards when it comes to restaurants.
When I tell her to try that place she goes and returns not happy at all, when she tells me to try that other place I return not convinced at all.
This time we both agree on the quality of Fossa Blues, it means a lot and we're not alone: my best friends and my sister in law's husband agree too.
Why fossa? What does fossa mean?
It's a pit. 
Sogliano al Rubicone is worldwide famous for its pits where cheeses are stored to mature: they could be cow's milk or goat's milk or half and half but all of them take from this kind of ageing a special taste.
The cheese done this way is called formaggio di fossa and it has many admirers, I'm one of them.
Why blues?
Because from the songs you listen (low volume and pleasant) to the restaurant logo and decorations you can grasp the passion of the owners for this music.
This eating place is not huge but it has a lovely terrace from which you can admire a panorama you can't forget, especially at dusk (I took a picture but I wasn't able to show it as beautiful as it really was), a green garden and lovely interiors.
Because of its position it's the perfect place to escape summer heat; it's important to highlight that Fossa Blues is open only for dinner from Thursday to Saturday and all day long on Sunday.
It means you can  go there for an afternoon break and by afternoon break I mean a great selection of cheeses and cold cuts all from local farmers served with handmade bread and crackers.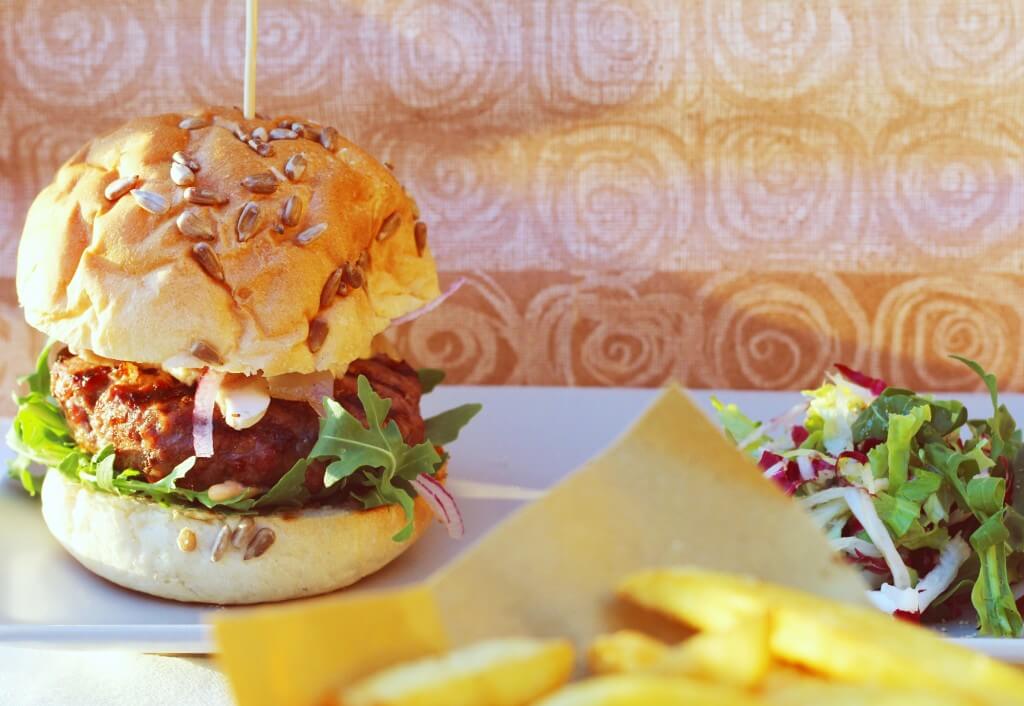 Me and my best friend went there last Friday for dinner, we had some "tortelli sulla lastra" thin dough made of flour and water filled with seasonal ingredients and cooked on a hot skillet (if you want there is a deep fried version made with egg dough); then we tried their hamburgers, I had a fossa burger made with good beef meat, soft and well rised bread and a special seasoning made with fossa cheese, my friend had a lard burger ( local version of a bacon burger made with grilled lard): same good bread and meat with onions, arugula, melting lard and fresh mushrooms.
With burgers we took fries: no ketchup, no mayo but a cream made of fossa cheese.
So good we emptied the bowl.
We loved them very much and we looking forward to try their other meat dishes like steaks.
My sister in law and her husband told me great things about their ravioli with asparagus too.
The desserts change so often they're not written on the menu, they are told each time by the waiter: they all seem great but, to us, chocolate always wins so we took a glass of melted Piedmontese nut chocolate (called gianduia) with cantucci (hard cookies with almonds and raisins).
Tasty, really tasty!
Let's recap: one tortello nella lastra, two burgers, one fries with fossa, two desserts, two beers, one bottle of water for around 51 euros.
It's an ideal price to me, luckly panorama, fresh air and music are free because they worth thousand euros!