SCROLL DOWN FOR ENGLISH POST.
Oggi vi presento un'altra tappa del "giro del mondo in ottanta cassoni".
A questo giro ci spostiamo in America, più precisamente negli Stati Uniti.
A volte, il sabato, amo preparare dei grossi e succosi hamburger per cena, sono una festa per tutti, faccio io il pane e spesso anche la maionese , scelgo la carne con cui fare la polpetta, non sono leggeri ma sono una golosità sana di cui godere in compagnia.
Dato che non c'è niente che all'estero identifichi gli Stati Uniti quanto un bell'hamburger lo scorso sabato invece di usare il pane ne ho infilato uno in un cassone, letteralmente. 😀
Vorrei che le foto fossero apprezzabili quanto il risultato al gusto, purtroppo non è un ripieno facile da rendere e ho dovuto anche fotografarli il giorno dopo perchè di sera non c'era speranza proprio di fare immagini anche solo minimamente decenti.
L'impasto base è sempre lo stesso, quello della piadina, ve lo linko ogni volta per risparmiarvi la ricerca .
Dentro c'è tutto quello che c'è dentro il più classico dei cheeseburger, personalizzabile come più vi piace.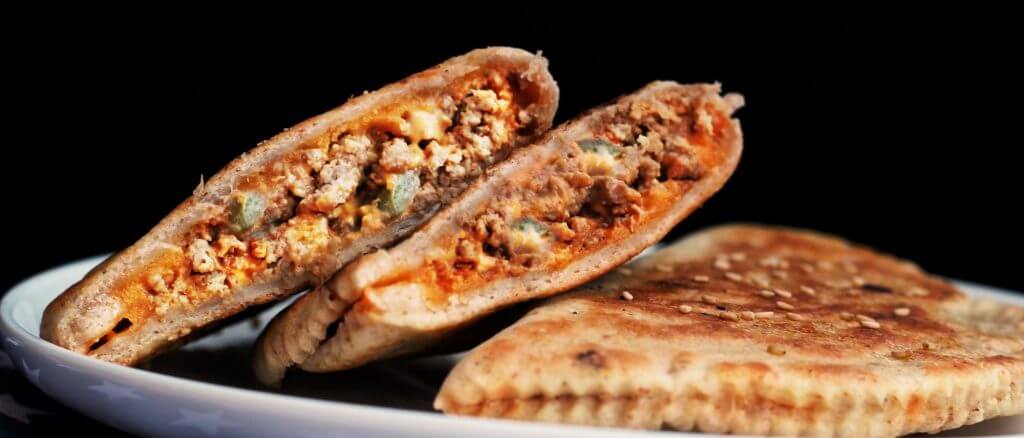 Cassoni "americani".
2015-11-14 19:56:41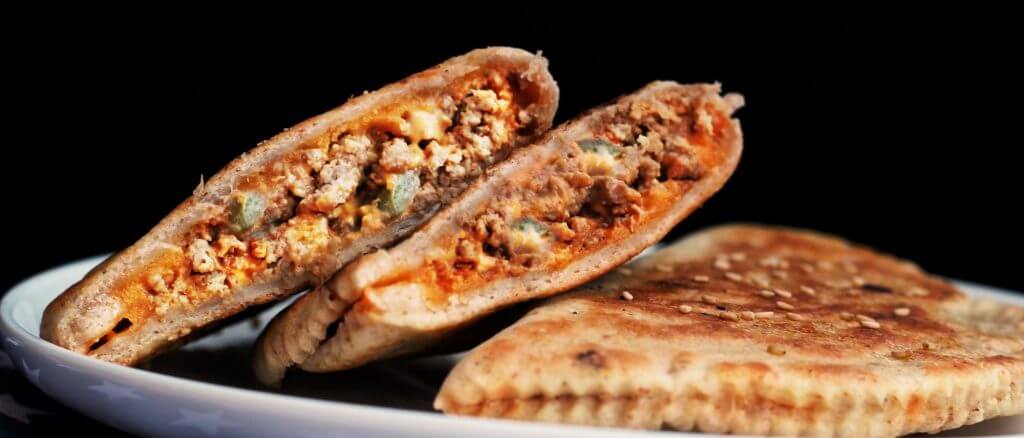 Serves 12
Cassoni romagnoli con ripieno U.S.A.
Ingredients
400 gr macinato di manzo
4-5 cetriolini sott'aceto
12 fette di american cheese ( colore arancio intenso, da noi venduto affettato col nome improprio di cheddar)
5 cucchiai di salsa bbq
ketchup a piacere
semi di sesamo
maionese per servire
Instructions
In una padella cuocete il macinato sgranandolo per bene, aggiustandolo di sale e facendogli perdere tutta l'acqua.
Appena prima di finire la cottura aggiungete la salsa bbq e lasciate cuocere un paio di minuti.
Fuori dal fuoco aggiungete anche i cetriolini tagliati a fette o dadini, lasciate raffreddare.
Prendete pezzi di impasto di 70-80 gr, stendeteli sottili, spolverate l'esterno con un po' di sesamo e fatelo aderire proprio come fossero panini da hamburger e riempiteli con abbondante macinato, una fetta di american cheese ( anche spezzettato per comodità) e aggiungete ketchup a piacere ma non troppo per non inumidire la pasta.
Chiudete i cassoni sigillando i bordi con un po' d'acqua e schiacciandoli coi rebbi di una forchetta, cuocete su una padella calda ma tenendo la fiamma bassa per non bruciare l'esterno.
Serviteli caldi con maionese e, se volete, patatine.
Notes
Questi cassoni sono buoni fatti e mangiati, tendono ad asciugarsi se avanzano e anche riscaldati non sono il massimo.
La Mora Romagnola https://www.lamoraromagnola.it/
 It's time again for another stop over of our food tour around the world made with piadina turnovers.
This time we move to America, let's go to U.S.A.
Sometimes, on saturday, when we're home I love to make some good hamburger for dinner.
It's like a small family party, I do the buns, the patties, sometimes I make mayo too.
I know there is a lot of good homemade food out there, I have some books about american cooking but when we think of U.S.A. here we always think about hamburgers first so I took one and I put it into a turnover. 😀
I wish my photos were as good as the taste but I had to picture them the day after with some daylight.
The basic dough recipe is always the same, the one of piadina; I link you it everytime so you don't have to search for it.
Inside you can find the classic ingredients of cheeseburger, you can add or customize this turnover as you prefer.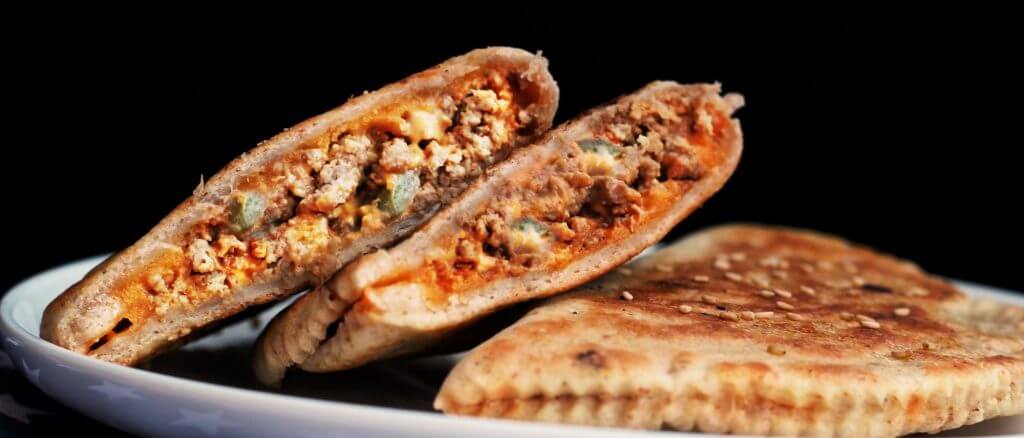 American piadina bread turnovers
2015-11-14 22:03:20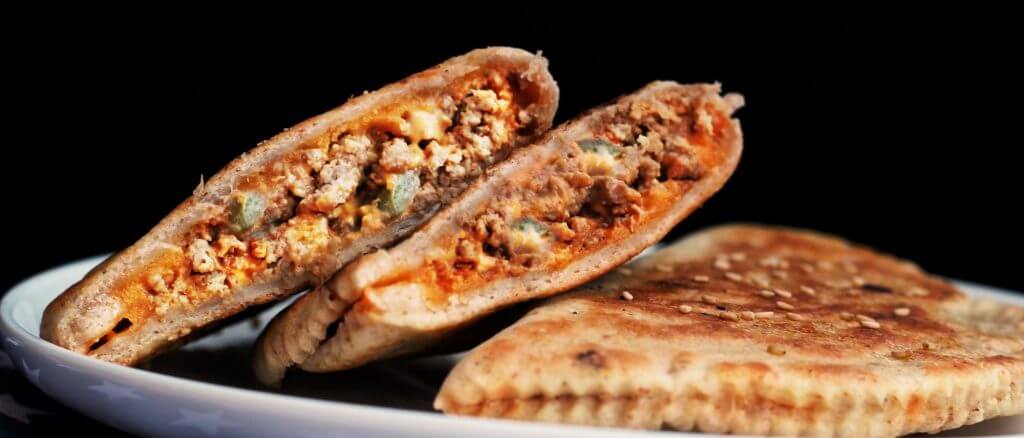 Serves 12
Piadina bread turnovers with an American classic.
Ingredients
14 oz grounded beef
4-5 pickled gherkins
12 slices of American cheese
5 tabsp bbq sauce
sesame seeds
mayo to serve
Instructions
In a pan cook beef, crumbling it well and let the water dry, add salt and pepper to taste.
Moments before the end of cooking add bbq sauce, stir well and take the pan on fire for a couple of minutes more.
Add chopped gherkins to the meat.
Take pieces of dough about 2,4/2,8 oz each and spread them round shaped.
Sprinkle on the external side some sesame seeds and press to stick them.
Pour inside the dough some beef, a slice (whole or crumbled) of American cheese, some ketchup (not too much or the dough will be soggy).
Close the turnovers sealing edges with some water and pressing with a fork.
Cook on a hot skilled keeping the fire low to avoid burning.
Notes
These turnovers are great but they must be done and eaten: leftovers tend to be a little dry even if re-heated.
La Mora Romagnola https://www.lamoraromagnola.it/