SCROLL DOWN FOR ENGLISH POST.
Ogni tanto riesco a fare alcune delle ricette che provengono dai miei tantissimi libri: questa è una di quelle, viene da un libro di cucina belga e olandese che la mia migliore amica mi ha portato in regalo da una delle sue vacanze estive qualche anno fa.
Aalst è una citta del Belgio, nelle Fiandre Orientali,sarebbe quindi l'ideale usare una birra belga chiara come ho fatto io anche se nel libro non è specificato.
In realtà cercando informazioni su questa città e le sue specialità alimentari non si trova nulla sul web degno di nota ma mi fido degli autori del libro quando dicono che questa zuppa di cipolle è tipica di Aalst. 🙂
La birra regala un certo gusto asprino che non a tutti piace, è sicuramente particolare, io la trovo gradevole una tantum ma non è uno di quei piatti che porterei in tavola tutte le settimane.
Alla birra si può sostituire lo sherry volendo, probabilmente il sapore risulterebbe diverso ma non più delicato.
Ho fatto questa zuppa qualche settimana fa, la posto ora che sono blogger della settimana su ifood per cercare di regalarvi sempre più ricette e motivi per venirmi a trovare!
Nel mentre qui a casa siamo in dieta sportiva, tanta verdura, tante proteine e pochi carboidrati, solo cereali integrali: ne approfitterò per sperimentare qualche ricetta paleo e arricchire la mia esperienza culinaria ( solo qualche ricetta, non intendo mettermi a seguire un regime alimentare diverso dal "tutto con criterio" se non per qualche breve periodo quindi state sereni!).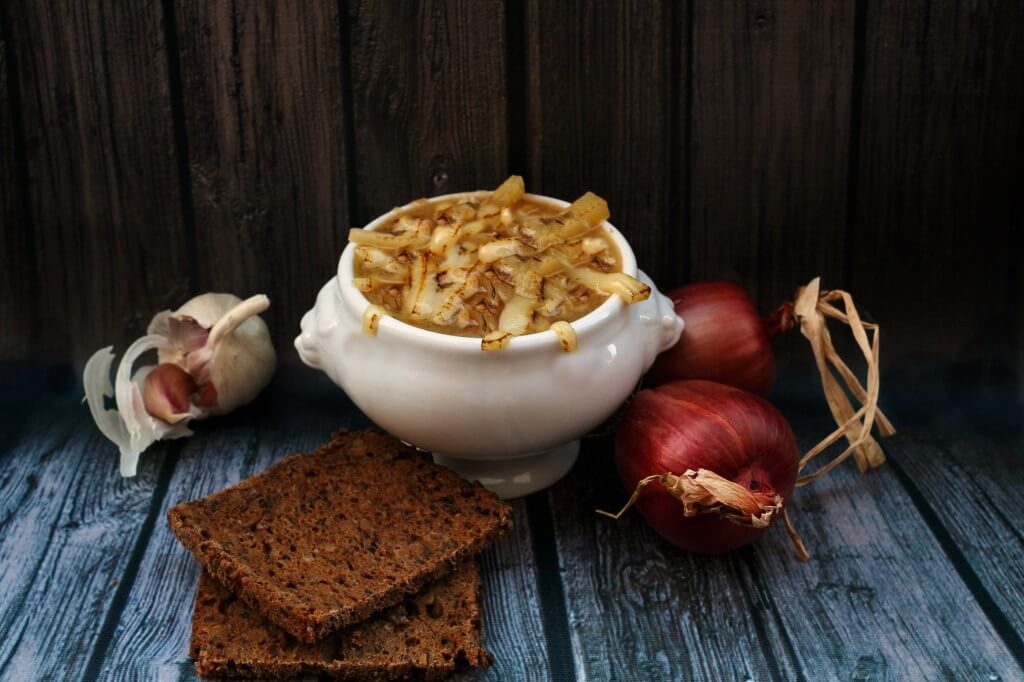 Zuppa di cipolle di Aalst.
2015-11-08 11:57:31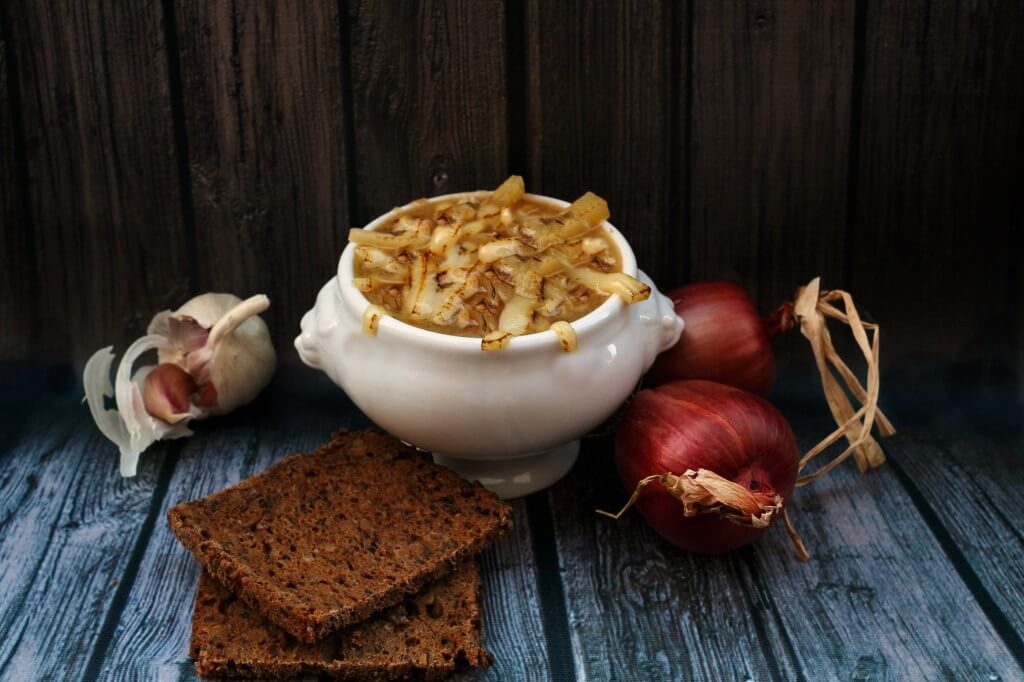 Serves 6
Zuppa di cipolle alla birra, dal Belgio con amore.
Ingredients
50 gr. burro
800 gr. circa di cipolle bionde
4 spicchi d'aglio pestati
200 gr. patate
45 ml. di birra chiara ( o Sherry se preferite)
1 lt. di brodo vegetale (o carne)
2 ciuffetti di timo fresco
1 foglia d'alloro
sale & pepe q.b.
per guarnire
prezzemolo fresco tritato
gruviera grattugiato fresco
crostoni di pane casereccio
Instructions
Sciogliete il burro in una pentola capiente, metteteci a rosolare le cipolle tagliate fini fino a quando non diventano trasparenti.
Aggiungete l'aglio, cuocete ancora un minuto poi aggiungete le patate a tocchetti, sfumate con la birra e lasciate sul fuoco per un paio di minuti.
A questo punto versate il brodo e aggiungete alloro e timo, abbassate il fuoco e lasciate sobbollire per circa 35 minuti.
Togliete le erbe e con un frullatore a immersione rendete la zuppa cremosa.
Se fosse ancora troppo liquida lasciate sul fuoco basso a restringere, se fosse troppo densa aggiungete poco brodo.
Aggiustate di sale e di pepe e servitela calda in ciotole o piatti individuali assieme ai crostoni di pane e con una generosa spolverata di groviera e di prezzemolo.
La Mora Romagnola https://www.lamoraromagnola.it/
 Sometimes I find the time to make some of the recipes I read on my thousands recipe books: this is one of them, it comes from a Duch/ Belgian recipe book my best friend brought me from a summer holiday few years ago.
Aalst is a city in Belgium, in the East Flanders, it would be great then to use a Belgian lager beer but it's not specified on the recipe.
To tell you the truth, searching for Aalst and its cooking on the web, I didn't find anything so special to call it typical but I rely on the book's authors when they claim this onion soup comes from there. 🙂
Beer gives this soup a little bitter aftertaste, not everyone likes it, I do but just now and then, it's not the kind of dish I would like to put on table every single week.
You can substitute beer with sherry, I think taste would be different but not more delicate.
I did this soup few weeks ago but I post it now to enhance your blog experience this week as I'm one of the "foodbloggers of the week " on ifood.
I hope to give you everyday more reasons to come and stop for a visit on my pages!
Meanwhile, here at home, we're on a sport diet: lot of vegetables, good proteins and healthy fats, very few carbohydrates, only whole ones.
I will take this chance to try some paleo recipes and enrich my culinary experience ( only few recipes, I will never switch to some diet regime from my usual "everything with wisdom" so don't worry you'll find recipes of any kind here now and forever!).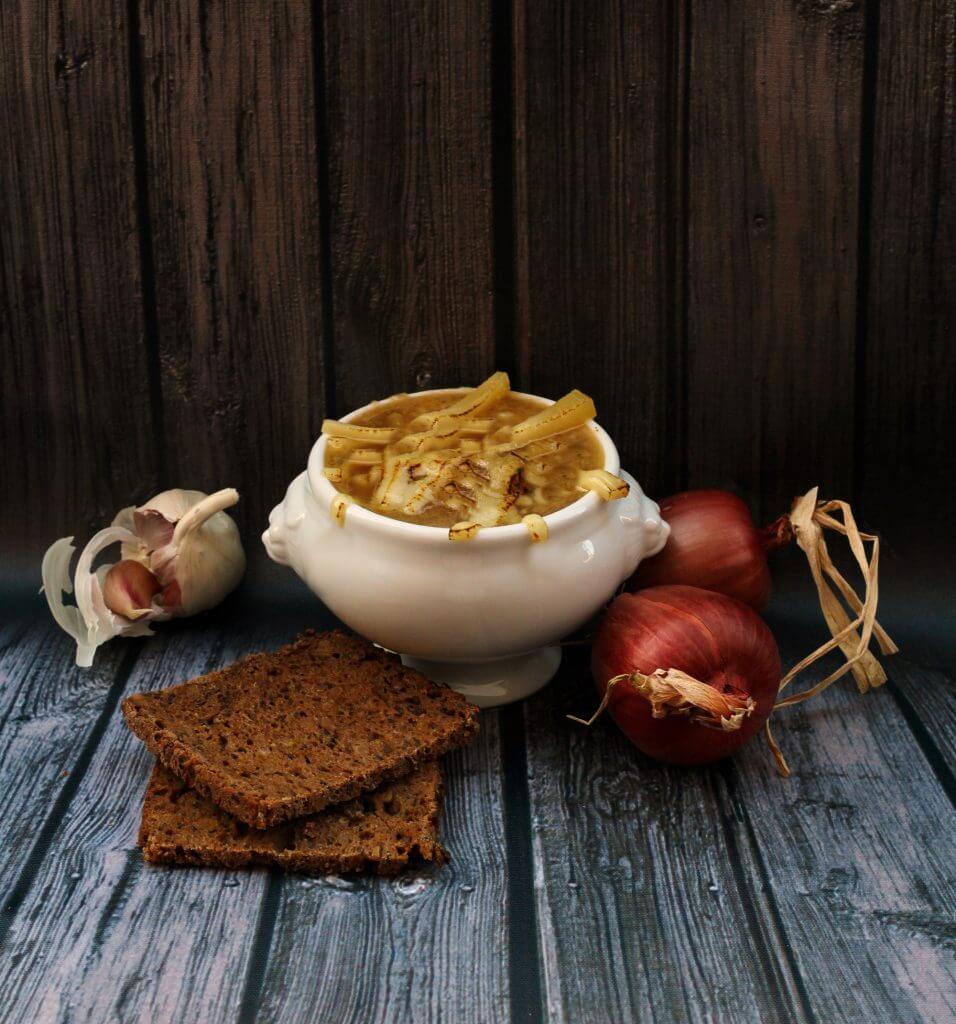 Onion soup Aalst style.
2015-11-08 13:49:22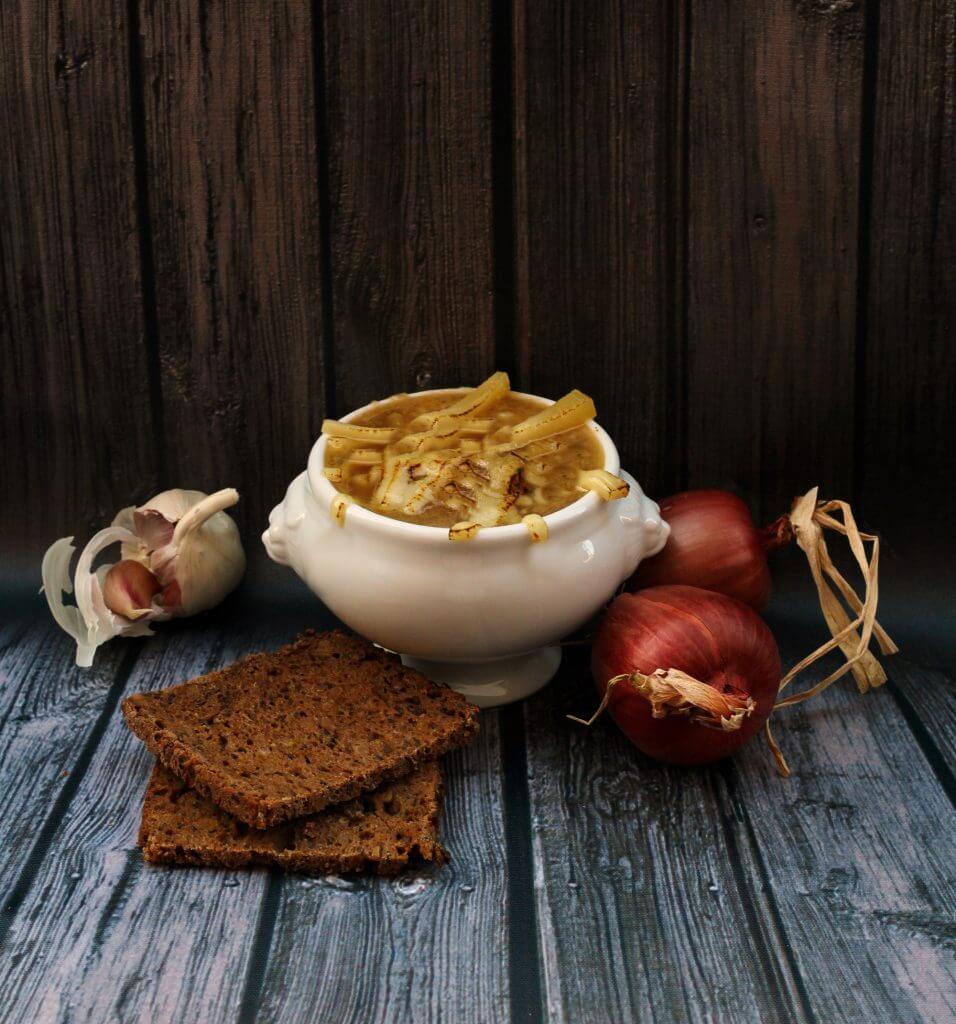 Serves 6
Onion and beer soup, from Belgium with love.
Ingredients
2,7 oz butter
29 oz onions
4 garlic cloves
7 oz potatoes
1/4 cup lager beer or sherry
4 cups vegetable or meat broth
some thyme leaves
1 bay leaf
salt & pepper
to garnish
chopped parsley
gruyère (cheese)
bread slices
Instructions
Melt butter in a pan and sautee all the onions sliced untill they become transparent.
Add mashed garlic and cook for a minute more then add diced potatoes and beer.
Let the beer evaporate then add broth, bay leaf and thyme.
Cook on medium fire for about 35 minutes.
Remove bay leaf and blend the soup with a blender untill it's creamy.
If it's too thick add a little broth, if it's too liquid keep it on fire some minutes more.
Add salt and pepper as needed, garnish with parsley and gruyère and serve hot with bread slices.
La Mora Romagnola https://www.lamoraromagnola.it/