SCROLL DOWN FOR ENGLISH POST.
Tempo di sparare un po' di cartucce, anche dette vecchie ricette in attesa di esser postate.
Il regime dietetico e la tanta bicicletta producono risultati ma di certo non posso dire di cucinare cose che meritano di essere postate sul blog salvo rare eccezioni.
Fortuna che mi aiutano le amiche: la prossima settimana ho l'occasione di fare una torta che volevo fotografare da tanto, ricetta collaudatissima, per il compleanno del bimbo di una di loro.
Non l'assaggerò nemmeno ma non vedo l'ora.
Mentre mi spendo fra la solita routine e il trovare il tempo per andare in bici tutti i giorni riesco a portare avanti i miei progetti: prossimamente metterò online un sito/blog per un'amica professionista della pasticceria e sto studiando intensamente per mettere su web qualcosa di davvero ben fatto.
Cerco in tutto questo di non trascurare il blog e questi funghi, copiati da un ristorante dove anni fa andavamo spesso, sono ottimi sia come antipasto che come contorno molto impegnativo o come piatto unico.
In genere se devo servirli come antipasto o contorno scelgo dei funghi piccolini, se li uso come piatto unico per noi a casa scelgo funghi più grandi.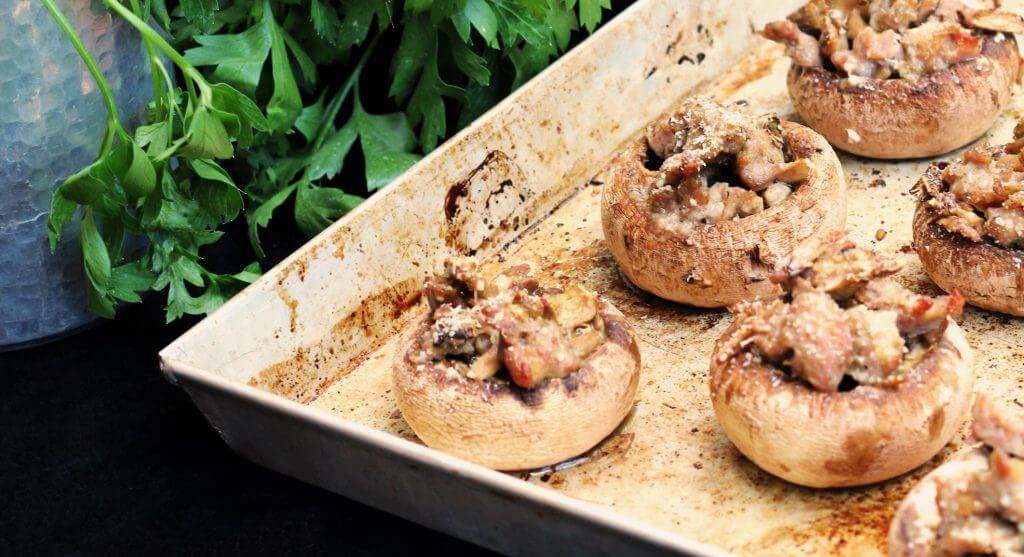 Funghi ripieni di salsiccia.
2015-11-21 17:30:52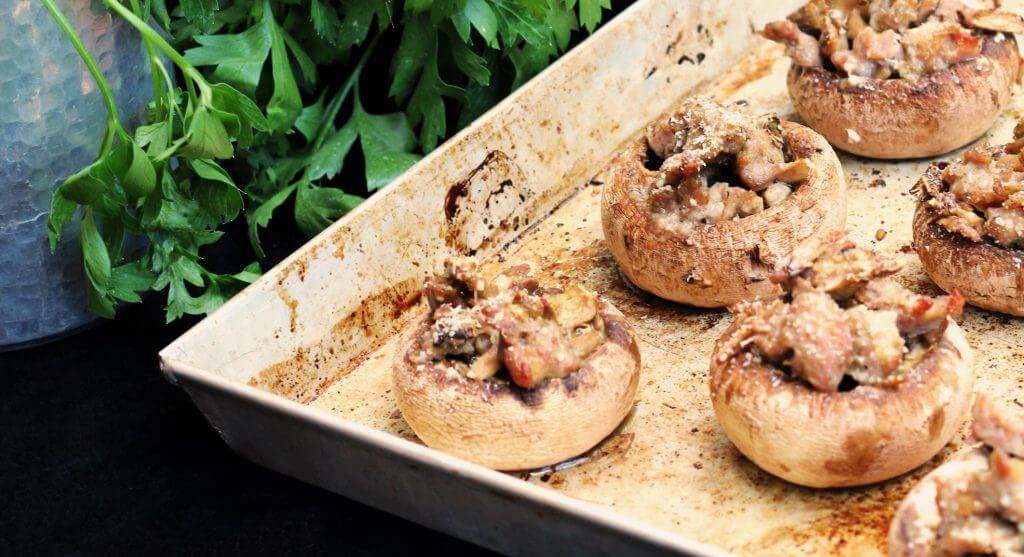 Serves 6
Un piatto deliziosamente rustico.
Ingredients
12 funghi tipo champignon
150 gr salsiccia
50 gr Parmigiano grattugiato
70 ml besciamella
una manciata di prezzemolo tritato
1/2 spicchio d'aglio tritato
1 cucchiaio olio d'oliva
sale & pepe a piacere
Instructions
Pulite i funghi, togliete il gambo, tritatelo e mettetelo in padella con un filo d'olio e l'aglio.
Lasciate imbiondire poi aggiungete la salsiccia sgranandola bene con una forchetta.
Portate la carne a cottura e lasciate intiepidire poi mettetela in una ciotola e aggiungete besciamella, formaggio e prezzemolo.
Aggiustate di sale e pepe il composto e riempite generosamente le cappelle di champignon.
Cuocete in forno caldo a 180°C per 15-20 minuti, serviteli caldi.
La Mora Romagnola https://www.lamoraromagnola.it/
It's time to check old recipes to put something new on blog.
Our diet and a lot of bicylce give us results but I can say I'm not cooking anything that deserves a blog post lately.
Luckly I have helpful friends: next week I'll bake a cake that I've wanted to include in my blog a long time ago, a super-tested recipe for the son's birthday of one of them.
I will not even taste it but I'm looking forward to bake.
While I'm spending my time between my routine and sport time I can manage to carry on my projects: soon I'll work on a site/ blog for a friend, a  famous pastry chef and I'm studying hard layouts, strategies and more.
With all these things I try not to leave my blog out and this recipe I'm posting, copied from a restaurant where me & hubby used to go years ago, is a great appetizer but also a side dish or a single course.
When I make them as appetizer or side dish I choose small mushrooms, if I use them as single course I choose bigger ones.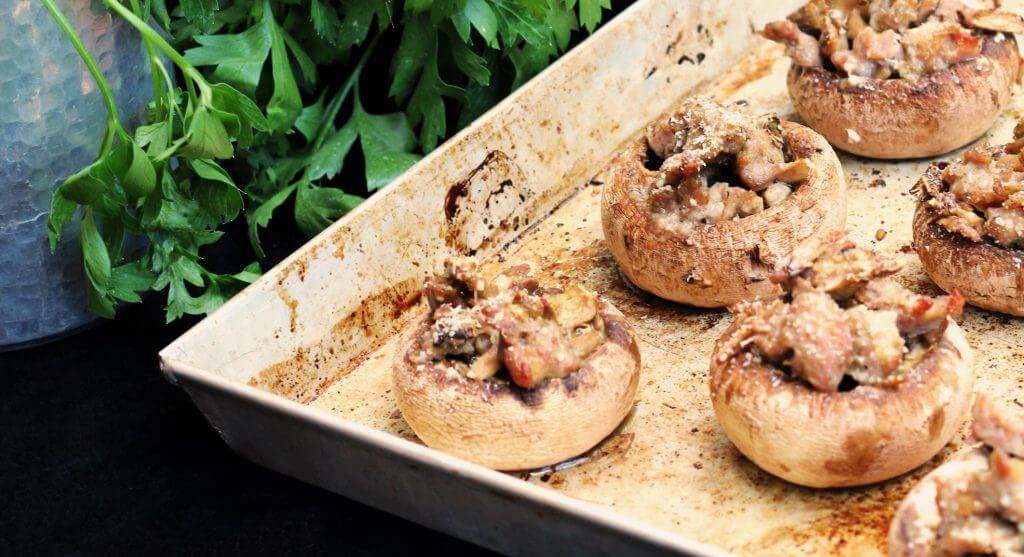 Sausage stuffed mushrooms.
2015-11-21 22:43:37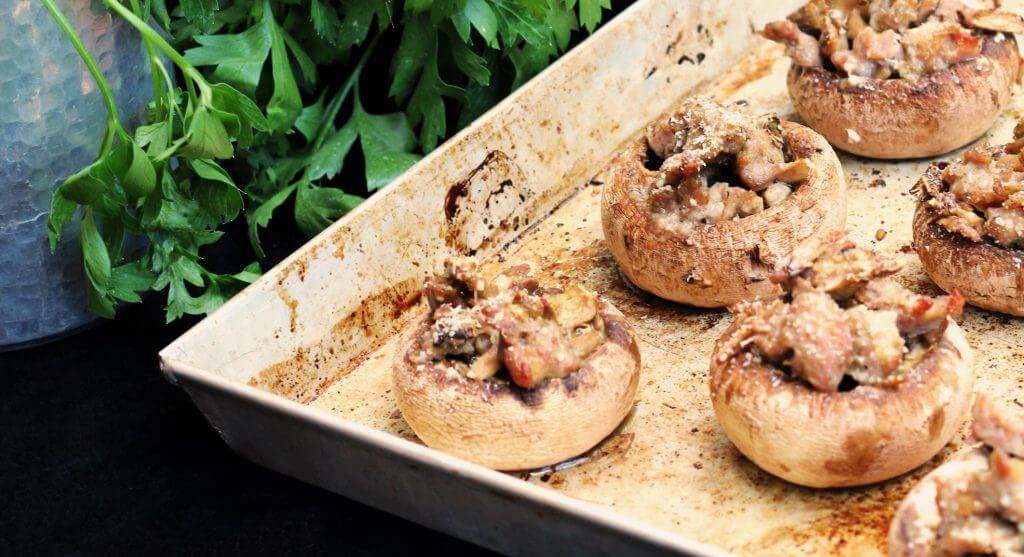 Serves 6
A nice appetizer or single course with a rustic flair.
Ingredients
12 button mushrooms
5.30 oz sausage
1.7 oz grated Parmesan
2.3 oz white sauce
a bunch of chopped parsley
1/2 garlic clove mashed
1 tabsp olive oil
salt & pepper to taste
Instructions
Clean mushrooms and remove stems, chop stems and sautee in a pan with oil and garlic.
Add sausage and crumble it with a fork; complete cooking.
When warm put sausage in a bowl, add white sauce, Parmesan, parsely, adjust salt and pepper.
Fill the mushrooms caps with mixture.
Bake at 356°F for 15-20 minutes, serve hot.
La Mora Romagnola https://www.lamoraromagnola.it/