SCROLL DOWN FOR ENGLISH POST.
Ricetta fatta ormai mesi e mesi fa, non ricordo nemmeno bene quando.
Non l'ho postata subito perchè avevo probabilmente altro da fare, poi ho perso di vista il giornale da cui l'ho presa e sono rimasta con un palmo di naso.
Le riviste di cucina sono un po' un feticcio per me, attualmente quelle che preferisco sono Jamie, la rivista italiana di Jamie Oliver, Delicious, Taste&more ( fatto da un gruppo di dotatissime blogger che conosco), BBC GoodFood.
Avendone tante ricordarsi da dove viene una certa ricetta è difficile, quindi mi son trovata diverse foto del piatto, anche passabili, e nessuna memoria di ingredienti e dosi.
Fortunatamente la rivista non poteva essere andata lontano, dovevo solo trovare il tempo di sfogliare tutte quelle che avevo da parte!
Questi gamberi speziati e piccantini sono una delizia, la ricetta viene dal Bangladesh, in casa amiamo parecchio le cucine orientali quindi provarla è stato d'obbligo.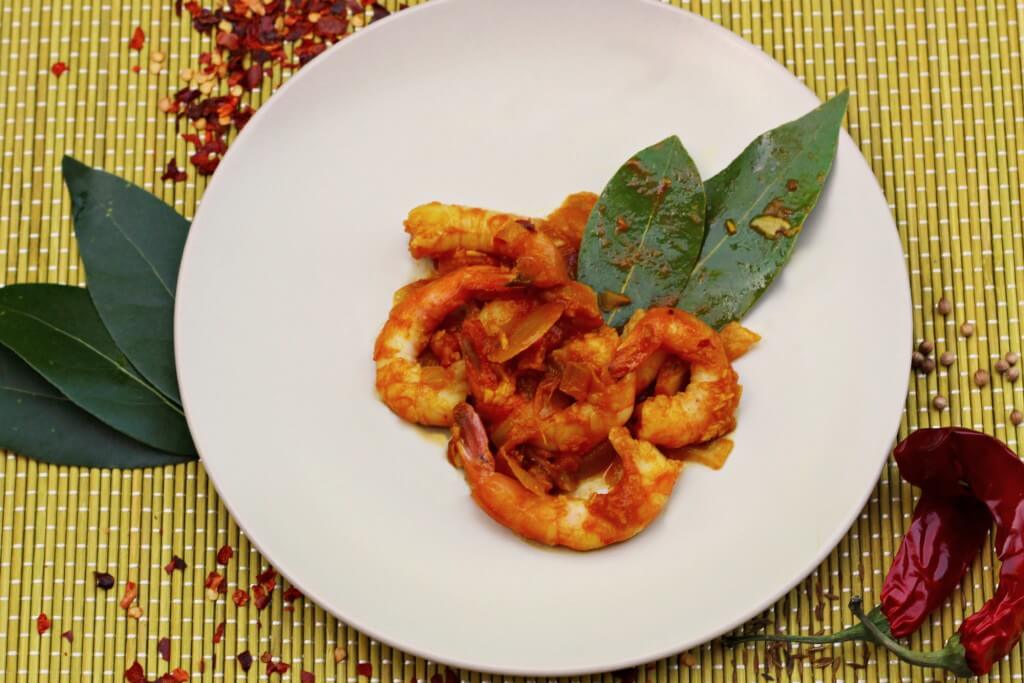 Chingri maach, gamberi al curry.
2015-11-24 21:51:34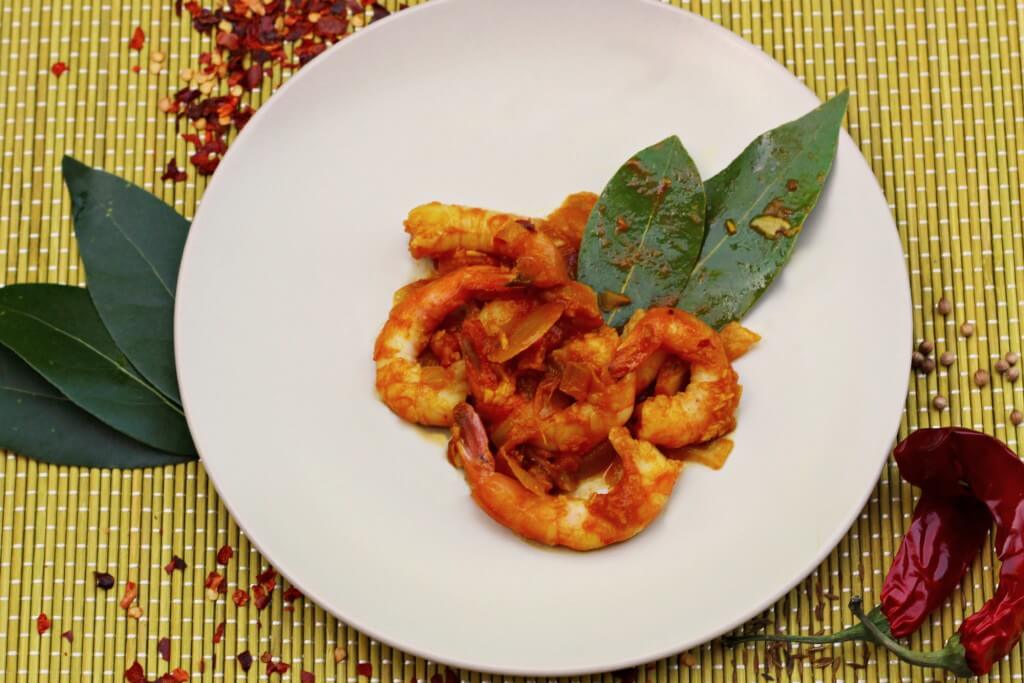 Serves 4
Gamberi con curry del Bangladesh leggermente piccanti.
Ingredients
3 cucchiai olio
600 gr gamberi sgusciati ma con le code intatte, possibilmente grandi
1 cucchiaino semi senape nera
3 foglie alloro
1 cipolla tritata
3 spicchi aglio tritati
2,5 cm di zenzero fresco pelato grattugiato
1 cucchiaino curcuma in polvere
1 cucchiaino peperoncino in polvere
1 cucchiaino cumino pestato
1 cucchiaino coriandolo pestato
1 cucchiaino zucchero semolato
2 cucchiai di polpa di pomodoro a pezzi di quella in scatola
200 ml acqua bollente
25 gr cocco disidratato
sale quanto basta
1 cucchiaino garam masala ( opzionale)
Instructions
Scaldate l'olio in una padella profonda tipo wok, aggiungete i gamberi e cuocete per un minuto finchè diventano rosa.
Togliete i gamberi dalla padella e lasciateli da parte.
Aggiungete ancora poco olio se necessario e aggiungete i semi di senape nera, aggiungete poi le foglie di alloro.
Aggiungete la cipolla, l'aglio e lo zenzero, mescolate fino a che non sono dorati.
Aggiungete la curcuma, il peperoncino, il cumino e il coriandolo, mescolate poi aggiungete zucchero, sale e i pomodori.
Aggiungete l'acqua bollente e il cocco disidratato, portate a bollore mescolando.
Rimettete nella padella i gamberi, copriteli con la salsa, tenete sul fuoco quanto basta per insaporirli.
Spolverateli di garam masala se piace e serviteli caldi.
Notes
Gli accompagnamenti ideali sono riso basmati cotto a vapore o il classico pane indiano naan.
Adapted from Delicious magazine, april 2015
Adapted from Delicious magazine, april 2015
La Mora Romagnola https://www.lamoraromagnola.it/
I did this recipe a long time ago, I don't even remember when.
I didn't post it immediately, sure I had something more important to do, then I forgot from which magazine this recipe came from.
I love food magazines, at the moment my very favourite are Jamie, Italian magazine from Jamie Oliver, Delicious, Taste&more (made from a bunch of skilled foodbloggers I know), BBC GoodFood.
Having so much magazines gives some problems when you have to remember from which one one recipe comes from so I ended up with good photos of the dish and no idea of ingredients and doses.
Luckly that magazine couldn't be too far from me, I've just needed some spare time to browse pages on pages!
Those prawns are deliciously spicy, recipe comes from Bengali; we are spices lovers at home so I had to try it.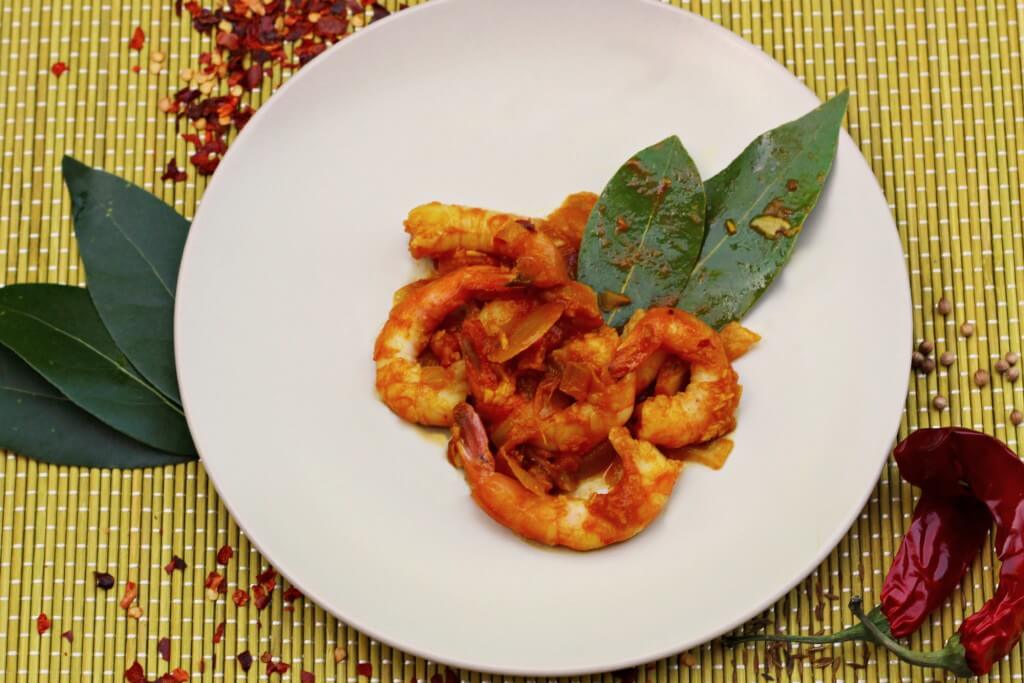 Chingri maach, Bengali curry prawns
2015-11-24 22:31:20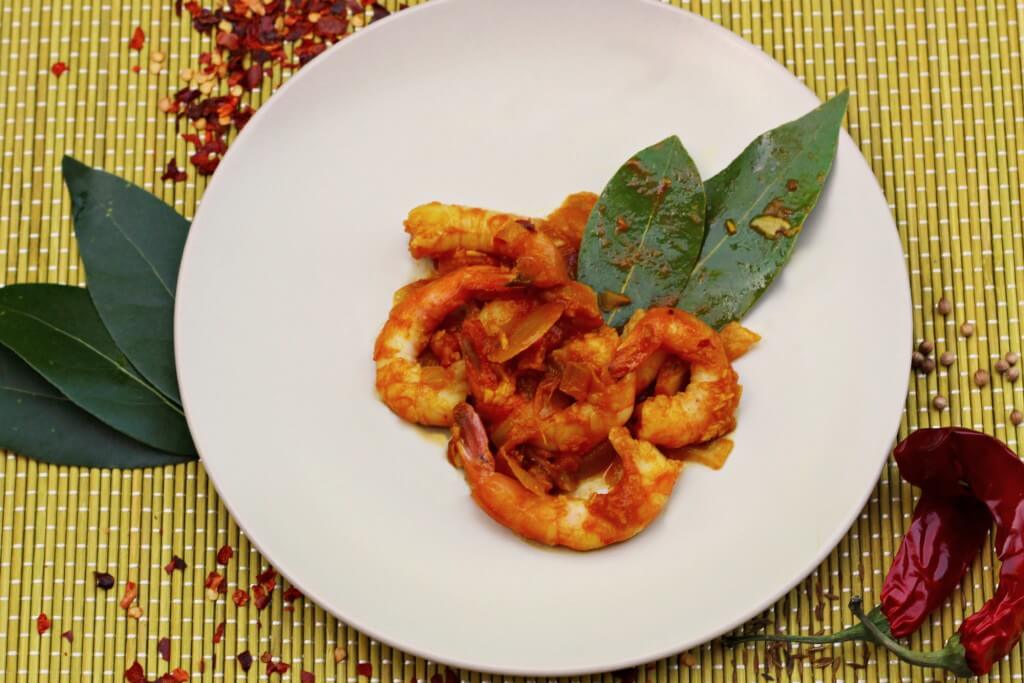 Serves 4
Ingredients
3 tabsp oil
21 oz prawns, king prawns are best, peeled but with tails
1 tsp black mustard seeds
3 bay leaves
1 finely chopped onion
3 finely chopped garlic cloves
1 inch piece fresh ginger grated
1 tsp ground turmeric
1 tsp chilli powder
1 tsp ground cumin
1 tsp ground coriander
1 tsp caster sugar
2 tbsp chopped tomatoes from a tin
6 oz boiling water
0.8 oz desiccated coconuts
salt to taste
1 tsp garam masala (optional)
Instructions
Heat oil in a deep frying pan, add prawns, cook for a minute untill pink, set aside.
Drizzle a little more oil, add mustard seeds, then bay leaves.
Add onions, garlic, ginger, brown for some minutes.
Stir in turmeric, chilli, cumin, coriander, season with salt and sugar then add tomatoes.
Add the boiling water and coconut, bring to boil stirring occasionally.
Add prawns, cover them in sauce and keep on fire just to heat them, 1-2 minutes.
Sprinkle garam masala on them, serve immediately
Notes
Steamed basmati rice or naan are the best side dishes.
Adapted from Delicious, April 2015
Adapted from Delicious, April 2015
La Mora Romagnola https://www.lamoraromagnola.it/