SCROLL DOWN FOR ENGLISH POST.
Noi per questi pochi giorni di festa siamo stati decimati da influenze (marito), sfighe varie (amici) e, oggi, giusto per Pasquetta, violento virus per il mio topolino Lorenzo.
Sono stata sola con Lore in Romagna un paio di giorni in attesa che Andre si riprendesse, sono rientrata a Bologna giusto per pranzare dai miei e vedere Lore afflosciarsi con dolori di pancia.
Dopo Pasqua siete (siamo) tutti sulla stessa barca, quella dei pentiti della tavola, vero?
Nella mia costante ricerca di idee light ho voluto provare qualche tempo fa il chia pudding, il must dei dessert e degli spezza-fame vegan style e mi pare il momento giusto per postarlo.
Sicuramente è una ricetta leggera quella che vi propongo, vegana al bisogno, preparabile in anticipo ma bisogna apprezzare la consistenza gelatinosa che questi semi regalano ai liquidi.
L'aspetto è accattivante e se avete già mangiato i semi di chia credo potrete apprezzare questo mix.
Ho aggiunto le nocciole per dare un po' di contrasto croccante, le ho messe solo sopra ma si possono anche mescolare al budino.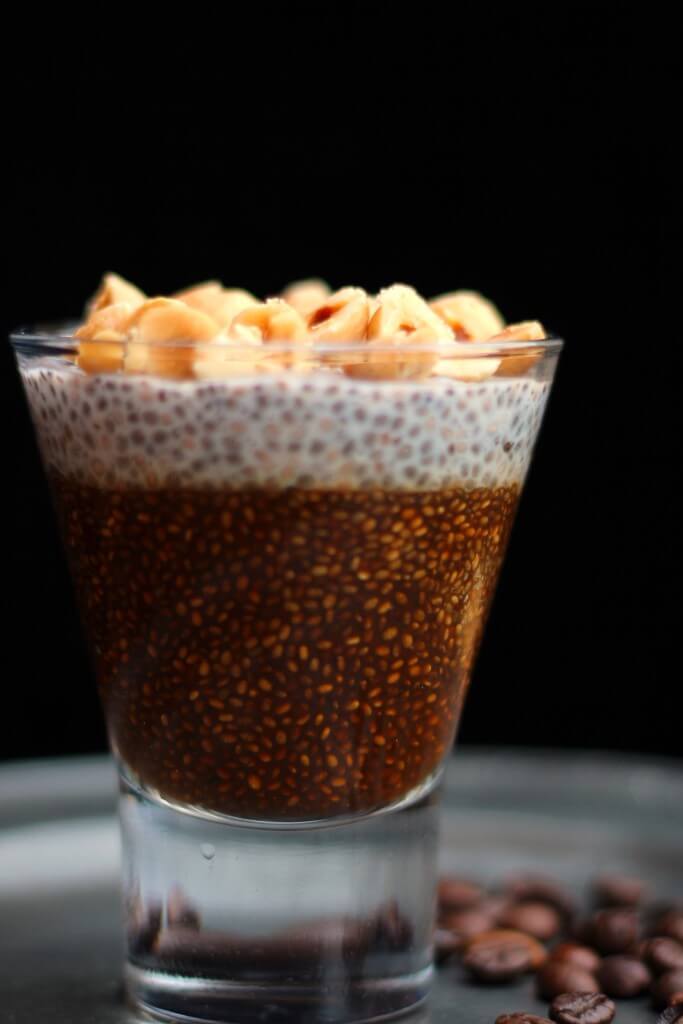 "Cappuccino" ai semi di chia.
2016-03-28 22:51:13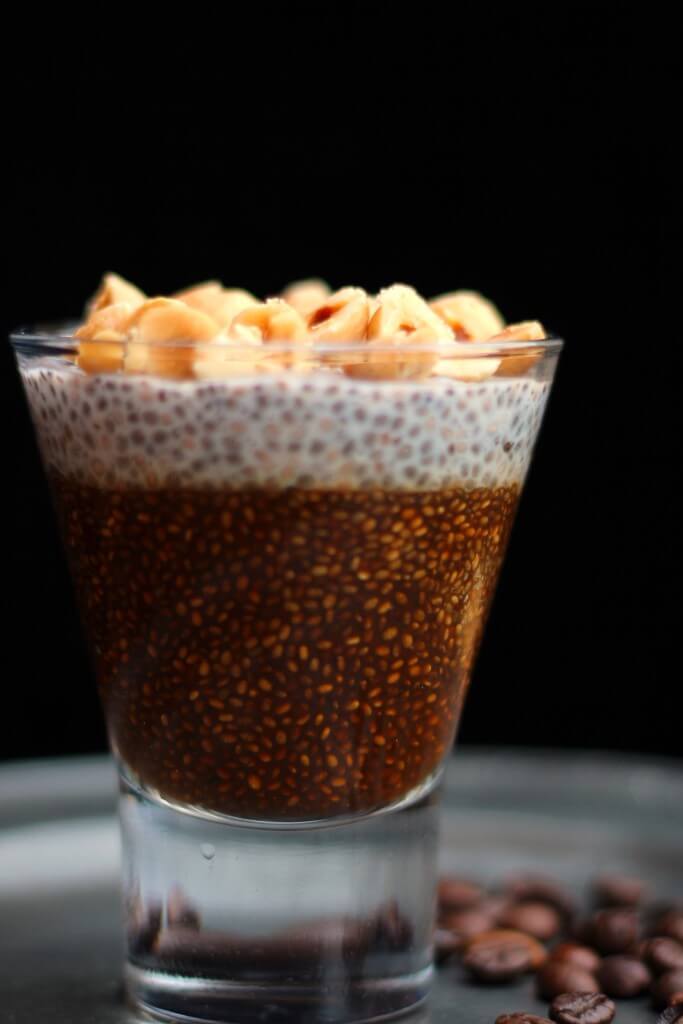 Serves 2
Un budino light col gusto del caffè e del latte.
Ingredients
6 cucchiai semi di chia
2 tazzine caffè zuccherato
1 tazzina latte (anche vegetale) zuccherato se non naturalmente dolce
nocciole tostate a piacere
Instructions
Mettete 4 dei 6 cucchiai di semi in ammollo nel caffè allungato con acqua quanto basta per riempire a 3/4 i contenitori che userete per servire.
Mettete gli altri due cucchiai di semi in ammollo nel latte ( aggiungetene nel caso servisse).
Mettete entrambi i contenitori a riposo tutta la notte i semi, coperti, in frigo.
Il giorno dopo componete i vostri budini versando nei contenitori prima la gelatina al caffè, livellandola, poi quella al latte, coprendo poi appena prima di servire con le nocciole tostate.
Notes
Se uno dei due liquidi non dovesse gelificare aggiungete un po' di semi di chia e attendete qualche ora.
La Mora Romagnola https://www.lamoraromagnola.it/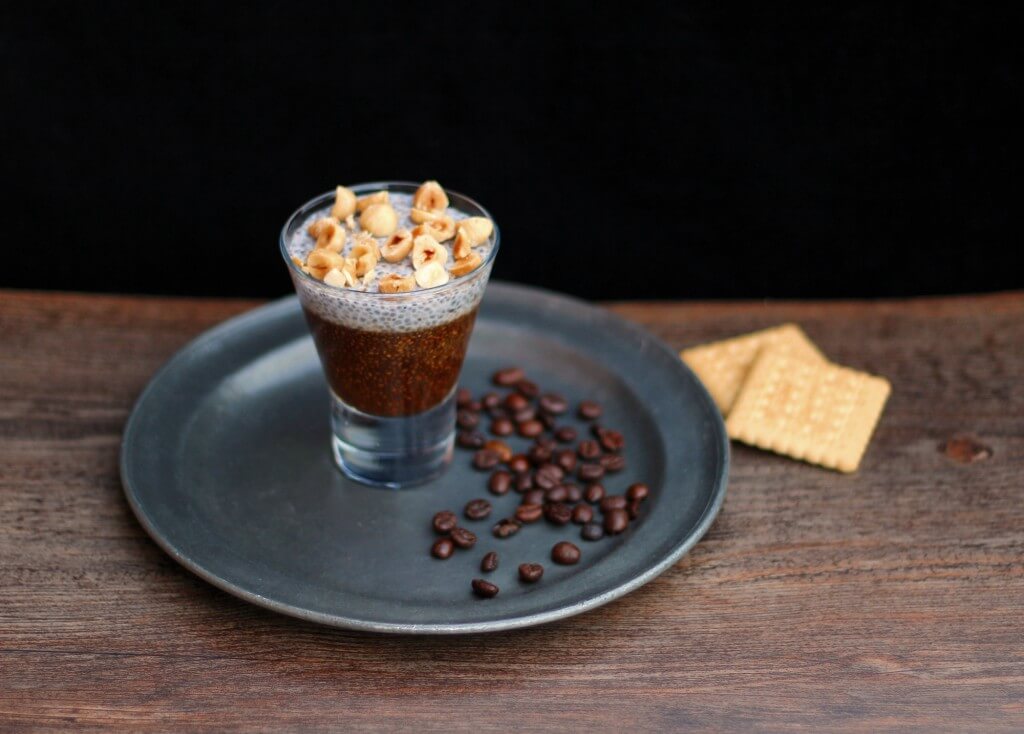 We, in these few days of holidays, have been devastated by flu ( hubby), bad health problems ( friends) and, just today, a heavy virus for my son Lorenzo.
I've been in Romagna a couple of days alone with Lorenzo to celebrate with my parents in law and to give hubby some resting time home, we come home just in time to have Easter Monday's lunch at my parents' and to see my son wilting on the couch with bellyache.
After Easter you're (we're) all in need  of something light to expiate, right?
In my constant search of light recipes I wanted to try the famous chia pudding, a dessert celebrated worldwide from vegan and health/ fitness fan and it's the right time to post it.
It's for sure light, vegan if you like, you can (have to) make it in advance but you have to love the gelatinous flair these seeds give to any liquid.
As you can see the look is nice, if you love chia seeds this pudding is a hit.
I've added some hazelnuts on top for extra-crunchiness, you can add them inside the pudding too.
Cappuccino chia pudding.
2016-03-28 23:00:45
Serves 2
A light chia pudding with coffee and milk flavour.
Ingredients
6 tabsp chia seeds
1 cup sweetened coffee
1/2 cup milk (cow or veg) sweetened
toasted hazelnuts
Instructions
Put 4 of the 6 chia seeds spoons into the coffee, add water enough to fill 3/4 of the cups you want to use for serving.
Put the last 2 seeds spoons into milk( add some if needed).
Cover the two bowls and let them rest in fridge overnight.
The day after pour into the serving cups the coffee pudding, then the milk one.
Just before serving add hazelnuts.
Notes
If your liquids don't turn to jelly just add some chia seeds and wait few more hours.
La Mora Romagnola https://www.lamoraromagnola.it/