SCROLL DOWN FOR ENGLISH POST.
In questi giorni fa caldo, tanto caldo, troppo caldo.
Io sono donna dalle ambizioni nordiche, sogno l'Islanda, questa calura mi devasta e devo trovare serie motivazioni per non abbattermi.
Cerco di pensare che in fondo l'estate ha i suoi pregi: tantissimi ingredienti freschi a disposizione, la luce giusta per fotografare senza bisogno di fari e faretti, piante in fiore, pranzi e cene all'aperto con stoviglie colorate e centrotavola allegri.
Solo così mi torna la voglia di cucinare e magari comprare qualcosa di nuovo per la tavola e la cucina, cosa che di solito faccio su Dalani perchè trovo dei pezzi davvero carini che utilizzo anche per i set fotografici ( proseguo nel mio voler migliorarmi con la fotografia): a volte qualcosa di vintage, a volte qualcosa di shabby, a volte qualcosa a tema nautico.
In casa mia il posto è poco ma lo spazio per qualcosa di nuovo si trova sempre.
La ricetta che posto oggi l'ho presa da una vecchia edizione della rivista Jamie: note esotiche di lime e tamarindo, le seppie fresche e il piccante del peperoncino, l'ideale per una grigliata estiva!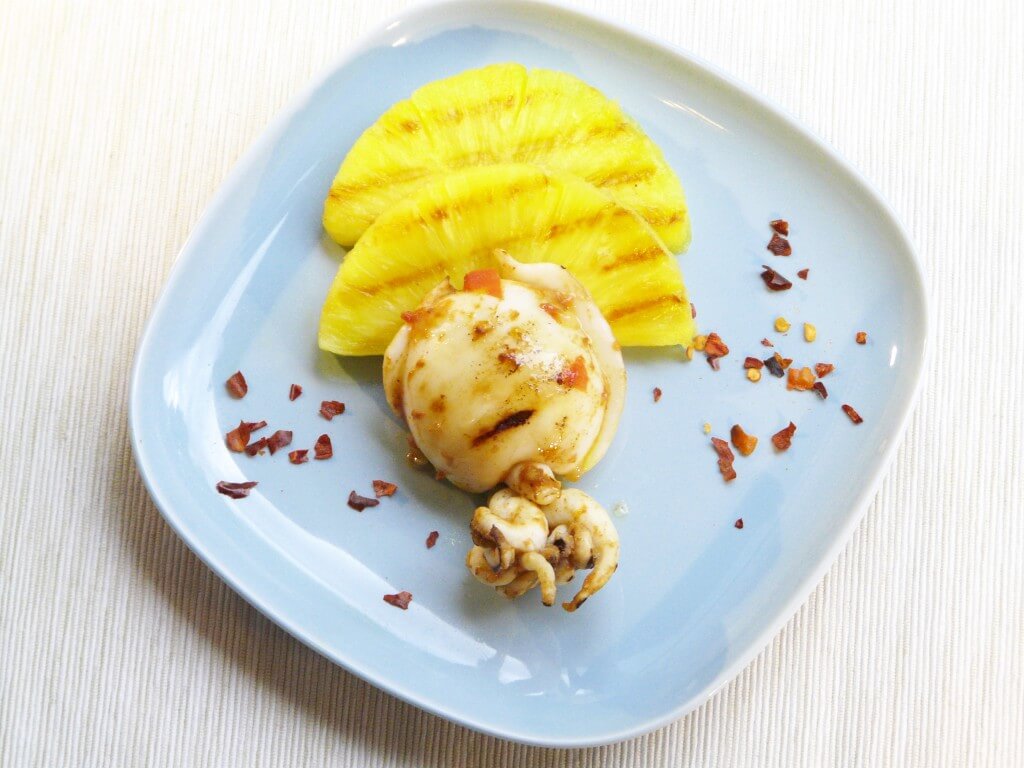 Seppie grigliate al tamarindo.
2015-07-04 21:37:24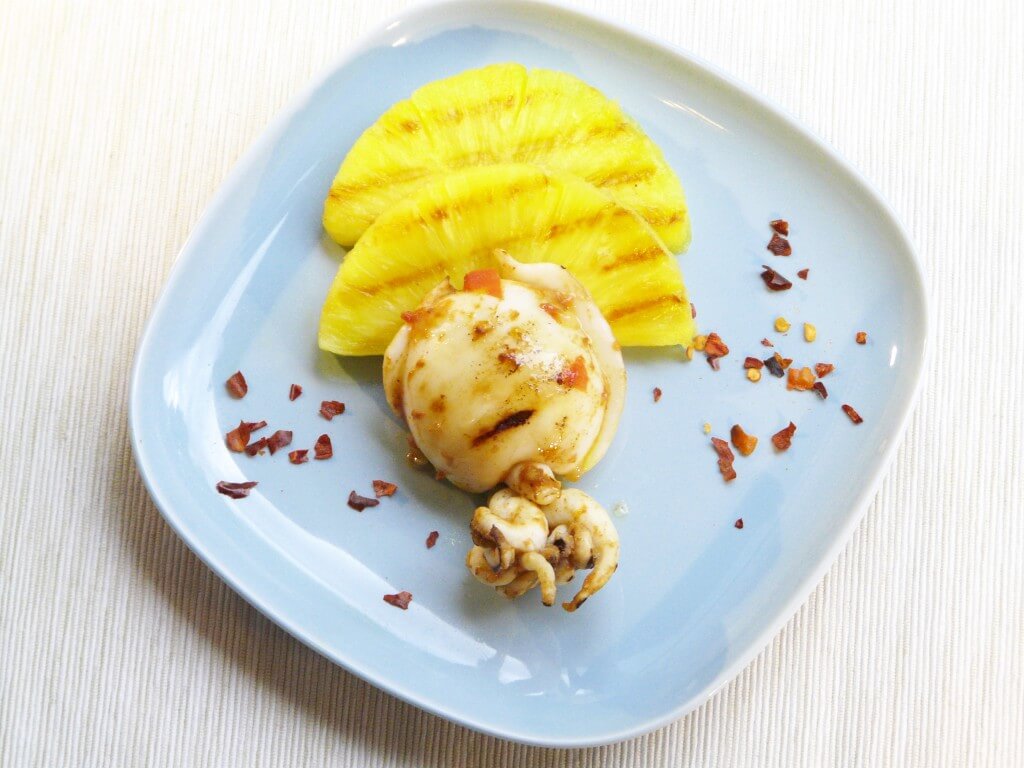 Serves 3
Deliziose seppie dal gusto esotico alla griglia.
Ingredients
250 gr di seppie pulite
50 gr di polpa di tamarindo (nei negozi etnici si trovano buste con la polpa, in alcuni supermercati si trovano i frutti interi che vanno spellati e a cui vanno tolti i semi che sono molto grandi e si levano bene)
2 pomodori
1 cipolla bionda
2 spicchi d'aglio
3 cucchiai di olio e.v.o.
1 peperoncino essiccato
1 lime
Instructions
Riscaldate il forno a 200 C°, su una teglia disponete i pomodori e la cipolla tagliati a meta' e gli spicchi d'aglio, salate pepate e versate un filo d'olio.
Fate cuocere finche' le verdure non sono morbide, toglietele dal forno e spellate l'aglio.
Fate raffreddare.
In una tazza d'acqua bollente fate ammorbidire la polpa di tamarindo per 10-15 minuti.
Mettete in un mixer le verdure, il peperoncino, il succo di lime, l'olio e la polpa di tamarindo e frullate fino ad ottenere una salsa: mettete le seppie a marinare per 3-4 ore in questo composto dentro a una ciotola ben coperta in frigorifero.
Preriscaldate il barbecue (ma va bene anche una piastra/bistecchiera) e cuocete le seppie per 10-15 minuti a seconda della grandezza (io preferisco le seppioline piccole e bastano anche 8 minuti).
Adapted from rivista "Jamie"
Adapted from rivista "Jamie"
La Mora Romagnola https://www.lamoraromagnola.it/
 Here in Italy in those days it's hot, really hot, too hot.
I'm a woman with Nordic flairs, I dream of Iceland, this weather destroy me and I need great drives not to lose heart.
I try to think that summer has its values: so many fresh and ripe ingredients, the right light to take pictures without spotlights, flowers, lunches and dinner open-air with colorful flatware and merry centrepieces.
This way my will to cook returns and with it the will to buy something new for the home and the kitchen.
I usually buy on Dalani because I always find great pieces at small prices, I often use them for my photo sets too ( yes I'm still working on my phoo skills).
Sometimes I looking for vintage, sometimes for shabby, sometimes for nautical things, I've got a small home but I always find some more space.
The recipe I'm going to post is taken from an old issue of Jamie magazine: the exotic flavours of tamarind and lime, fresh squids and the spicy chili are perfect for bbq!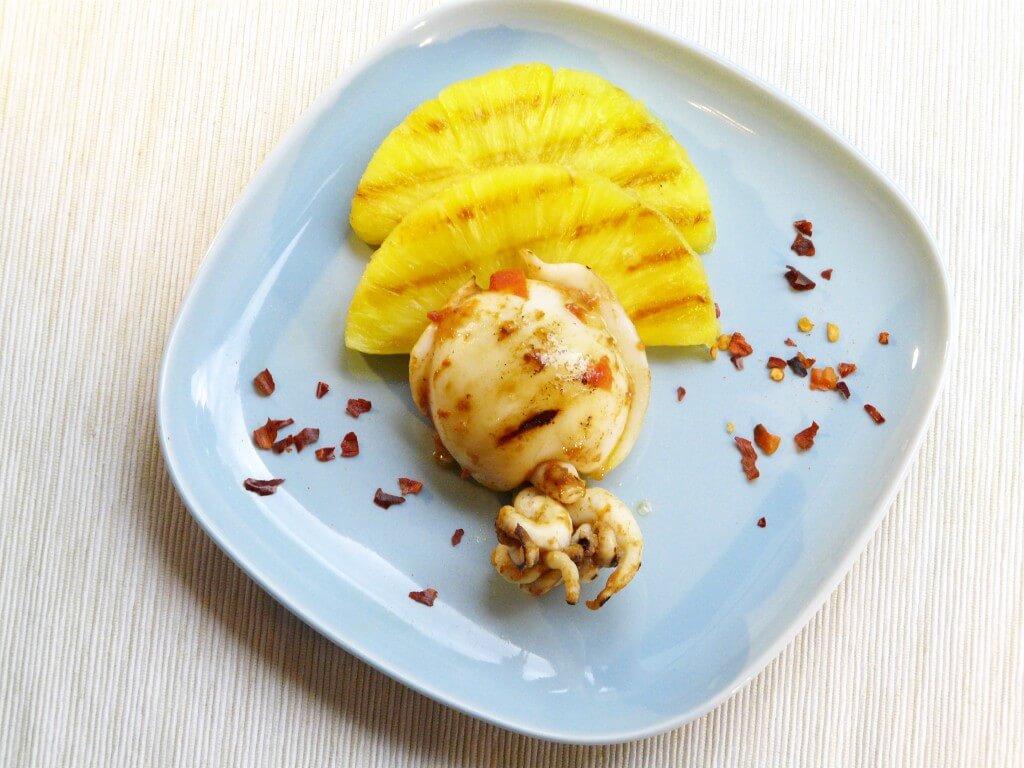 Grilled squids with tamarind paste.
2015-07-04 23:08:03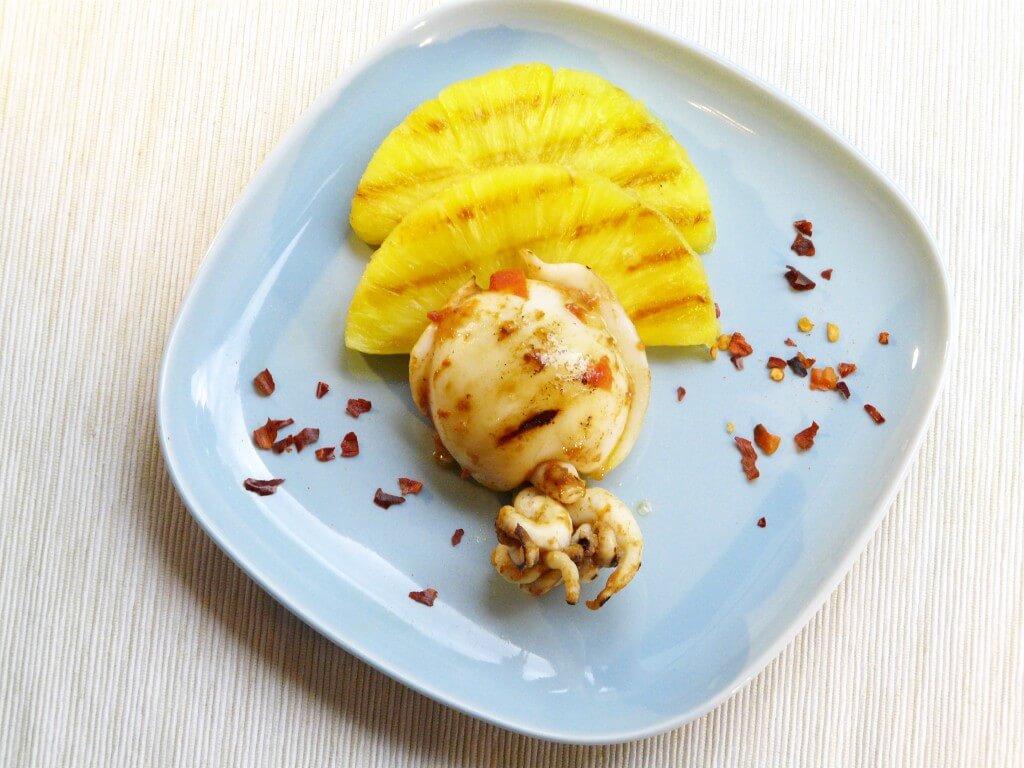 Serves 3
A tasty and delicious bbq recipe for summer.
Ingredients
9 oz. fresh squids
2 oz.tamarind pulp
2 ripe tomatoes
1 onion
2 garlic cloves
3 tabsp. olive oil
1 lime
1 red chili
salt & pepper
Instructions
In a ovenproof pan put tomatoes and onion cut in half and cloves, add salt and pepper and a little oil.
Cook at 390°F in already hot oven untill tender, set apart untill cold.
In a cup filled with hot water rinse tamarind pulp for 15 minutes.
Put in a blender vegetables, tamarind pulp, olive oil, lime juice, the crushed chili and pulse untill you have a sauce and marinate in it squids for 3-4 hours in a closed storage box into the fridge.
Heat your bbq and grill your squids, 6-8 minutes if they're small, 10-12 or more if they're big.
If you don't have bbq a gridiron is ok.
Adapted from Jamie magazine
Adapted from Jamie magazine
La Mora Romagnola https://www.lamoraromagnola.it/